The abbey is currently producing 300,000 bottles per year.
Monastic brewhouses have existed across Europe at least since the 5th century. The Rule of St. Benedict (a book of precepts written in 516 by St. Benedict of Nursia for monks living communally under the authority of an abbot) clearly states monks should earn their own keep and donate to the poor by the work of their own hands.Following the Rule, monasteries have always produced a diversity of different goods. First and foremost, beer.
There are several reasons why monks devoted themselves to brewing. To begin with, beer was originally considered a cheap meal, a kind of liquid bread suitable for both monks and laymen, and part of the daily diet of both children and adults, alongside cabbage, onions, legumes, and bread. It was not only more affordable but even healthier than water and milk, which were often polluted and the means of transmission of many different infectious diseases; the brewing process eliminated all bacteria, making beer a safer alternative. That's why rather light beers were produced to feed children in monastic orphanages. They would be provided with a pint a day, mostly made out of oatmeal or other heavy cereals, in order to feed them properly while keeping their room and board costs at a reasonable level. Also, it was discovered that beer prevented and cured certain infantile illnesses because of its antibiotic properties. For all these reasons, monasteries produced it regularly and abundantly. 
Nun-made beers
A prayer traditionally attributed to St. Brigid of Ireland is well-known for including a reference to a lake of beer she would like to give God. Hagiography says she was an expert dairywoman and brewer, and was even reputed to turn water into beer. The founder of several churches and nunneries (including the legendary monastery of Kildare), she lived in the early 5th century — meaning she was not a Benedictine. But beer brewing is not exclusive to the Benedictine tradition. There are enough reasons to believe these early Irish nunneries would normally produce ales and beers, even if tracing a continuously ongoing nun-brewing beer tradition might be a relatively hard task. In fact, until recently, Sister Doris Engelhard was considered to be "the last brewing nun." Not anymore.
Some texts by St. Hildegard (the famous German Benedictine abbess from the 11th century) mention spelt, a grain commonly used not only in bread baking, but in beer brewing as well. It is one of the main ingredients that the nuns of the Belgian Maredret Abbey use to brew their beer, alongside some plants grown in their garden.
The Abbey, founded in 1893, was struggling to raise funds for some much-needed renovation works, until the 20 nuns residing in the monastery decided to turn to beer-brewing, a craft that for hundreds of years was considered monk territory. As read in Philip Blenkisop's article for Reuters, the nuns decided to team up with a brewer to produce beer "infused with some of their history and values while helping repair their convent's leaking roofs and cracked walls."
This last summer, after three years of hard work in close collaboration John Martin Brewery (the famous brewing and importing company founded by the legendary British master brewer John Martin, who settled in Belgium in the early 20th century) the Abbey produced two different beers: the Maredret Altus (a 6.8% amber beer using cloves and juniper berries) and the Maredret Triplus (an 8% blond with hints of coriander and sage).
Edward Martin, head distiller and great-grandson of John Martin himself, said the abbey is currently producing 300,000 bottles per year. It is expected that the production will rise to around 3 million in the following two years, as the product is already being sold not only in Belgium, but also in Italy and Spain.
Each nun is allowed to enjoy a bottle on Sundays.
Make sure to visit the slideshow below to learn more about Trappist (not exactly Benedictine!) beers.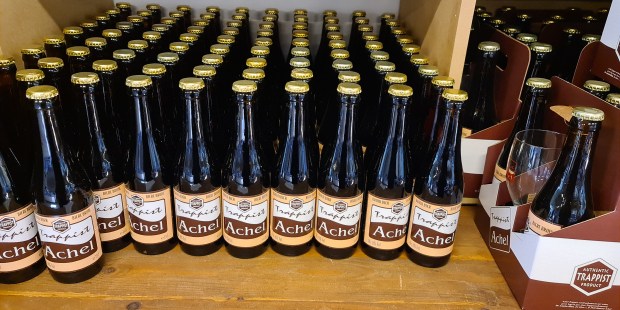 Launch the slideshow