The prologue of John's Gospel, in the Greek, has so much to meditate with!
The Gospel for this 2nd Sunday after Christmas is John 1:1-18
1. The Messiah's life before His birth
In today's Gospel, St. John reveals the life of the Messiah even before his birth. Over the past few days, we have heard accounts from other evangelists who describe Jesus' life from the moment of his conception and birth. St. John's perspective may be referring to the Jewish tradition according to which the Messiah already existed before the creation of the world.
2. Key Words
He (the Word) was with God in the beginning
Literally, we can translate "He was facing God" (pros ton theon). This shows the intimate relationship between God the Father and His Son Jesus in the Holy Trinity. Moreover, it shows that Jesus is God. This is reinforced by the preceding phrase: "In the beginning was the Word: and the Word was with God and the Word was God."
Photo Courtesy of Fr. Paweł Rytel-Andrianik
The Word was made flesh
The original Greek word "sarks" (flesh, muscular tissue) emphasizes the bodiliness. In this way, the evangelist draws attention to the real, palpable presence of Jesus, who had a physical body. Moreover, the physical presence of Jesus' body on earth did not end on the day of His ascension. He continues to be physically present in the Eucharist
The Eucharist is spoken about in the Gospel of St. John in these terms: "Who eats my body and drinks my blood, has eternal life and I will raise him up on the last day." Here also the same Greek word—"sarks"—is used.
He lived among us
In the original Greek, this expression means, "he pitched a tent among us." This is a reference to God's dwelling in the Tent of Encounter during the Israelites' journey through the desert. It is no coincidence that the place in churches where the Eucharist is kept is called "tabernaculum," which in Latin means tent.
3. Today
God has pitched a tent – a tabernacle among us. There is His "sarks," His real, palpable Body.
Furthermore, Eucharistic events confirm this, for example, in Legnica (Poland), where, in 2013, during Mass, a host fell onto the floor of the church. It was then put into a vessel with water, in accordance with the liturgical rules. After a few days, a red substance appeared there. After examination, scientists from the Department of Forensic Medicine in Szczecin said: "The histopathological image showed tissue fragments containing fragmented parts of striated muscle. (…) The whole image (…) is quite similar to cardiac muscle (with changes that) often accompany agony. Genetic studies indicate that the tissue is of human origin."
The same thing happens not only in Legnica, but during every Mass in our churches.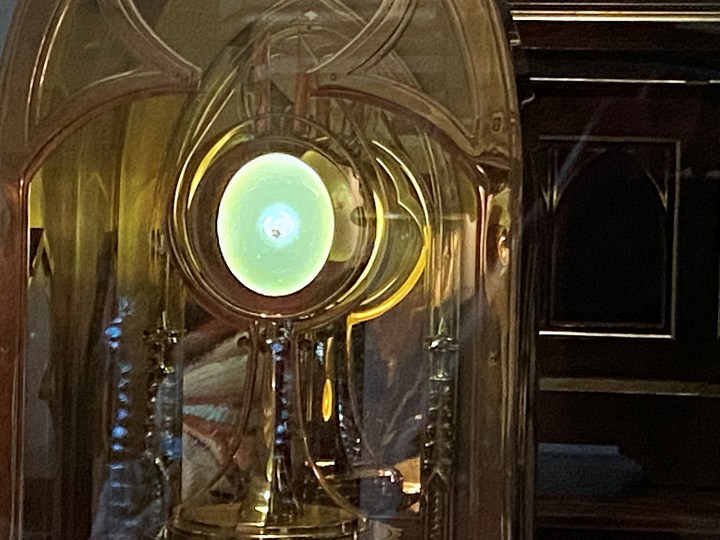 Photo Courtesy of Fr. Paweł Rytel-Andrianik