At 118 years old, she's the longest-living religious, the oldest European and the second oldest person in the world.
You can get Aleteia inspiration and news in your inbox. Our specially curated newsletter is sent each morning. The best part? It's free.
Sign up here
Sr. André, born Lucile Randon, turned 118 years old on February 11, 2022. She's the longest-living religious in the world, but she is also the oldest European and the second oldest person in the world. Long-time Aleteia readers might remember an article we published about her last year when she overcame COVID-19; it might have seemed unlikely then that she'd reach this new milestone, but here she is, alive and praying.
We return to her this year to marvel at her continued longevity and to present some details about her life she shared recently with AFP in an interview at her retirement home in France, published by Swiss news outlet Blue News.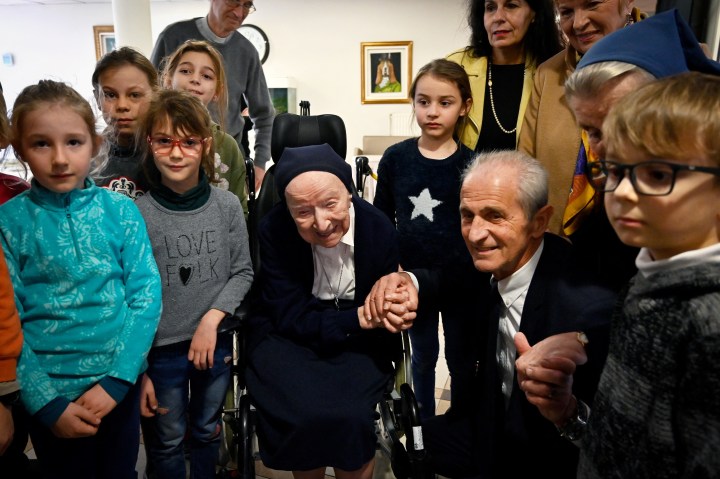 Photo by GERARD JULIEN / AFP
A bed and a statue of Our Lady
Sr. André lives in simplicity; her room contains a single bed, a statue of Mary, and a radio, although the reporter explains that Sr. André has stopped listening to the radio because she finds world news too distressing nowadays. She prefers to remain seated in her wheelchair, praying, thinking, and napping. 
As much as she can, she still observes the rules of her order; she wears her deep blue habit (veil included) and attends morning Mass. She gets up at 7 a.m.
Understandably, she finds the limitations of her age bothersome; she is blind and can no longer walk. "It's terrible not to be able to move around on your own," she told AFP. Some of these limitations are relatively recent; at the age of 100, she was still well enough to help take care of sisters younger than she was.
Despite the burdens she bears; she still enjoys visits. "I'm happy when people come to visit me, like David. David, he's charming, do you know him?" she says to AFP. She's referring to a member of the staff at the retirement home, who has become an impromptu "press secretary," helping her manage the fame she has acquired due to her exceptional longevity. He fields the many "requests from journalists from all over the world, letters, and boxes of chocolates."
We wish Sr. André the best and hope that as long as she remains in this world she will continue to enjoy a peaceful and love-filled environment.