The leader of the diocese where the massacre took place says the government itself may be aiding Islamist Fulani herdsmen in their terrorist activities.
What can God do in your life with one Bible verse a day?
Subscribe to Aleteia's new service and bring Scripture into your morning:
Just one verse each day.
Click to bring God's word to your inbox
One month after 41 people were killed in St. Francis Xavier Church in Owo, Nigeria, the bishop of Ondo Diocese, in an interview with Aleteia, said that the Nigerian government has done nothing to pursue the perpetrators of the crime. 
The massacre was the latest incident in what he says is an attempt to cleanse Nigeria of its Christian population. In the past five to six years, Bishop Jude Ayodeji Arogundade told Aleteia, villages have been sacked, priests have been kidnapped and killed, and as many as 5,000 Christians have been murdered. Islamist Fulani herdsmen are the prime suspects in the attacks, he said.
"That's why we say genocide is going on in Nigeria. The latest attack is the one that happened in my diocese, and I feel the responsibility to scream until the whole world notices and puts the situation right. I take all interviews, anybody who wants to talk to me, just so the message gets out there that there are people in dire need of the world's intervention. We need intervention to stop the killing and carnage that is going on in Nigeria," he said.
"What is going on in Nigeria, in a simple sentence, is that some powerful people are trying to displace the indigenous Nigerian people and settle the Fulani on their land. That is what is going on," Bishop Jude Ayodeji Arogundade said.
The day of the massacre
Describing the events of June 5, after he received a phone call that there had been an explosion at St. Francis Xavier Church, Bishop Arogundade said: 
"It was a horror, the scene was beyond anything I have ever seen, blood everywhere, flowing in the church. Everybody was distraught, there were people crying, screaming, and protesting. We were able to calm everybody down, and then count our losses.
"And that was it, the entire life of the diocese changed at that moment. We have never seen this kind of thing before, it was never anything within our imagination. In this part of Nigeria, the southwest part of Nigeria, we are very civilized, everybody goes to school, it's a well-developed part of Nigeria, and we always thought this kind of situation could only occur in the north, but we were wrong," he said.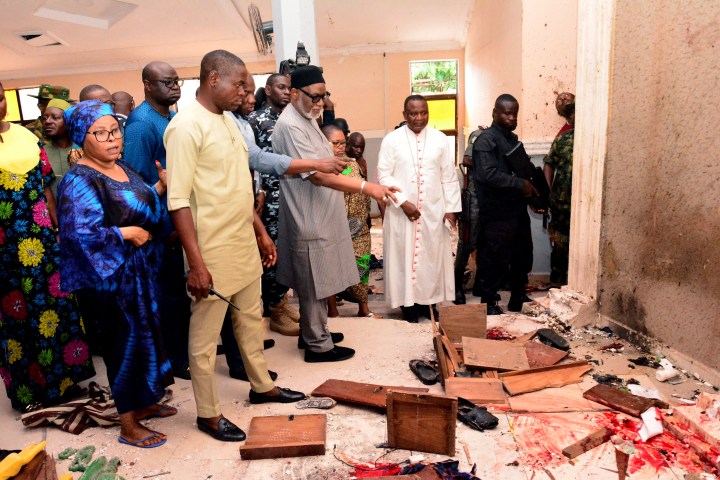 AFP
A complacent — or possibly complicit — Nigerian government
Bishop Arogundade said that he has not seen any effort on the part of the Nigerian government to pursue the terrorists responsible for the attack on the church. In making himself available for media interviews, he said, he is hoping to call the international community to action to hold the Nigerian government accountable.
"I just feel that the Nigerian government is complacent, that's why I'm screaming to the whole world, to insist that the Nigeria government must do something," he said.
"Just today, I read that the spokesman of the government said that there is no persecution of Christians in Nigeria, that what is happening are just common security issues," he said.
"There is genocide going on, mass killing of every kind, wiping out whole villages and all of that. For people to be killed in a church, and all the government is saying is there is no persecution of Christians? They killed 41 people and you are trying your best to tell the whole world that there is no persecution of Christians? What kind of nonsense is that?" He said.
His suspicion, and that of many Christians in Nigeria, he said, is that the president of Nigeria, Muhammadu Buhari, who was born to a Fulani family, is, if not actively backing the terrorist attacks, tolerating them.
"The government of this country, for four of five years, has played dumb, and that is not acceptable. We know who are responsible for this, mainly the Fulani herdsmen, probably Boko Haram and IS-WA (Islamic State West Africa), but the most visible among them are the Fulani herdsmen who are from the same tribe of the president of this country," the bishop explained.
"They want to wipe out Christianity because almost 100% of Fulani are Muslims, they want to establish their caliphate, they want to drive the indigenous people out of their lands, and settle the Fulani. It has never happened at this magnitude before. As I said, we have a Fulani man who is the president and all of a sudden we are seeing what we have never seen before in this country," he said.
"Some people are even starting to call the Fulani invasion, a 'government-backed Fulani invasion.' Because in our country, the military controls everything, so they are now unleashing terror, because they want a country they can call a Fulani country. So everybody has to die to be able to achieve that. 
"That's what I see, to be blunt and to the point. Until we see a positive move from the government, arresting and punishing, and holding people accountable for this killing, and the destruction, of towns, villages, churches, and Christians, we will continue to feel that there is something in relation to government-backed groups unleashing this terror on all of us," he said.
More attacks since Pentecost Sunday
Since the attack on St. Francis Xavier Church there have been two more attacks on churches in northwestern Nigeria, in the predominately Christian part of the state of Kaduna. Three people were killed and several were abducted on June 19. Then on June 25 and 26, two Catholic priests were found murdered. Bishop Arogundade sees the continuing attacks as part of a systematic effort by Islamist Fulani herdsmen to take terrorize Christians in order to seize their land.
"Why do you have to come to southern Kaduna and begin to kill the Christians there, decimate their villages, drag them to IDP (internally displaced persons) camps, rape and cause all kinds of situations there, render many of them hopeless, so some of them have run away from their homeland. 
"They frighten people, they kill, they destroy, and people run away from that, and they take over their land and settle there. That is what has been going on and that is the reason why all the interviews I have been doing I have always asked that countries and the international community should begin to insist that these people have to be stopped," he said.
U.S. removes Nigeria from religious freedom watch list
"When it happened we were all shocked," Bishop Arogundade said, of the U.S. State Department's decision in November to remove Nigeria from a list of violators of religious freedom.
"Nigeria is indeed a country of particular concern, a country where Christians are persecuted, a country where the government which ought to protect the people, looks the other way," he said.
The church massacre should remove any doubt about whether Nigeria should return to the watchlist.
"The only attack that caught the attention of the international community and the whole world was the one that happened on Pentecost Sunday, and that caught everybody's attention."
He hopes that his testimony at the International Religious Freedom Summit, where he traveled as a guest of the charity Aid to the Church in Need, will soon bear fruit.
"We are excited to hear of some of the results of my visit, and for me, it is really very encouraging. I hope the American government will listen to what we are saying. And even if they have to send an envoy to Nigeria to see what is going on, then they will be able to trust their own envoy to be able to give them correct information." 
He hopes that in addition to initiating a fact-finding mission, the United States. can share its intelligence concerning who is assisting the Fulani herdsmen.
"The question I ask everybody and I want the West and whoever cares to listen is, 'who is arming the Fulani herdsmen?' Who is aiding and abetting them, because when you see the Fulani carrying AK-47s and very sophisticated weapons, you begin to ask, 'they can't even afford their daily bread, but they can afford all of this expensive ammunition?'"
"America should be able to tell us with the level of your intelligence, the way you have monitored all of the situations in the world, they should know who is arming these people, aiding them and financing them. 
"Such people should be taken into custody, arrested and held responsible for their crimes. The ammunition in the hands of terrorists, in the hands of Boko Haram and Fulani herdsmen, IS-AW, in this part of the world it is alarming. There is no way the native Nigerians can defend themselves in this kind of situation," he said.