He's undergone 28 surgeries, including 3 transplants that his body rejected, the amputation of his leg, and cancer.
What can God do in your life with one Bible verse a day?
Subscribe to Aleteia's new service and bring Scripture into your morning:
Just one verse each day.
Click to bring God's word to your inbox
Children have a natural ability to normalize a traumatic event. Amelia, who is only three and a half years old, clapped her hands the day her father explained to her, in the simplest language possible, that he had lost a leg. Her dad, Pablo Delgado, a 45-year-old from Madrid, hasn't had to adapt to infirmity – because he's been dealing with it since he was a baby.
"It's an advantage. Since I was a little boy I've been bound to a life of hospitals, operations, and transplants. So I haven't had to adapt, a process that always generates great difficulty for patients."
Pablo is the son of a doctor, who was surprised the day he was told that Pablo had drunk a whole bottle of water when he was only 6 months old. His suspicion was confirmed when he was told that his son had vesicoureteral reflux, a serious disease that in 1977 offered little chance of survival.
"The normal thing is for the child to die"
As a good father, he did everything possible and more to find a way to extend his little boy's life. He found Dr. Gil-Vernet, a specialist in renal diseases and pioneer of kidney transplants, and was told, "José Ignacio, doctor to doctor, you have no hope of success; the normal thing is for the child to die, but I'll still do what I can."
Gratitude for the gift of life
That "whatever I can" ended up saving Pablo's life. Pablo grew up with the dream of one day being able to thank the urologist for this great gift.
When Gil-Vernet was already 97 years old, Pablo wrote him a letter, which he was able to have delivered through the elderly doctor's son. Gil-Vernet was thrilled because he remembered perfectly well who Pablo was. A few weeks later, the doctor passed away. The letter had arrived just in time.
Thanks to the doctor's skill and effort, Pablo is alive today, although it's not an easy life. He's undergone a total of 28 surgeries, including three transplants that his body rejected, the amputation of one leg with the risk of losing the other, and cancer. He's also been dependent on dialysis for eight years now, five days a week – a procedure that keeps him alive; without it, he would die in 7-10 days.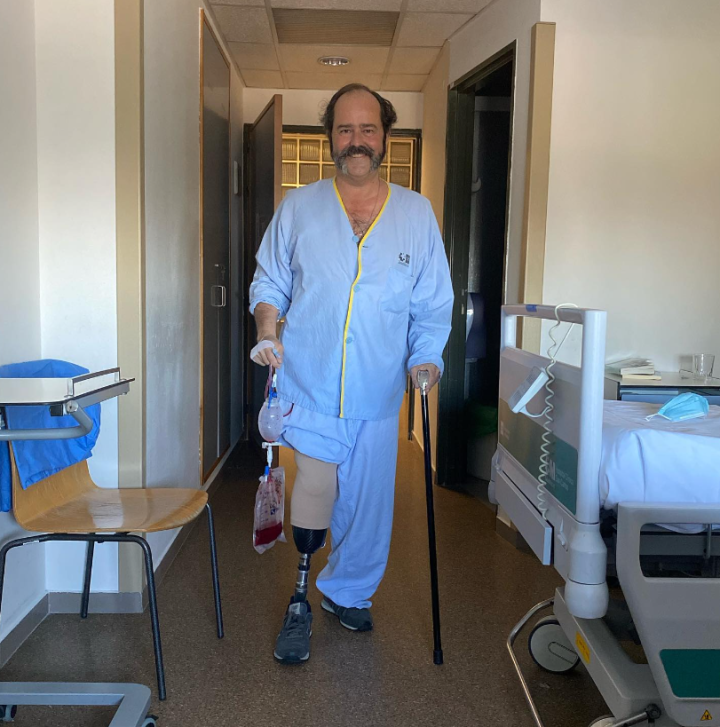 A difficult but full life
"I'm a lucky guy," says Pablo in his interview with Aleteia. He shared with us his trick for always seeing the positive side of what happens to him and keeping his head busy, despite his life of chronic illness.
Pablo is a researcher and professor in physiotherapy at Francisco de Vitoria University. He's currently studying a degree in humanities, and dedicates his free time to coaching, encouraging people who are going through something similar. He also gives lectures, and has an instagram account (@untrasplantado) and a blog (www.untrasplantado.com, in Spanish) where he shares his day-to-day life. He has recently written a book, "Diario de un trasplantado" ("The Diary of a Transplant Recipient") which has been very well received.
All these initiatives have a single purpose: to evangelize the people who approach him, revealing to them his positive and happy approach to life, despite the circumstances.
SAP Team
Pablo is married to Sara and together with their daughter Amelia they form what he calls his SAP Team. "Every day they give me the strength that my poor health takes away from me," says Pablo. The illness has also allowed him to spend more time with his daughter, a fact he values enormously.
He is deeply in love with his wife, Sara, and marvels at the vows they spoke to each other on their wedding day, which still resonate strongly today: "in sickness and in health… from this day forward until death do us part."
"I didn't choose my parents and siblings. Nor did I choose my daughter, Amelia. Sara, however, chose me, even though she knew I was sick. That has a lot of merit and says a lot about what a good person she is," exclaims Pablo emotionally.
He highly values the role of the patient's companion. "She's the one who receives the bad-tempered answers, who must remain strong to lift the patient's spirits," says Pablo, referring to his wife, who is on the front line of his daily struggle.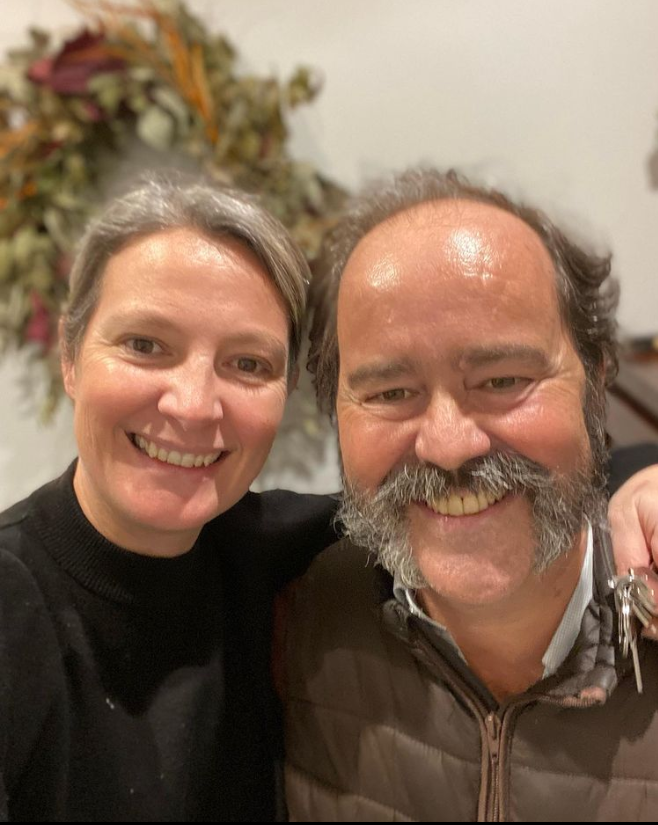 Rebelling against what happens to us only brings more suffering
Pablo went through a particularly troubled time during his adolescence when he couldn't make sense of his cross. "Precisely at the stage when you need to be part of a group, I felt like a freak," he says. He had an existential crisis that led him to question God about the reason for his condition. However, over the years he came to feel that it's not God who sends us difficulties. "It's life and its circumstances. On the other hand, what God does give you is the strength and grace to get through it." Since he sees everything through this prism, he has greater serenity and great trust in the Lord.
In our society we pay a lot of attention to diseases that visually impact us, when sometimes an externally invisible illness might be much more life-threatening. Pablo tells me that "my kidneys are the problem, although visually my amputated leg attracts more attention. I won't die because of this stump."
Today, physically, he has pain in his remaining foot. He can't walk for more than 100 yards without pain, plus he has to undergo the cumbersome process of dialysis five days a week. In spite of everything, Pablo is emotionally strong. He's a great example of optimism and vitality.