"Sheltering," a new life-sized sculpture, was unveiled and blessed by Pope Francis just days before the 6th World Day of the Poor.
Canadian sculptor Timothy Schmalz has brought another stunning sculpture to Vatican City. His new piece, titled "Sheltering," was blessed by Pope Francis on November 9, 2022, during an unveiling in St. Peter's Square, just steps away from the artist's "Angels Unawares" piece, which has stood in the square since 2019. 
"Sheltering"
The new sculpture is a life-sized depiction of a homeless man lying on the ground while a dove in flight pulls a blanket over the naked figure. According to Vatican News, "Sheltering" was envisioned to shine a light on the plight of homelessness and encourage practical solutions.
See images below: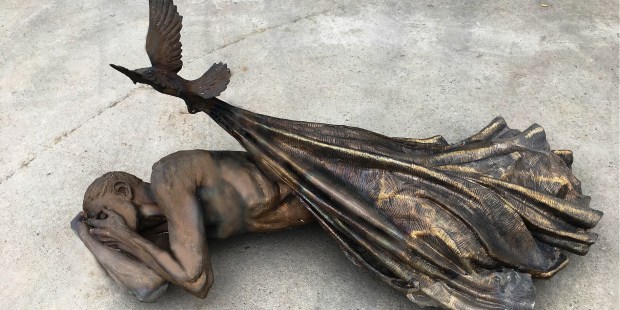 Launch the slideshow
The bronze-cast sculpture also promotes the "13 Houses Campaign," an initiative of the Homeless Alliance of the Vincentian Family (FHA), which gathers religious congregations, lay associations and charities inspired by the life and work of St. Vincent de Paul. The campaign has pledged to provide 10,000 homes for the homeless worldwide by 2023. 
Schmalz's new sculpture was unveiled just a few days before the 6th World Day of the Poor, which falls this year on November 13. The sculpture will be in St. Peter's Square as the pope has lunch with several thousand disadvantaged people that day.