Henri, a 24-year-old former scout, was in the town as part of his route visiting the cathedrals of France.
On June 8, in a split second, horror fell upon the southeastern French alpine town of Annecy when a Syrian national armed with a knife attacked a group of people in a park. 
After seriously injuring four children aged 22 months to 3 years, the assailant continued his frenzied attack, wounding 6 people in total. He might not have stopped if several people had not intervened before the arrival of the security forces. Among them was Henri, a young Frenchman who was backpacking across France to visit the country's cathedrals.
Despite the risk to his own life, Henri repeatedly intervened to prevent other people from being injured. In short video clips taken by bystanders, you can see him standing directly in front of the man, wearing his backpack and protecting himself with another small bag to block the man's blows. He even pursues the attacker.
"Something very deep inside me pushed me to act"
"I acted as any Frenchman should," he said on TF1, adding that he acted instinctively. "I had the impression of a man inhabited by something very evil, and I was driven by something very powerful within me," he said on Europe 1. "It's very mysterious to say, but a great inner force pushed me to do it, something very deep inside me pushed me to act," he continued.
An inner strength that has no other name than faith, which Henri clearly has in no lesser degree than the generations who built the beautiful cathedrals he's traveling to see.
Henri, 24, has a bachelor's degree in philosophy and a master's degree in management from an institution in Paris. Two months ago, he decided to embark on a backpacking tour of the cathedrals of France. A fervent Catholic, passionate about hiking and in love with France's religious heritage, he explained to Aleteia that he wanted as many people as possible to discover the beauty of French cathedrals from an approach that was both spiritual and educational.
The day after the attacks, he met with French president Emmanuel Macron. He told the French leader, "We hope that the lesson of all this is that if we nourish ourselves with beautiful things"; we can "raise our heads in the face of evil."
On social networks, messages of support and admiration poured in from all sides, highlighting the courage shown by the pilgrim.
Henri, a former scout leader, effectively demonstrated his scouting values, including to the motto "Be Prepared" and Article 3 of the Scout Law in France: "A scout is there to serve and save his neighbor."
A pilgrim in love with cathedrals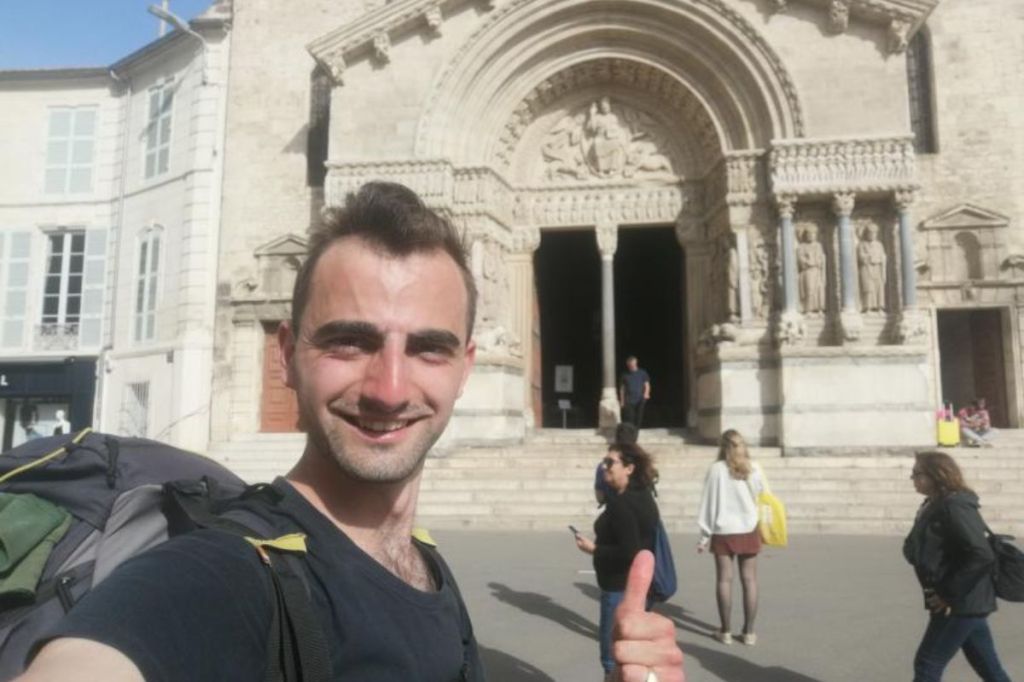 Le chant des cathédrales
The young hiker shares his adventures daily with thousands of Internet users on Instagram and TikTok, on his page "The song of the cathedrals" ("Le chant des cathédrales"). He had started his journey from Barroux Abbey and arrived in Grenoble just before passing through Annecy. That morning, he had just posted an Instagram "story" in which he showed the beauty of Annecy's landscapes. That was before his hike that day turned into a nightmare.
Shortly after the attack, the young man published an update, saying he was OK and inviting his audience to pray for the victims.
His presence was "no coincidence"
A classmate of Henri's from when he was at a business school in Marseille says that this pilgrimage is totally in character for him and with his action in Annecy. "Henri has an admirable personality. He's committed to the values he defends and professes. He has always turned towards others to share, exchange, and bear witness. This tour of France's cathedrals is a project that represents him divinely well. It's no coincidence that he found himself in Annecy at this time. We think a lot of him in Marseille, and we're proud of him, of what he's done and of who he is."
Henri rejects the title of "hero." He points out that other people also intervened and came to the aid of the victims. Two municipal workers with shovels tried to prevent the assailant from causing more victims, as did a math teacher, as Henri pointed out to the President of the Republic.
Another young man, aged 19 and renting pedal boats on the lake, also tried to stop the assailant.