After having surgery for an intestinal hernia on June 7 and making a swift recovery, Pope Francis is expected to be discharged from the hospital tomorrow.
"The medical team that is following Pope Francis confirmed the Holy Father's discharge from the A. Gemelli Polyclinic on the morning of tomorrow, Friday, June 16," announced the Vatican Press Office on June 15, 2023. The Pontiff had been admitted to the Gemelli Hospital in Rome on June 7 for an intestinal hernia with a risk of occlusion.
In recent days, press releases from the Holy See have hailed the improvement in the Pontiff's health, and several days ago, he was already working from his hospital room. On the evening of June 14, the Pope had dinner with the staff who have been assisting him since his admission to the hospital.
This morning's clinical blood and bone marrow exams were normal, after another night during which Francis "rested well."
After these check-ups, as a sign of thanks, the Pontiff met with the entire operating team of doctors, nurses, social and health workers and auxiliary personnel who coordinated, performed, and made possible the June 7 surgery.
The Pope then met with those responsible for the pastoral care of the Hospital's medical staff and patients, followed by those who manage this university hospital. As reported earlier, Francis visited the Pediatric Oncology and Child Neurosurgery Department to thank "the young patients who in recent days have expressed their affection to the Pope through numerous letters, drawings and messages hoping for a speedy recovery." He spoke with them and their parents, and gave them a rosary and a book.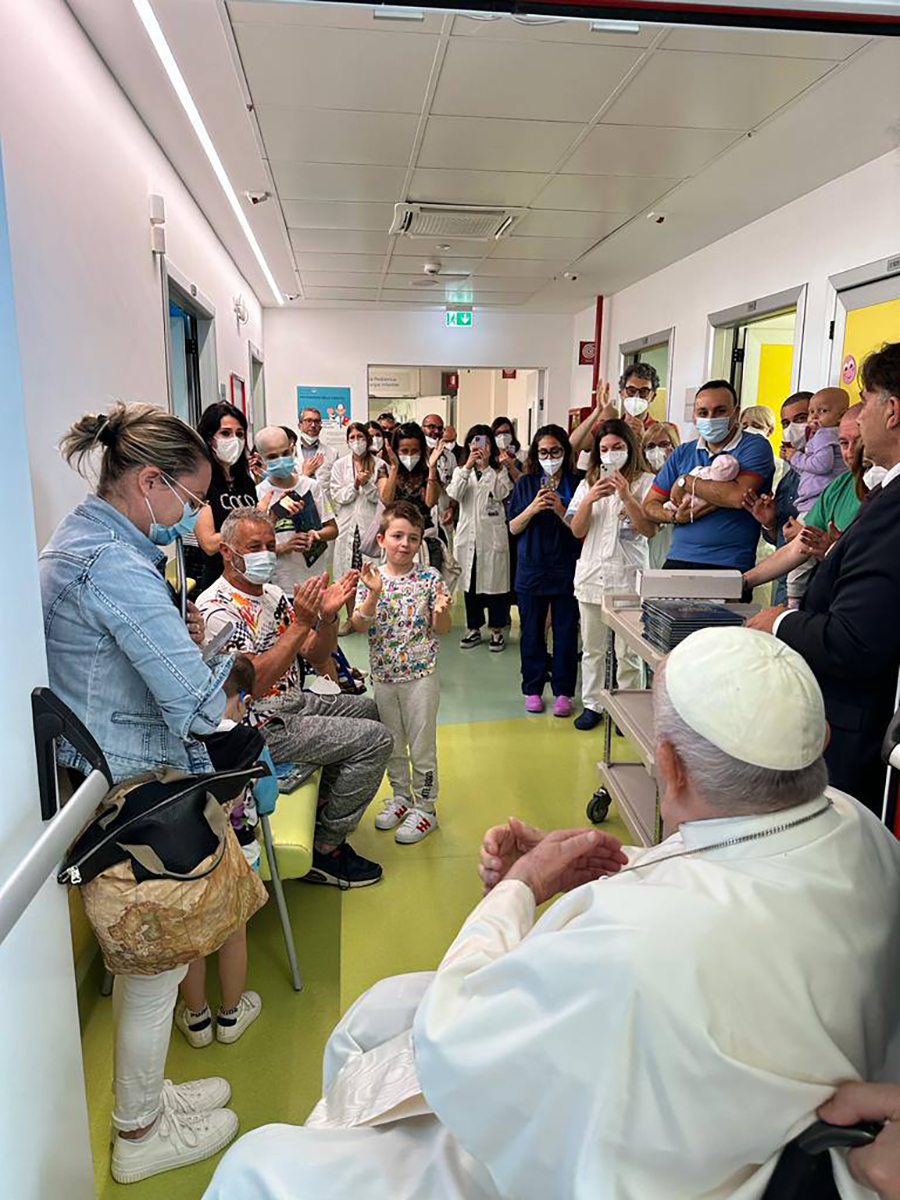 © Vatican Media
Finally, the Pope thanked all the hospital's medical staff "for their professionalism and efforts to alleviate the suffering of others with tenderness and humanity in addition to medication."
If he leaves the hospital tomorrow as planned, Francis will have been there for ten days, as long as his previous colon operation in July 2021.
It has not been announced whether the Pontiff will be present at the window of the Apostolic Palace to pray the Sunday Angelus prayer on June 18.
He reportedly has several important meetings next week, notably with Brazilian president Luiz Inácio Lula da Silva and Cuban president Miguel Díaz-Canel.
This summer, two important trips abroad await him: World Youth Day in Lisbon from August 2 to 6, followed by a historic trip to Mongolia from August 31 to September 4.