Father Fabiano Rebeggiani, an Italian priest of the Archdiocese of Seoul, shared with Aleteia the impact he believes hosting WYD will have on the Church and on South Korea.
As pilgrims pack up their bags to leave Lisbon, they can already start looking forward to the next World Youth Day, in 2027 in Seoul, South Korea, as announced by Pope Francis on August 6.
Italian Father Fabiano Rebeggiani has been in South Korea for the last 10 years and was ordained in 2021 as a priest of the Archdiocese of Seoul. Originally from Rome and part of the Neocatechumenal Way, he was in Lisbon accompanying a group of 180 pilgrims from his diocese.
Around 1,200 Koreans have come to WYD. Father Rebeggiani shared with Aleteia the impact that he thinks WYD in Seoul will have on the local population and Catholics worldwide. 
Why did Church leaders in Seoul decide to propose the city to host WYD? 
Father Fabiano Rebeggiani: I believe our archbishop asked for WYD to be hosted in Seoul because he felt the need to renew the Church. After the pandemic there was a crisis in terms of Mass attendance, especially by young people. He thinks that this event can reawaken the faith of the Church in Korea and especially that of the youth. Clearly the young people who came here are excited.

Seoul is a much bigger city than Lisbon and there is a good hosting capability. I think it's the right place to be able to do it, and it will be a good experience for those who will come from Europe or the United States because they will get a taste of Asia. I think it's something that will help both the faithful who come from the West and the Church in Korea itself.

I think having WYD in Seoul will be like a bomb; it will shake Korean society, which is very orderly and precise. To see this explosion of joy, of enthusiasm, of faith I think will help many to know Christ. 
Could this WYD also embody a message of peace and reconciliation between peoples?
Father Fabiano Rebeggiani: Absolutely. In Korea right now there is an armistice, the conflict ended in 1953 and there was no peace treaty. For pilgrims to go and see the demilitarized zone, the border, the checkpoints, the missile aimed at the North, to go back to a Cold War atmosphere — it's an experience that will help understand the suffering of Korean people.

This can especially help people to pray for peace. The only possibility to one day proclaim the gospel in North Korea is not only through political means, but especially through constant prayer. As Pope John Paul II consecrated Russia to Our Lady of Fatima, the intercession of the Virgin Mary would also be necessary in Korea.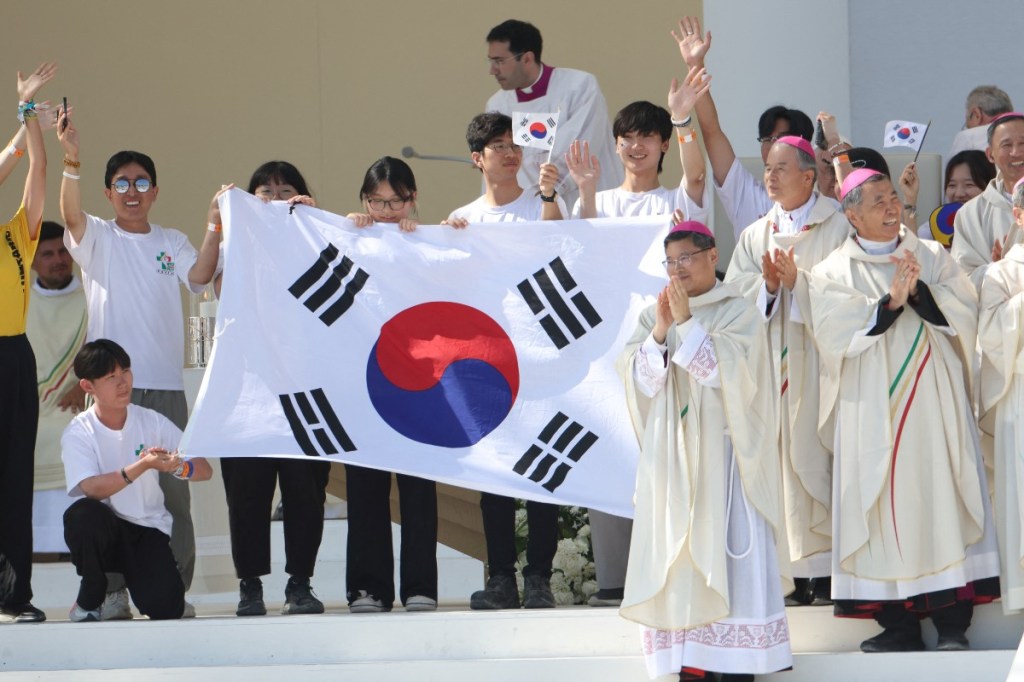 Thomas COEX / AFP
What is the role of the Church in South Korea?
Father Fabiano Rebeggiani: Around 10% of the Korean population is Catholic, 20% is Protestants, 20% is Buddhists, and 50% have no religion. The Catholic Church has always been very well seen in South Korea because it played a role in the democratization of the country, because there were also military dictatorships. Thanks also to the mediation of the Korean bishops and political action, democracy came to the country. So the Church is well regarded for political reasons, but also for social ones.

Korean society is full of competition. Children starting in school and then in the working world suffer a lot because of this. They are stressed and there are a lot of suicides, depression. A lot of people turn to the Catholic Church to find some peace.
What do South Koreans think of Pope Francis? 
Father Fabiano Rebeggiani: When Pope Francis came to Korea in 2014 he was incredibly popular, especially among non-Catholics.
For example when he came to Korea, he didn't want a fancy car, he drove around the city in a KIA, or also he dialogued with other religions and with the various parts of society. He simply showed himself as humble, as a pope who is among the people, not of the hierarchy. I think this touched especially many non-Catholics and it had a very strong effect. In fact there were many conversions after the Pope's visit in 2014.