Cardinal Luis Ladaria is retiring as prefect of the Dicastery for the Doctrine of the Faith to be replaced by Cardinal-designate Víctor Manuel Fernández.
On September 5, 2023, the day after his return from Mongolia, Pope Francis visited the seat of the Holy Office within the Vatican walls to greet the outgoing prefect of the Dicastery for the Doctrine of the Faith (DDF), Cardinal Luis Ladaria, the Holy See Press Office reported. The new prefect, Cardinal-designate Víctor Manuel Fernández, is due to take office in the next few days. 
The soon-to-be 87-year-old Pontiff, who made a 10-hour flight from Ulaanbaatar to Rome the day before at the end of his trip to Mongolia, arrived at the dicastery at around 9 am this morning. He thanked the outgoing prefect "for his work and for all he has done during his years of service," according to the note.
After his meeting with Cardinal Ladaria, the Pontiff also greeted the DDF's officials, who number around 30. 
Spanish Jesuit Luis Ladaria Ferrer, 79, is completing his term of office at the DDF after six years. Benedict XVI had appointed him secretary of the same dicastery in 2008. Pope Francis chose him as prefect in 2017 to replace Cardinal Müller.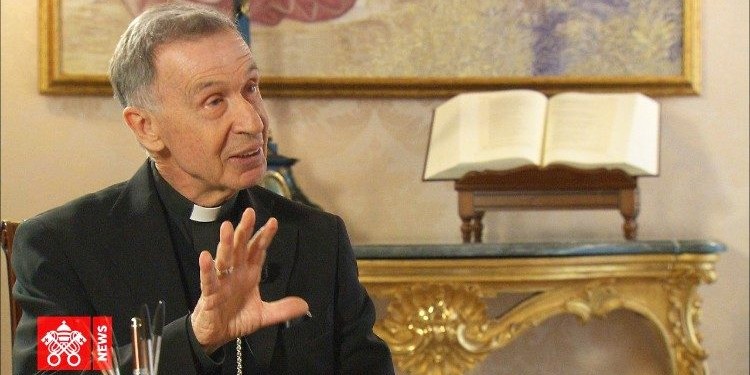 Cardinal Ladaria's legacy
Within this dicastery, he notably led the work of the commission for doctrinal dialogue between the Catholic Church and the Lefebvrists — dialogues which failed to reach a common agreement. He also led the first Study Commission on the female diaconate in 2016, which concluded that the role of deaconess would not bring greater recognition to women in the Church.
Under his presidency, the DDF published a noted Responsum in 2021 rejecting the blessing of same-sex unions. Cardinal Ladaria was also among the Curia cardinals who publicly expressed concern about the German synodal path during the German bishops' ad limina visit in 2022. 
On July 1, the Pope appointed as his successor 60-year-old Argentine Archbishop Víctor Manuel Fernández, a theologian very close to the Pontiff, considered to be a contributor behind some of the pontificate's documents. This new "guardian of dogma" has received from Francis a roadmap in the form of a letter to him that was published at the time of his appointment.
Formerly the Holy Office, the DDF has a special status in that it acts as a tribunal. It judges for example, cases of abuse committed by members of the clergy, dissolution of the matrimonial bond under certain conditions, and heresies.
The DDF has two sections, a "disciplinary" section staffed by around 20 people, and a "doctrinal" section staffed by around 10 people.