In Pope Francis' new apostolic exhortation 'Laudate Deum' (Praise God) he calls for effective action against the "silent disease" of climate change.
Eight years after publishing an encyclical on stewardship of God's creation, Laudato Si', Pope Francis is again urging world leaders to act, with an apostolic exhortationLaudate Deum (Praise God), published October 4, 2023, feast of St. Francis of Assisi.
I.Media breaks down the text of around 13 pages, which the Pope wanted to publish on the feast of his namesake, and some weeks before the 28th United Nations Climate Change Conference (COP28) in Dubai in early December. 
1
Why is the Pope (re)sounding the alarm?
"The world in which we live is collapsing and may be nearing the breaking point," the nearly 87-year-old Pope writes. The Argentine Pontiff is taking up his pen again to alert the world to the "global climate crisis" that threatens it. "Despite all attempts to deny, conceal, gloss over or relativize the issue, the signs of climate change are here and increasingly evident," he explains. 
"I feel obliged to make these clarifications, […] because of certain dismissive and scarcely reasonable opinions that I encounter, even within the Catholic Church," he continued. "It is no longer possible to doubt the human – 'anthropic' – origin of climate change," he added, citing a large body of scientific research and data.
The head of the Catholic Church lists the signs of a "silent disease" affecting humanity, such as the acidity levels of the ocean, melting glaciers, rising sea levels, and droughts. He reiterates that "the change in average surface temperatures cannot be explained except as the result of the increase of greenhouse gasses."
Noting that the "responses have not been adequate," he warns once again: "We are now unable to halt the enormous damage we have caused. We barely have time to prevent even more tragic damage."
2
Who is Pope Francis addressing?
In this 5th apostolic exhortation since the beginning of his pontificate, Pope Francis uses a specific salutation, as he addresses this text "to all people of good will." While the Pope assures at the end of the exhortation that he does not want to fail "to remind the Catholic faithful of the motivations born of their faith," he also highlights in the following sentence that this letter is also addressed to the "brothers and sisters of other religions." His target audience is not the Catholic readership, but all those concerned by climate change … in other words, everyone.
By comparison, his first exhortation Evangelii Gaudium (2013) was addressed "to the bishops, clergy, consecrated persons, and the lay faithful." Amoris Laetitia (2016) addressed the same audience, with the addition of "Christian married couples." Christus vivit (2019) was addressed "to young people and the entire people of God." Lastly, Querida Amazonia (2020) was addressed "to the people of God and to all persons of good will."
For the first time since 2013, Francis is publishing an exhortation that is not resulting from a Synod, but from personal intuition, linked to the approaching COP28 meeting. The language of this document is therefore deliberately secular, closer to the interventions of the Holy See's diplomats at the UN than that of previous magisterial texts, including Laudato Si', which had taken a more spiritual and biblical tone, with a call to conversion of lifestyle. 
This text is more of an international plea, addressed first and foremost to decision-makers, who are thus urged to take concrete decisions within the framework of multilateral negotiations that allow all states, as well as non-state players such as NGOs, to express their views.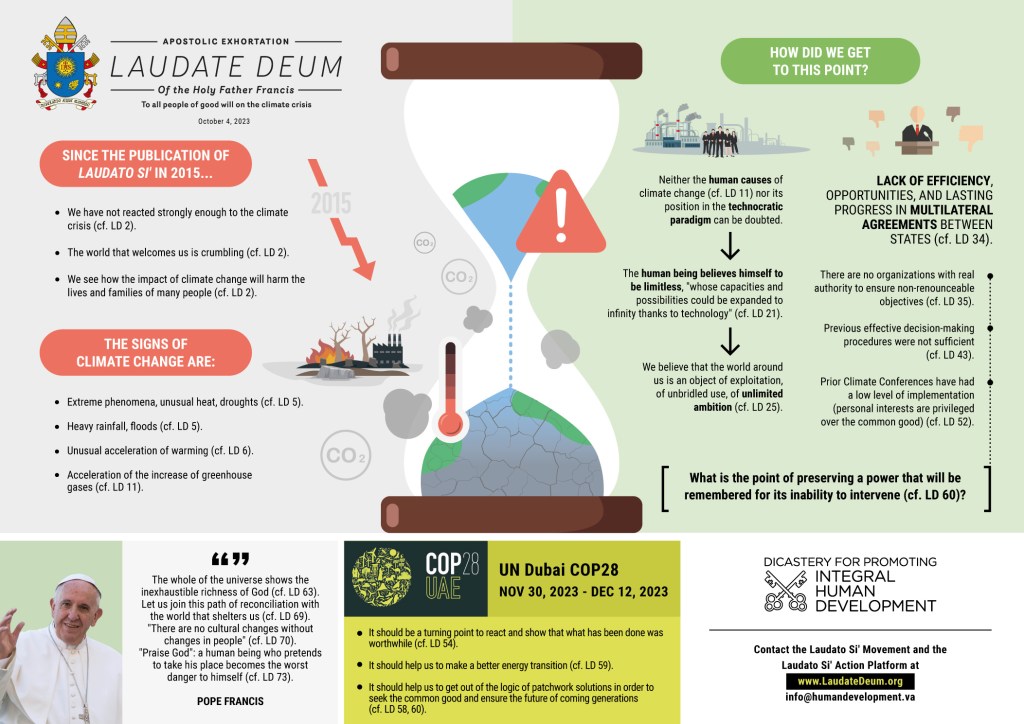 Vatican Dicastery for Promoting Integral Human Development
3
What does the Pope suggest?
In his letter, Pope Francis strongly denounces the "technocratic paradigm" that has promoted an "ideology" of "infinite or unlimited growth" and entrusted "a small part of humanity" with so much power.
As he regularly repeats in his speeches to ambassadors in particular, in this exhortation he advocates for "more effective world organizations, equipped with the power to provide for the global common good" and which are "regulated by law."
"In this way, there could come about a multilateralism that is not dependent on changing political conditions or the interests of a certain few, and possesses a stable efficacy," he explains. 
To achieve this, he encourages citizens and civil society to take action and underlines that "unless citizens control political power – national, regional, and municipal – it will not be possible to control damage to the environment."
"It is necessary to be honest and recognize that the most effective solutions will not come from individual efforts alone, but above all from major political decisions on the national and international level," Francis acknowledges. However, he also stressed that "every little bit helps" and praises the "new culture" created by individuals in their households who try to "to reduce pollution and waste, and to consume with prudence." These initiatives "can end up pressuring the sources of power" and are "capable of creating effective dynamics that the United Nations cannot," he explains. 
4
What does the Pope expect from the next COP28?
The drafting of Laudato Si' had been accelerated so that it could be published in 2015 ahead of COP21 in Paris. This time, Pope Francis is using the upcoming COP in the United Arab Emirates as an opportunity to raise awareness. He devotes an entire chapter to the subject, with the title: "What to Expect from COP28 in Dubai?"
Noting at the outset that this Gulf country is a "great exporter of fossil fuels," the Pope does not, however, want to lose hope. "To say that there is nothing to hope for would be suicidal, for it would mean exposing all humanity, especially the poorest, to the worst impacts of climate change," he writes. 
After recalling the successes, but above all the failures, of previous summits, he hopes for "a change of direction" next December, and sets high objectives. "One can only hope for binding forms of energy transition that meet three conditions: that they be efficient, obligatory and readily monitored," Francis says. "Only a process of this sort can enable international politics to recover its credibility, since only in this concrete manner will it be possible to reduce significantly carbon dioxide levels and to prevent even greater evils over time." 
He also doesn't expect that only technological solutions will end the crisis. On the contrary, he warns: "To suppose that all problems in the future will be able to be solved by new technical interventions is a form of homicidal pragmatism, like pushing a snowball down a hill."
5
The cry of a Pope from the South?
In line with many of his speeches and texts throughout his pontificate, Pope Francis once again speaks out on behalf of the Global South, strongly denouncing the grip of rich countries and the imposition of their model of development on the rest of the world. "In an attempt to simplify reality, there are those who would place responsibility on the poor, since they have many children, and even attempt to resolve the problem by mutilating women in less developed countries," explained the Argentine pontiff, seemingly pointing to campaigns in favor of contraception and abortion regularly conducted by the West.
"The reality is that a smaller, richer percentage of the planet contaminates more than the poorest 50%," continues Francis. "How can we forget that Africa, home to more than half of the world's poorest people, is responsible for a minimal portion of historic emissions?"
"If we consider that emissions per individual in the United States are about two times greater than those of individuals living in China, and about seven times greater than the average of the poorest countries, we can state that a broad change in the irresponsible lifestyle connected with the Western model would have a significant long-term impact," the Pope writes. 
Calling for radical change, the Pope also expresses his sympathy for environmental movements. "In Conferences on the climate, the actions of groups negatively portrayed as 'radicalized' tend to attract attention. But in reality they are filling a space left empty by society as a whole, which ought to exercise a healthy 'pressure,' since every family ought to realize that the future of their children is at stake," the Pope underlines. 
The Vatican Dicastery for Promoting Integral Human Development released a video to illustrate the Pope's document: