Volunteers from "The Rosary Team" pray the rosary with residents of elder care facilities. Founder Teresa Rodriguez encourages everyone to join the effort.
At his last general audience, Pope Francis called for a day of fasting and prayer on this coming Friday, October 27. One woman who has responded to the Pope's call is Teresa Rodriguez, the founder of an initiative called The Rosary Team in which volunteers pray the rosary with elder care facility residents.
Rodriguez has asked The Rosary Team volunteers to offer this week's rosaries for the Pope's intention when praying at the various facilities they serve. She is also encouraging everyone to visit loved ones in assisted living facilities to pray the rosary with them.
"Praying with residents who are sometimes forgotten in assisted living facilities has a tremendous spiritual impact on the lives of both the resident and the volunteer," Rodriguez told Aleteia. "The Rosary Team volunteers minister to resident's souls, and in return receive an abundance of joy."
Spiritual needs of elderly patients
The initiative began in 2019 when Teresa Rodriguez was working as a hospice nurse in a memory care facility located in Boulder, Colorado. Along with her patients and their families and caregivers, Rodriguez began to recognize spiritual needs that were not being met within the system. Prayer and reflection led her to found The Rosary Team, which she dedicated to Our Lady and to her mother, Marian Buchheit, who prayed the rosary with Rodriguez and her four brothers every day when they were growing up.  
Volunteers from local parishes began coming to the facility to lead a rosary once a week. That eventually became 3 days a week, and then the initiative spread to other facilities. There are now 230 volunteers serving 100 locations, most of them in the Archdiocese of Denver.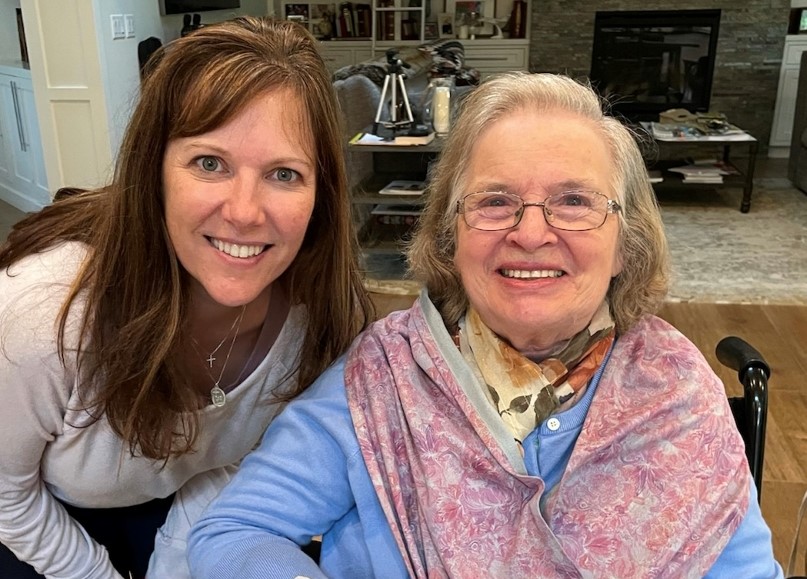 Courtesy of The Rosary Team
A growing team
Growing teams have also sprung up in Ohio and Texas. The Rosary Team anticipates expanding to other states as well in the near future. Anyone interested in volunteering or starting a team in a new location is invited to contact The Rosary Team. They also have large print rosary pamphlets on their website, along with a donation page.
Teresa Rodriguez is moved by the gratitude of the elderly patients she prays with. "Recently, after I finished the rosary with a resident, she said, 'Thank you, now I don't have to pray it alone tonight.' We were not made to be alone and need to help each other on the path towards God, spiritually nourishing each other along the way."
Recently, after I finished the rosary with a resident, she said, 'Thank you, now I don't have to pray it alone tonight.'
She believes that Pope Francis' call to pray for peace this Friday is a reminder that the need for prayer, particularly through the rosary, is urgent and universal.
"I encourage everyone to pray the rosary, or even a decade, with friends, family, and nursing home residents," Rodriguez says. "Praying in person, or over the phone or video if a visit is not possible, especially this Friday, but also throughout the year."