The specific structure and functioning of a monastery can vary among different orders and traditions. This is but an overview of a typical monastery's facilities and their functions.
A typical Catholic monastery is a place where members of a religious order live a shared contemplative life devoted to prayer, work, and community following an established monastic rule.
Monasteries serve as places of spiritual retreat, intellectual development, and hard manual labor, embodying values of poverty, chastity, obedience, and stability. Monastic communities often engage in liturgical prayer, including the Divine Office, and offer hospitality to visitors seeking spiritual guidance or retreat.
Monasteries have historically played a vital role in preserving religious, philosophical, and literary texts, promoting education, and serving as spiritual powerhouses within the Catholic tradition. The specific structure and functioning of a monastery can vary among different orders and traditions, but here is an overview of a typical monastery's facilities and their functions.
Chapel or Church: The centerpiece of any monastery is its chapel or church. This particularly sacred space is where monks or nuns gather for communal prayer and the celebration of the Eucharist. The chapel, often adorned with the most important pieces of religious art preserved in the monastery, serves as the heart of the community.
Dormitory: Monks or nuns have private sleeping quarters, typically simple cells or rooms – although, in some orders, these cells might include small gardens or orchards where monks work. These cells are intentionally modest, reflecting the monastic commitment to a life of simplicity and contemplation.
Refectory: The refectory is the dining hall where the monastic community assembles for meals. A unique feature of the refectory is the practice of eating meals in silence, with a designated member reading aloud from religious texts to encourage reflection during meals.
Chapter House: This space is used for meetings, discussions, and the shared reading and study of the monastic rule. These Rules provide guidelines for the daily life and discipline of monastic communities, emphasizing principles of obedience, stability, and a balanced life of prayer and work.
Library: Monasteries often maintain extensive libraries containing religious texts, historical documents, and other scholarly works. The library is a hub for study, research, and intellectual exploration.
Cloister: A covered walkway surrounds a central courtyard, creating a serene environment for meditation, reflection, and solitude. The cloister often symbolizes the monastic life's separation from the distractions of the world, but it also has plenty of other allegorical theological meanings.
Guest Quarters: Monasteries frequently host guests, including those seeking spiritual retreats. Guest quarters provide a welcoming place for visitors to stay and participate in the community's prayer and work.
Kitchen and Gardens: To foster self-sufficiency, many monasteries have a kitchen for meal preparation and may maintain gardens for growing their own food. This connection to the land and labor is an integral part of monastic life.
Workshops: Monasteries may house workshops where the monks or nuns engage in manual labor as a form of work and prayer. Tasks may include brewing beer, crafting religious art, farming, or bookbinding.
Infirmary: Larger monasteries often include an infirmary to care for sick or elderly members of the community, ensuring that they receive both physical and spiritual support.
Scriptorium: In historical monasteries, thescriptorium was a room for copying and illuminating manuscripts, preserving and disseminating knowledge. While less common today, some monasteries continue this artistic and scholarly tradition – some of them even have professional printing presses.
Cells or Solitary Retreat Areas: Some monasteries provide individual cells or remote hermitages where monks or nuns can engage in solitary prayer, contemplation, and spiritual retreat.
Administration Building: For practical affairs and community administration, there may be an administrative building to manage the monastery's daily operations.
Belltower: Monasteries often feature a belltower. Bells ring to signal various activities, such as prayer times, work periods, or meal times, guiding the monastic community's daily routine.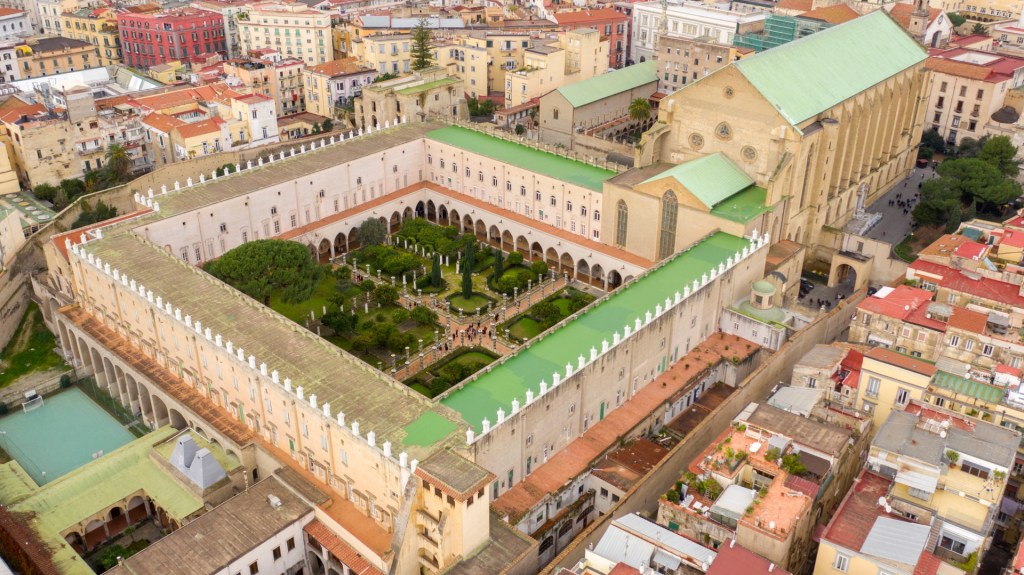 Stefano Tammaro | Shutterstock
The daily rhythm of life in a Catholic monastery revolves around the Liturgy of the Hours, which consists of various times for communal prayer throughout the day. This structured prayer schedule allows the community to come together and deepen their spiritual connection. Additionally, members of the community engage in manual labor, study, and personal prayer.
It's important to note that while this overview provides a general sense of the monastic life, the specific facilities, rules, and practices can vary significantly from one monastery to another due to the diversity of Catholic religious orders and their distinct traditions and rules. Whereas St. Benedict's Rule has served as a foundational text inspiring and guiding many of these monastic communities in their pursuit of a life dedicated to prayer and work, his is far from being the only monastic rule in Catholicism.