There are panels with professional writers, gaming sessions, vendors selling sci-fi and fantasy books and art, plus lots of opportunity to meet other fans.
Ten years ago, Fr. David Subu, a priest at St. Mary Orthodox Church in Falls Church, Virginia, was having a conversation with a parishioner about one of their favorite topics, speculative fiction. "This was right around when Comic Con was happening and starting to be a big thing. And we just kind of playfully talked about how it would be cool if there was something like that from a Christian perspective, where Christians could actually come together, enjoy the fandom, but also reflect seriously about the intersection between their faith and storytelling."
According to Fr. David, Doxacon would never have become a reality had his wife not prodded him to follow through with the idea. "She's the one we have to blame. She said, 'No, you have to do this.'"
He said that from the beginning, Doxacon was conceived of as an ecumenical event.
If we try to do it within our own ecclesiastical boundaries, it would be like hiding the lamp under the bushel. To me it seemed much more sensible to try to get a conversation going on. Even though we're coming at it as Orthodox Christians, obviously we invite Catholic and Protestant speakers as well, because we're all engaged in in this interaction with our broader culture.
S.A. Mann – PermaneoPress.com
The two-day convention draws Christians of many denominations from the DC area and beyond. Orthodox believers come together with Catholics and Protestants to share their love for Christ and enthusiasm for "geek culture" – science fiction, fantasy, and horror fiction in the form of novels, comic books, films and TV series, and games. Doxacon features panels with professional writers, a keynote address from a member of the clergy, gaming sessions, vendors selling sci-fi and fantasy books and art, plus lots of opportunity to meet other fans. Think of it as a Fellowship of the Fantastic.
Ghosts and werewolves and Catholicism
This year, Doxacon X was held at Marymount College in Arlington, Virginia. Aleteia attended the Saturday session along with about 100 others. The morning began with an Akathist hymn, led by Fr. David and some of his parishioners. "Glory to Thee for calling me into being!" everyone sang at the beginning of the long, beautiful litany. The prayer turned out to be a fitting prelude to the eagerly anticipated lay keynote address from Tim Powers.
The award-winning author spoke about "Fantasy Fiction Through a Catholic Lens." The author of 18 books, Powers is perhaps best known for his classic fantasy novels The Anubis Gates and On Stranger Tides, which became the basis for the fourth Pirates of the Caribbean movie. Power identified himself as "a practicing Catholic, not lapsed or recovering, and I think that gives me, in some sense, an advantage in writing supernatural stuff."
"I write about ghosts and werewolves and vampires and genies and things like that, and I certainly don't think those things exist exactly." But he pointed out that even though Christians know "that (J.R.R. Tolkien's) Sauron is imaginary, we also know that something like him does exist."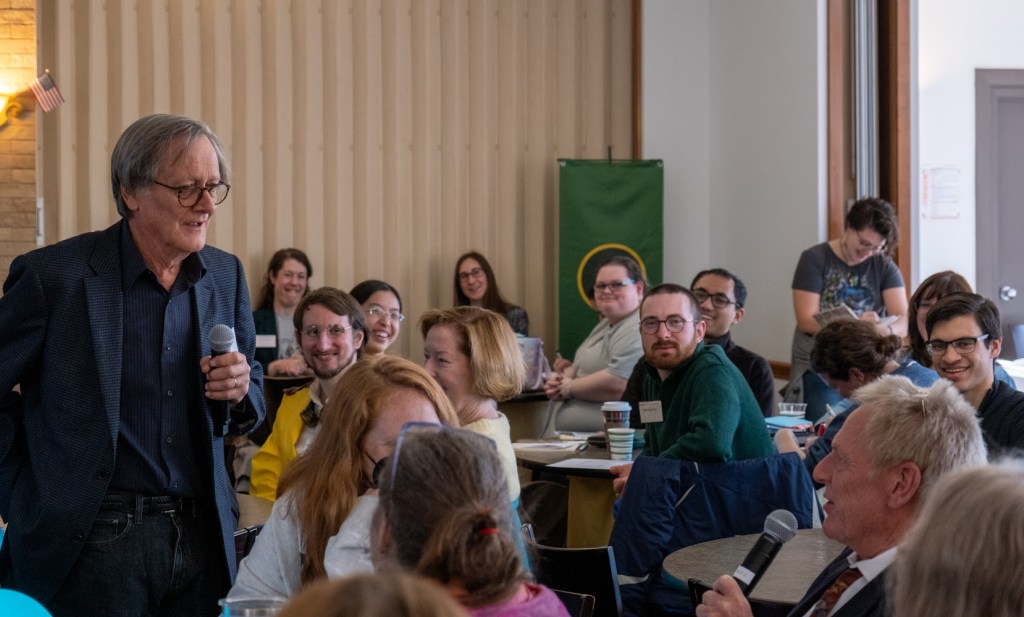 S.A. Mann – PermaneoPress.com
Escapism in the best sense
Powers said that speculative fiction opens readers up to important aspects of reality that the modern world tends to ignore or dismiss. He proudly admitted that his works can be considered escapism – but not in a superficial sense.
What you want to consider with escapism is not just what you're escaping from, which is the immediate right-under-your-nose mundane world, but what are you escaping to? And I think it's a bigger, more enduring landscape. J.R.R. Tolkien was accused one time of writing escapist fiction and he said, 'Yeah, but what category of people most strongly object to escape? Jailers.' Ultimately, it's our job to escape. It's our duty to escape and to take as many people with us as possible.
A later presentation by the novelists Eleanor Bourg Nicholson and Karen Ullo, who is also the Editorial Director of Chrism Press, focused on how mythology — even if imperfectly — can point us to the redemptive suffering of Christ. There were also talks about the genre TV series Game of Thrones and Babylon 5, and about searching for the humanity of comic book characters.
Monsters and morality
In another talk, Kenneth Hite, a game designer who has also written two reference books on the works of horror writer H.P. Lovecraft, spoke about Lovecraftian fiction from the moral perspective. Hite posited that that although Lovecraft was a dedicated atheist, his fiction expresses a desire for there to be a moral center to the universe, even if that desire arose "against his conscious will."
Hite said that the roleplaying game Call of Cthulhu (set in Lovecraft's universe) reflects that same need for morality because it requires players to sacrifice themselves to try and stop cosmic monsters and other destructive forces. "'Greater love hath no man than this, that a man lay down his life for his friends,' and in Call of Cthulhu you are laying down your life for strangers."
Speaking with Aleteia later, Hite said he was pleased to have been invited to speak at Doxacon. "It's great to be able to start from a position where there is the assumption of moral seriousness." He added, "It's also great to be, you know, with a faith community, right? All cousins."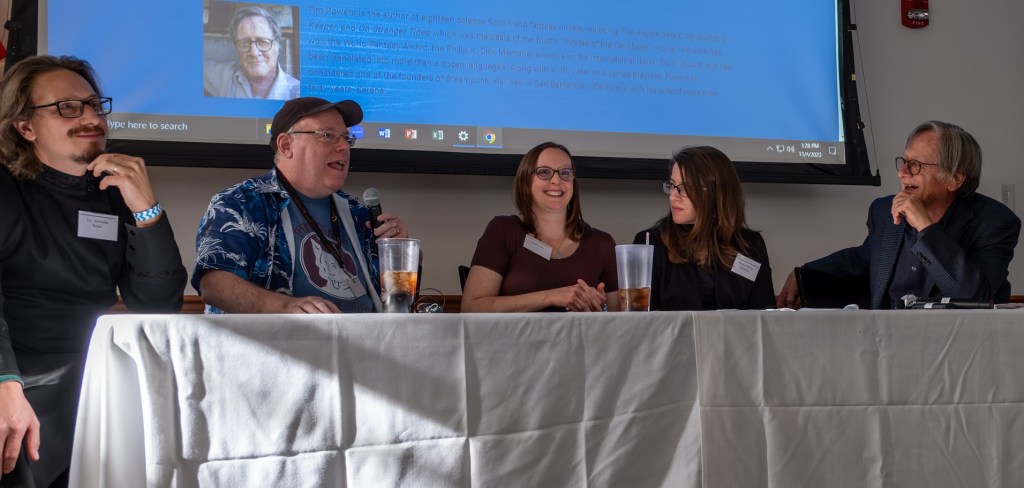 S.A. Mann – PermaneoPress.com
The value of the speculative
Speakers and attendees agreed that the genres of science fiction, fantasy, and horror deserve more attention from Christians as they engage with the secular world. "Speculative fiction uses symbols," Karen Ullo said. "It uses topology just like scripture, and once you allow those things to take on more meaning than just an alien tattoo or just a blood sucking monster or whatever and imbue them at with symbolic value, then you can actually get to a lot of really deep things very quickly."
"I think that's the power of speculative fiction," Deacon Nicholas Kotar said. "It makes us feel the presence of the ineffable." Author of the Ravenson series of epic fantasy novels and host of the Fantasy for Our Time podcast, Deacon Nicholas delivered the convention's clergy keynote address and also participated in the author Q&A that ended Doxacon.
… this is probably one of the most compelling and interesting events I've ever been to.
A great audience
Most Doxacon attendees were in their 20s and 30s, reflecting the importance that geek culture plays in the lives of many younger Christians. There were also families, like Alysse and Scott, who attended Doxacon with their infant son.
"We've really loved this event," Alysse said. "We can bring our son here, and he's welcome, even though he's a baby. The presentations have just been so compelling and leading us to think about the stories we love in new ways."
Her husband Scott added:
I've done dozens and dozens and dozens of conferences, conventions, professional fandoms, everything else, and this is probably one of the most compelling and interesting events I've ever been to, both from the presenters' perspective and what they're sharing, but also watching the audience members. They're here because they really want to be and they're staying for the question-and-answer periods so that everybody here can participate.
"Really some of the insights people have brought have blown my mind," Fr. David said.