We live in a society that promotes the culture of immediacy, choosing the fastest and most efficient, but what is fastest isn't necessarily the best for us.
Health specialists have warned about the consequences of a culture of immediacy on physical and mental health. "Over-reliance on instant gratification behaviors can create problems by changing our brains, distracting us from more meaningful pursuits, and leading to destructive financial, social, and health outcomes," writes Austin Perlmutter, M.D.
Sociologist Zygmunt Bauman in his book Liquid Modernity says that "the 'short term' has replaced the 'long term' and made of instantaneity its ultimate ideal." When something doesn't give immediate results, people tend to experience stress and anxiety.
The content we consume on the internet is particularly instantaneous: we scroll through in seconds and don't even realize how much content we've consumed in less than a minute. We have entire movie catalogs available with a single click, or artificial intelligence that can do jobs in seconds. Finally, our communication with others is also immediate, as we prefer instant messaging to a phone call. 
We need to take a break and learn to enjoy the moment we are living in, especially if we're chatting with a friend, a family member, or our spouse. We need to dedicate quality time to the people in our lives. 
Here are seven tips that can help you live more tranquilly and with less stress:
1
Give yourself time
Be aware of what you need to do, and give yourself time to plan it all without expecting immediate results. Give yourself time to enjoy every moment. If you're eating, take the opportunity to savor the food without eating in a hurry. If you're having a conversation with someone, give them your full attention. They deserve it.
2
GO FOR A WALK
When you feel your mind is overwhelmed, you can relax by taking a walk. Breathe deeply while you look at the trees, listen to the birds singing, and appreciate all those things that go unnoticed when we live in an constant rush.
3
DISCONNECT
Undoubtedly, detoxing from technology is something that can help us not to saturate our mind and let it rest, especially if it's nighttime and we're about to go to sleep. 
Put your cell phone on airplane mode or mute social media notifications so you don't have to look at your phone every time it rings. 
Ton Photographer 4289 | Shutterstock
4
WRITE
One of the activities that can help clear your mind is to keep a journal. Take notes about your day: things you've done or learned, ideas that have come to you, memories, or your feelings. This will help you empty your thoughts and have peace of mind.
5
PRAY
Always dedicate some time during your day for personal prayer. You can make a visit to the Blessed Sacrament and simply talk with Jesus who is always there for you. We all need to be heard. What could be better than speaking to the one who created us and has always loved us?
6
READ
Reading helps us to concentrate and focus. You can choose a book for spiritual reading, personal growth, or entertainment.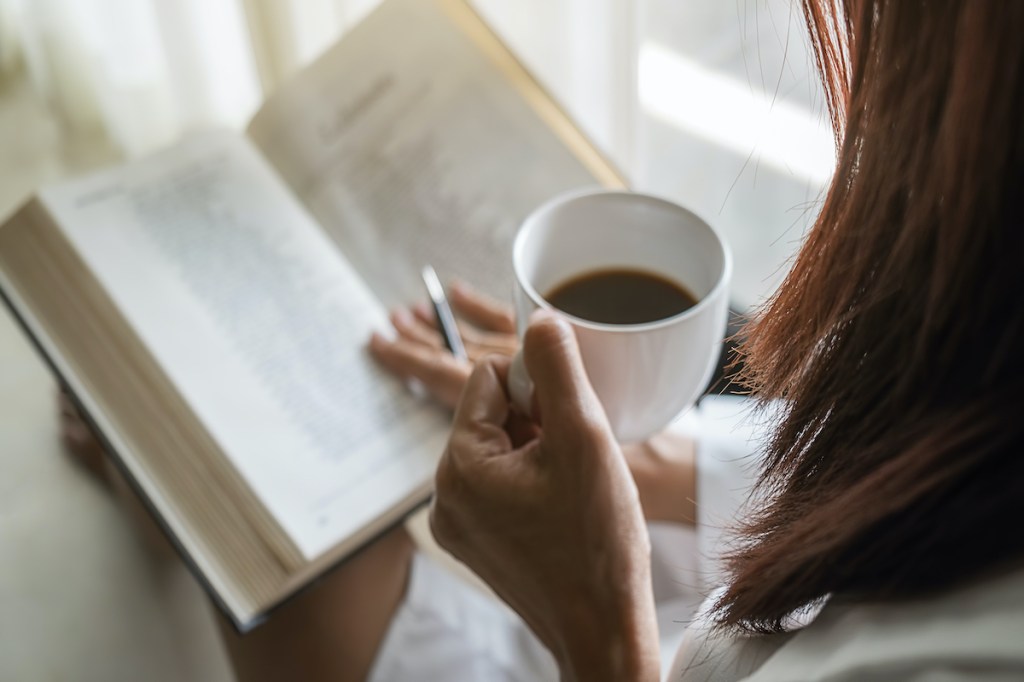 PIC SNIPE | Shutterstock
7
Focus on one thing at a time
Doing one thing at a time will give what you're doing meaning and importance, whether it's brushing your teeth, writing a report, or cleaning your house. 
Doing things mindfully — even chores — can help reduce stress. A study by researchers at Florida State University found that even washing dishes, if you focus on the sensations of the activity, can "increase your overall sense of well-being."