"It's too good to be true!" That's very often our reaction when everything's going well in our lives.
What can God do in your life with one Bible verse a day?
Subscribe to Aleteia's new service and bring Scripture into your morning:
Just one verse each day.
Click to bring God's word to your inbox
It's as though happiness scares us; we don't want to tempt fate and imagine the worst so we won't be disappointed. Why are we so afraid of being happy? How can we get rid of this feeling of foreboding?
God created us to be happy, and suffering remains one of the greatest mysteries we run up against. In a certain way, Faith makes this mystery even more obscure: if God doesn't exist, suffering is inevitable; but if God is love, how can He tolerate it? Then, we can be tempted to bargain with God: "I'll give you this, if you give me that," as though it were a question of taming a sort of all-powerful divinity about to inflict some bitter blow on us. But God is our Father: he never wishes our unhappiness and never ceases freeing us from evil, in whatever form it takes. No one wishes our happiness more than him, and no one other than He can make us happy.
Because we fear some impending unhappiness, we tend to mistrust God, to put our trust in all kinds of lucky charms rather than in Him alone. We don't dare abandon ourselves completely into His hands, to offer Him everything: those whom we love, the things we hold dear. For we fear He'll "take advantage." Of course, God takes advantage of what we abandon to Him. He makes an advantage of it, not for Himself, but for us. Not to deprive us and play a nasty trick on us, as the Evil One would have us believe, but to free us. When we cling too tight to our happiness, we don't really savor it, so gripped we are by the fear of losing it.
Let yourself be led by God
If we put our hand in God's, that won't stop unhappiness from entering our lives, but we'll no longer be afraid of the night. "Even though I walk through the valley of the shadow of death, I fear no evil; for thou art with me; thy rod and thy staff, they comfort me" (Ps 23). God has great ambitions for his children; He doesn't just want to give them a little happiness the size of a mole hill; He wants us to overflow with His own happiness. That happiness that is not of this world, but is given us—through suffering—in the here and now.
The more capable we are of welcoming true happiness, the more profoundly happy we will be. But, when everything's going well, we can sometimes lose the desire for that true happiness, can content ourselves with a small happiness that will never fulfill us. If it's true happiness we seek, God will find us even in the depths of the blackest distress to offer it to us. This is a mysterious way that contradicts all our ideas about happiness: it is a way of the cross. But it always leads to Easter.
When our earthly joys are like a reflection of heavenly joy, the Evil One whispers in our ear: "It's too beautiful to last." The opposite is true: it is evil that is "too ugly to last." Let's not stifle the desire within us for everlasting happiness. Let us open ourselves to what God wishes to offer us: it truly is beautiful. Too beautiful to end!
Christine Ponsard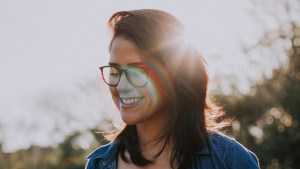 Read more:
15 Happiness tips from the Bible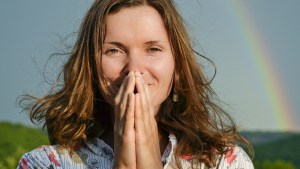 Read more:
The secret to joy, happiness and peace, according to St. Therese of Lisieux