What if Jesus had the solution for dealing with your road rage?
What can God do in your life with one Bible verse a day?
Subscribe to Aleteia's new service and bring Scripture into your morning:
Just one verse each day.
Click to bring God's word to your inbox
The reasons to get angry with other drivers are too numerous to count, but Jesus has a solution:
"By this everyone will know that you are my disciples, if you love one another" (John 13:35).
In other words, it is not pious bumper stickers or rosary beads hanging from the rear-view mirror that shows we are followers of Christ, but how we treat each other, including when we're behind the wheel.
Of course, we don't have to be a Christian to drive carefully, and charity can't be reduced to the way we observe the Driver's Manual — but it can begin there. We are not "loving our brother" when we endanger his life by running a red light or by drinking and driving, or when we insult that brother because of some dangerous maneuvering, or when we unscrupulously park in the space reserved for the handicapped. "Why do you look at the speck of sawdust in your brother's eye and pay no attention to the plank in your own eye?" (Luke 6:41).
Respect for others
Our behavior behind the wheel should be a part of our self-examination and the light of the Holy Spirit has been given to us, so we can clearly see this aspect of our lives. "Do to others what you would have them do to you" (Luke 6:31). This golden rule has very concrete applications where driving is concerned. For example, when we're driving through a neighborhood, let us think of the way we would like other drivers to behave if this were the neighborhood our own children lived. Taking to the wheel is a responsibility that does not lie outside our spiritual life: we cannot serve Christ and overlook the safety of people around us, We cannot pray seriously and drive recklessly.
"For where your treasure is, your heart will be also" (Luke 12:34). In truth, it is often very hard to see what this treasure is, and to admit that we put too much or sometimes way too much heart into things which we know are not worth it. Yes, a car or a motorcycle could take up lots of room in the thoughts and the financial choices made by a Christian. However, Jesus was very clear on this point "No one can serve two masters" (Mt 6:24). God or money, God or the car, one must choose. The material goods are the means, but as we know there is always the risk of confusing them with the ends.
"Therefore keep watch, because you don't know on what day your Lord will come"
Road accidents are the main cause of violent deaths. Staying all alone at home and giving up the countless benefits that a car can offer us is however, out of question. Neither is it a question of living in perpetual fear: "Can any one of you by worrying add a single hour to your life?" (Mt 6:27). But there is no point in denying the facts: we are all mortal, and our earthly lives could end suddenly, without a warning, maybe tonight or in a few days. So, let us be ready. Let us now offer our lives to the Lord, let us tell Him now what we would like to tell Him at the hour of our death. Let us entrust ourselves without waiting for His mercy. It will not make us die prematurely, but it will help us to set our lives on the right path to our ultimate goal.
Christine Ponsard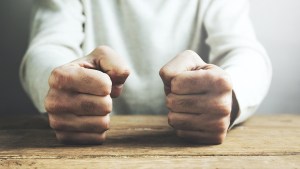 Read more:
How to know when your anger is healthy and what to do when it's not
Read more:
Stuck in traffic? Tempted to road rage? This saint can help!