Mary taught us all how to say yes to God at the Annunciation. Here's how that can empower us in our daily lives.
What can God do in your life with one Bible verse a day?
Subscribe to Aleteia's new service and bring Scripture into your morning:
Just one verse each day.
Click to bring God's word to your inbox
"And Mary said, 'Behold, I am the handmaid of the Lord; let it be done to me according to your word'" (Lk 1:38).
We've no doubt read and heard these words dozens, even hundreds of times. Maybe we've become too used to them. We're no longer astonished by this "yes" that changed the course of history; we forget to marvel at it. What would we have answered in her place? Is it as easy for us to consent to the will of God? We may not be Mary, but she's human being like us. That she was preserved from original sin doesn't make her an otherworldly creature, free from temptation. She could have said "no" to the angel.
Obeying is not being dumb and submissive
Mary responds in total freedom. She is stunned, but not fearful or passive. The proof? She's doesn't just react; she reflects on what the angel's greeting could mean. She asks how what the angel says will be fulfilled. She offers her response without Gabriel even specifically asking for it. The very fact that she gives her consent clearly shows she doesn't feel pressured to say yes. She doesn't just submit to the Incarnation; she voluntarily welcomes it with all her being, without any servility.
Through her attitude, Mary teaches us that obeying is not about being dumb and submissive. On the contrary, it's about using all the talents God gave us — including our intelligence — to adhere to His plan of love. Mary is the servant of the Lord, not his slave. Mary's response is not long in coming. She doesn't hesitate: without delay, she adheres to God's plan. Everything is clear, so why postpone her consent? She didn't understand everything, but she understood the essentials and for the rest she trusts in God.
Before responding to God's call, a time of discernment is sometimes required. You don't enter a convent or decide to get married in a moment. And even when it's about less crucial decisions, it's a good idea not to commit yourself before having prayed, reflected, and sought advice. That said, are we ready to say yes to the Lord, whatever he asks of us? Or is this so-called period of reflection in fact dictated by a fear of commitment, by our hesitation to follow Him?
Mary's yes: An inspiring act of trust
In many regards, it's a leap into the unknown. What is asked of Mary is completely beyond her. She doesn't know where this is leading. She doesn't know how Joseph will react, and has every reason to fear the incomprehension, indeed, the harsh criticism of her family and friends. But the will of God can only be a will of love: for Mary, there's no doubt about that.
And what about us? Do we believe with all our being that God's love for us is infinite and that wants the best for us? Let's not allow the lies of the Evil One to trap us: he suggests that we defy God; he has a thousand ways to show us that our happiness doesn't lie in obeying God but in doing as we please … And that worked at the beginning of humanity, with Eve, and it still works with us. But not with Mary.
The little "annunciations" of daily life
Mary is sure of God's love: that is the source of the joy dwelling in her which is soon to burst forth in her Magnificat hymn. She doesn't needlessly fret and worry about the future. She doesn't rebel against this life-changing call. She abandons herself to the joy of being loved. Let's ask her to teach us this unconditional trust which sees in every call of God a plan of love.
When God's will runs counter to our own plans, we're so easily disappointed, unhappy, bitter! We're so quick to bemoan our fate the moment our own wishes are thwarted! Let's think about all those little "annunciations" in our daily lives, about all those yeses the Lord invites us to say over the course of our days: yes to the alarm clock that rings too early for our liking; yes to a cancelled outing because one of the children is sick; yes to the colleague at work who annoys us, etc. Through all of these things, the Lord seeks to do wonders for us. He's only waiting for our yes!
Christine Ponsard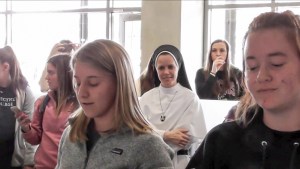 Read more:
An Annunciation flash mob to mark the greatest surprise in history
Read more:
Ask Mary to help you grow in love during Lent