Raising 4, 5, or more children requires a high degree of organization and respect for certain ground rules...
What can God do in your life with one Bible verse a day?
Subscribe to Aleteia's new service and bring Scripture into your morning:
Just one verse each day.
Click to bring God's word to your inbox
Parents of a large family are ususally very proud of their "tribe." Even though that decision means giving some things up, it also brings with it beautiful moments in life, as long as a few common-sense rules are kept in mind. We present here recommendations that psychologist Françoise Pelle has for parents of big families and for those who would like to have one of their own!
1
There's enough love to go around for everyone!
Let's be clear: parents do not love all their children in the same way. And thank goodness! The important thing is to recognize that each person is unique. Parents hearts grow larger with each newborn child. With so much talk of equality these days, parents may be tempted to give the same things to every child, afraid of not being fair. But this means we may overlook the individual and his or her preferences and personal needs, because different children need different things. On the other hand, there is one fundamental need they all share: to be loved for who they are.
2
There is no such thing as a family without conflict.
Larger families function like a mini-society, foreshadowing social relationships. Children learn the art of negotiation and compromise. They learn how to share, to keep their siblings in mind, solidarity, and to follow certain rules. If a child suffers, it is naturally the parents' responsability to protect that child. But it is preferable for parents to stay out of sibling squabbles as much as possible, as it may just make them worse. This way the child learns to affirm him or herself, sometimes through disagreement and others through forming alliances. Sibling rivalry often goes hand-in-hand with sibling complicity, which happens over time as the children grow.
3
Each child should have his or her own space.
In a large family, it is unusual for each child to have his or her own bedroom and territorial conflicts can cause a lot of tension. When children are six or seven years old, it is important for them to have their own space, even if it's just a special box that can be locked, for keeping personal things. This way the child can have a place, a secure and personal enclave that only he or she can access.
4
Trust your children and avoid getting overwhelmed.
"Do the best you can, but you'll never get it right!" said Sigmund Freud. And he was correct in that all parents do the best they can. But it is also important to feel confident. Confidence comes from the love and freedeom we give a person to grow, to become their unique self. The good thing about siblings is that they prevent an excessive parent-child occlusion which can keep a child from developing. However, parental pressure goes down as the number of children goes up. The autonomy gained by the older children allows the parents to dedicate more time to taking care of the younger ones. And the ingenuity of the whole family makes daily life easier. Brothers and sisters spend time together, they have fun. Playing is the means, par excellence, to expression and self realization. This is how a secret garden, a "psychic space" in psychological jargon, is constructed, away from parental oversight. The little ones learn very much from the older kids who, in turn, develop skills from this contact.
5
What's good for one may not be good for the other, and that's OK.
It's hard to admit, but sometimes a parent has less "chemistry" with one child than another. Often this is because of having a very similar personalities or, on the contrary, having very different personalities, which may lead to misunderstandings. This child will require more patience and goodwill than the others. The parents should be especially aware of these situations, and may have to make greater effort to value this child and find the positive aspects in him or her. This will reinforce his or her self-esteem.
6
Be careful not to compare: it may backfire.
It's been a long time since parents had their children dress the same. However, with several children, it's not hard to feel like a poor copy in a multitude of originals. Each child needs to find his or her place so as not to feel like one mere number in the group. Every child should be able to assert their own personality, originality, and creativity. This differentiation is positive and constructive. Nevertheless, with a child who insists on being totally different, parents should stay vigilant: rejecting siblings and rejecting the family may be a way of expressing distress or suffering.
Sometimes rivalry is manifested in the second generation, through other children, especially if there are cousins the same age. "He gets very good grades at school," "She plays the flute exceptionally well"… the competition can get intense. These situations are very irritating for children, especially when they come from their parents: "Look at how well your sister does it!" Beware, parents: comparisons can backfire.
7
A large family does not necessarily mean hardship.
At the heart of a large family, hardships and difficulties are quite real. So it's important that necessary restrictions are balanced out by positive experiences: complicity, joy of living, vitality, cooperation, etc. If there are not too many restrictions, a child will discover the resources at hand, and learn that happiness doesn't come from material things as much as from the joy of loving and sharing.
8
Conflicts in early childhood do not determine the future.
Young children that fight "like cats and dogs" may end up getting along very well as adults. Siblings continually serve as a base of support and fundamental strength for each other. The connection between siblings is very often calming and protective in nature. While brothers and sisters can fight, they can't get divorced. Family is forever.
9
Do not worry too much about the future.
Knowing how to let yourself go with the flow lets others live their lives. If parents live without focusing entirely on what is worrying them, the brothers and sisters will reproduce this attitude. In this way, the relationship does not become toxic; on the contrary, a real sense of mutual help will arise. When a child has been well-loved for who they are —not for what they produce— they will have sufficient resources to face life, whatever be the road they are called to live.
10
The family that prays together stays together… and mostly—stays happy together!
Prayer is essential for the heart of the family. It constitutes the surest way to keep everyone united, whatever crisis may be occuring at the time. St. Teresa of Calcutta, who encouraged families to pray together every day, said, "The family that prays together, stays together."
Stéphanie Combe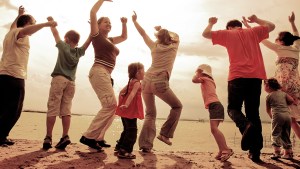 Read more:
12 Benefits of being mom to a large family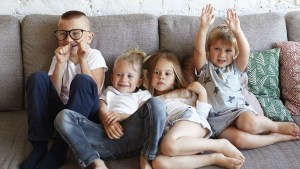 Read more:
6 Tell-tale signs you're from a large family