Telling the truth is a worthy goal, even though it's tough to maintain.
What can God do in your life with one Bible verse a day?
Subscribe to Aleteia's new service and bring Scripture into your morning:
Just one verse each day.
Click to bring God's word to your inbox
There are big and little lies, and they have made their way into our relationships, families, schools, businesses, politics, media, and legal systems.In his Political Function of Modern Lie, the Russian–Jewish philosopher Alexandre Koyré writes, "It is the lie, much more than the laugh, that characterizes man."
We all lie, without necessarily being compulsive liars. We all manipulate, without being openly manipulative. Sometimes, lies are impossible to do without. But the Catechism of the Catholic Church is perfectly clear "Lying is the most directoffense against the truth. To lie is to speak or act against the truth in order to lead into error someone who has the right to know the truth. By injuringman's relation to truth and to his neighbor, a lieoffends against the fundamentalrelation of man and of his word to the Lord."
So, what if we tried telling the truth all the time?
Combining truth and compassion
If lying is common, some of us lie more than others. And lying seems to be very common today."Never has there been so much lying as nowadays," affirms Koyré. "Neverhas lying been so shameless, so systematic, so unceasing." It is alive and well in the age of the internet. In March 2018, a team of researchers from Cambridge University published a study proving that "fake" news is more persuasive and spreads faster than verified information.
"I see the lie as a necessary evil that contributes to social harmony. But the actual virtue resides in truth and honesty," says Quebec psychologist Jean Gervais. But not every bit of truth is fit to be told. Prudence is an indispensable virtue: truth stripped of compassion is cruel and painful.
If nothing is true, nothing matters
This prevalence of lying greatly contrasts with the need for truth that our social and personal life requires. The quality of our relationships depends on truth and honesty of those around us, be they our partner, employer, babysitter, neighbor, or mailman. Lies that hurt the most are those told by people we most love — our spouses, children, parents, best friends. "The closer we are to a person the more we feel betrayed when we find out that they've been lying to us," stresses French psychologist Marie-France Cyr, pointing out two types of lies with fundamentally different objectives.There is the "protective lying," driven by tact or compassion and there is the lying to "assert ourselves," motivated by pride, vanity, cowardice, or greed. Both kinds can coexist.
We all strive to project a flattering image, score points, be loved, and avoid pain. This invites us to lie. "Without lies, truth would die of boredom," Anatole France used to claim, while multiplying adulteries. But he was wrong: if it can offer some temporary respite, sooner or later lying transforms one into a slave.
When we become master and slave of lies
Telling lies can become a habit and can provoke a whole series of events that can quickly take us in a direction we had no intention of going.A little innocent lie can start a vicious cycle and quickly transform into something big with grave consequences. A professional liar can see his life crumble like a house of cards à la Madoff, when his lies are discovered. He can't bear the idea of upsetting or destroying his own flattering image that it took years to build.So, he is ready to do anything to preserve his lie for as long as possible.
The Catechism of the Catholic Church has elaborated on this in paragraph 2484: "The gravity of a lie is measured against the nature of the truth it deforms, the circumstances, the intentions of the one who lies, and the harmsuffered by its victims. If a lie in itself only constitutes a venialsin, it becomes mortal when it does graveinjury to the virtues of justice and charity."So, it is up to each of us to take a chance and shed some light on our own "little" lies.
Luc Adrian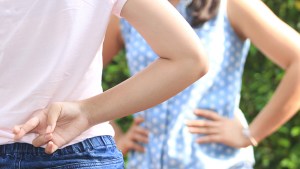 Read more:
The lie we believe about lying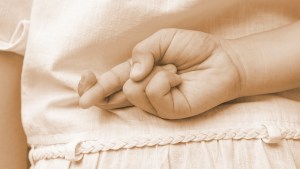 Read more:
3 Tips to encourage honesty in kids