Your voice is a powerful tool for being heard -- learn to use it.
What can God do in your life with one Bible verse a day?
Subscribe to Aleteia's new service and bring Scripture into your morning:
Just one verse each day.
Click to bring God's word to your inbox
We've all experienced this: the car radio is on, we're not really listening, but by the tone of voice, we know we're missing something — the way they use a certain rhythm, a specific way of stressing words, separating them, using silent pauses, separating adjectives from nouns and subjects from verbs. These radio voices use standardized voice techniques that supposedly work well at getting our attention. But news reporters aren't the only ones who can do this.
We spontaneously adapt our voice to different modes to project a more favorable image of ourselves or to make our presence felt. Specifically, we tend to adopt a lower tone of voice when we think that it will make us sound more competent and powerful. This is a fatal mistake because, as Michel Hart, author of Découvrir sa voix : Parler et chanter avec plaisir et sans fatigue ("Discover your voice: singing and talking with pleasure and without fatigue") reminds us: "Our vocal chords are not made to do this." Imitation is dangerous: "This kind of vocal exertion is the cause of several voice pathologies." And more so when we imitate voices that are themselves pathological. So then, what can we do to make others pay attention to us?
There are no beautiful voices, only healthy voices
In all these cases, a false voice shows that the speaker is identifying with a role andlacks confidence in themselves. The voice becomes a mask—the ancient meaning of the word persona in Latin referred to the mask the actors in Greek tragedies wore to project their voice in the amphitheaters. But persona also came to mean "person" as we understand it today. Our voice is our most personal and intimate possession. "Human beings are the only ones who have a true voice. We don't just repeat sounds. Our voice is not an object. Our voice is our life," recalls Jean Abitbol, an internationally renowned specialist in vocal cords. It's not surprising to see that in Hebrew and other languages, this very word also refers to breathing and life. The voice, driven by breathing, is living par excellence — vibrant, expressive, and ephemeral.
"Working on your voice is a search for truth. It is a question of discovering who you are," explains singing teacher Florine. With students who want to sing like this or that popular singer or who unconsciously imitate certain ways of singing, she gives this piece of advice: "Don't try to have a beautiful voice. Ask yourself if it comes out naturally, if you have used your whole body. Then it will be beautiful." In other words, there are no beautiful voices,only healthy voices. Thus, with a good tone, a voice can more easily sing higher and lower and without so much air passing through.
In this sense, our voice is like our fingerprint: unique and unmistakable. It is not a tool we use: it is who we are. It would be like changing our face. But, unlike what happens with the face (we can only cover the defects with makeup), it is possible to polish our voice. Speech therapists teach us how to use it again when its volume or clarity has diminished due to psychological blocks or poor habits. They can also teach us how to be heard, i.e., to socially exist.
Don't raise your voice, lower the volume
Working on your voice is a particularly urgent necessity nowadays. Over some 50 years, it appears that the strength of speech in both adults and children has declined. The reason, among others, is because of the use of microphones, which often reduce the power of persuasion and emotion of the voice. And it creates the sensation that we can be heard without effort. Because of technology and microphones, we do not need to make the same physical effort to make ourselves heard. Microphones are everywhere: in church, at conferences, meetings, concerts, etc. Opera singers are the only ones who don't need to use them. They know how to make their voice clearly heard above the orchestra. Indeed, when we listen to an opera singer, we get goose bumps! The presence of the naked voice produces a physical sensation that a voice channeled through a microphone can't. It is simply because the singer knows how to use their body and because, through the phenomenon of empathy, it brings out a sensation of well-being in the body of the listener.
On shifting from the oratorical tradition of yesteryear to the more intimate speech of today's speakers, amplified by microphones, we haven't made it easy to exercise our voice. And we've forgotten that controlling the voice was an art that had to be learned. Even in the context of private communication, working the voice can be very worthwhile.
Laurel is a mother and wife and sought out a voice coach: "My husband was constantly telling me that I had a terrible tone of voice when I talked to him. And when I reprimanded him for something, he couldn't stand it." So she had five sessions with a voice coach: "I sang a lot. I learned to manage my breathing. But, mostly, I learned to hear my voice." Since then, she has been able to communicate much better with her spouse.
Teachers, for their part, are particularly conscious of the power the voice brings with it. And they know that there is a way to use it that allows, simply, to make themselves heard. Everyone knows that to get the attention of a disorderly class, it is useless to just raise your voice. On the contrary, lowering your volume allows you to center the attention onto yourself, and obliges the audience to stretch their ear. However, your diction must maintain its rhythm and should never be hesitant.
Above all, what makes a voice sound brilliant is its capacity for projection, its capacity to reach an audience. To be a bridge that is extended between you and the other. Should we conclude that shy people cannot have a beautiful voice? Of course not! When you free your breathing, you gain more control of your vocal instrument, helping you to assert more of your personality. This is an indispensable advantage in life, just as helpful in a work interview as when you ask your loved one for their hand in marriage.
Pauline Quillon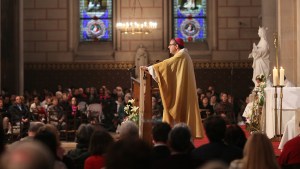 Read more:
7 Tips for listening to a Catholic sermon without falling asleep