It starts by realizing we can't find lasting happiness all by ourselves.
What can God do in your life with one Bible verse a day?
Subscribe to Aleteia's new service and bring Scripture into your morning:
Just one verse each day.
Click to bring God's word to your inbox
The Devil is a liar. He tries to persuade us that we are capable of finding happiness without God and that we can perfectly judge what is good for us. It is a trap as old as the original sin, a trap that we fall into every day.
Every time we put our whims over God's will, every time we confuse freedom with independence, every time we cling to our material possessions instead of relying on Providence, we behave like the prodigal son in the parable (Luke 15:11-32) who had only one idea in mind: to free himself from his father's authority in order to be free to do as he pleased! However, while seeking personal fulfillment, he soon found himself more miserable than the pigs he kept, hungry, unhappy, and lost.
Do we really believe that God loves us?
It can only be one of two things: either Jesus said the truth and God is indeed the Father who loves us infinitely, and He sent his Son so that "His joy may be in us and our joy may be complete" (John 15:11), in which case we have nothing to fear, and everything to hope for from this loving and merciful Father, or God does not really love us, therefore Jesus is a liar, and it is not worth following Him. Let us be coherent: either we believe in God – Jesus Christ's God – or we don't in believe in Him.
But if we do, then let's draw all the conclusions. We cannot say that the Gospel is true "theoretically" and not experience it concretely. We cannot proclaim every Sunday in the Creed that we believe in God and behave as if this faith has nothing to do with our daily life. If we believe that Jesus has spoken the truth, that He is indeed God's Son and our Savior, if we believe, with the entire Church, that his Word is true, especially when his Word reveals to us Father's infinite kindness, his inexhaustible mercy, and his tenderness, then why do we hesitate to hand everything over to God? Why are we afraid of giving everything to Him?
Betting everything on God allow us to win so much more than the "jackpot" 
If we don't dare to abandon ourselves without reserve, it is once again because we allow ourselves to be caught in the Devil's trap. He sneakily whispers to us – as our imagination goes along totally – that God will ruthlessly take advantage of our trust and devastate our lives. As if He was only waiting for a sign from us to make us unhappy! But it is exactly the opposite! "All goods were given to me the moment I no longer sought after them," said St. John of the Cross. Everyone who has had the experience of relying totally on God's kindness will tell you the same thing.
Betting everything on God is not a magic formula to win the jackpot. It is not a question of making a profitable investment or taking out a life insurance: it is a question of leaving aside the logic of this world and entering the logic of the Kingdom. When St. John of the Cross speaks of "all goods," he is not speaking of glory and riches, but of the goods that we need to be truly happy, that are capable of fulfilling us.
Don't be afraid to lean on God during challenges
Betting everything on God does not make challenges rain down on us… but it does not get rid of them either! However, total reliance on the Lord's love makes us capable of receiving from Him the treasures of joy, peace, strength, and trust, in success as well as in hardship. Instead of carrying our burden alone, we receive from Jesus "an easy yoke and a light burden" (Matthew 11:30) … Not necessarily light in appearance, but light in reality, because Jesus carries it with us.
How do we surrender ourselves then? By surrendering ourselves. In other words, by asking the Lord for this grace. By asking him for it with confidence, tirelessly, and without worrying about our difficulties in accepting it and experiencing it. Every time we are tormented by a worry, or tempted to live our life "alone like a real grown-up", let us speak to God and tell Him once again that we want to rely on Him alone. Let us not worry about anything, not even about being unable to give ourselves totally to the Lord. Is our heart divided, weak, unfaithful? Let us not be afraid. God is greater than our heart.
Christine Ponsard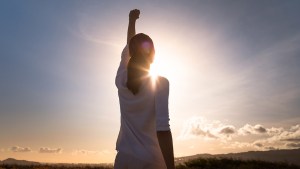 Read more:
Why trusting in God is key to a successful life