Ready to feel nostalgic? These '80s and early '90s fads will bring back memories.
1. Shoulder pads
In the immortal words of shoulder-pad wearing diva Gloria Gaynor: "And so [they]'re back … from outer space!" That's right: somehow the shoulder pad trend survived, and it's being revived this spring. It's the return of the 1980s on the catwalks, complete with voluminous XXL shoulders. But if you're not sure that shoulder pads are really here to stay (personally, I doubt it) you can still participate in the trend easily: Simply dig up one of your old jackets, and buy removable pads to update it for just this season. To keep your attire from looking too retro, pair your jacket with skinny jeans instead of wide trousers, and add high-heeled sandals. And then walk with confidence. Because what says "strong and empowered woman" better than a pair of wide shoulders?
2. Chokers
Do you remember that 90s version of chokers? That elastic tattoo-imitating look? How about the ones that you could DIY with a thin ribbon? They're all back, but also improved—not so Goth, and a little more modern: They can be made of velvet with charms, in pastel colors, or even made of metal with semi-precious stones. Although these necklaces were really booming at the end of last year, it's a trend that has continued into 2017.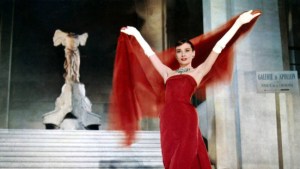 Read more:
6 Classic movies every fashion lover should see
3. Personalized jean jackets
Patches will still be in style this year, and just like in the 80s, it's just a good old fashioned fun opportunity to add a touch of personality to that classic jean jacket. (Your favorite rock bands' pins, however, should stay in the drawer a couple of years more, or at least until fashion trends say otherwise).
4. Mini backpacks
Do you remember how, in the 90s, you were never without one of those two-tone mini cloth backpacks (yes, the ones that had a brown, usually velvety, flap)? This season, backpacks were proposed by many brands and designers—not only in small formats, but in all sizes, and the more embellished, the better. They can be metallic, you can hang decorations on them or adorn them with patches like the jackets mentioned above … this year, the accessory motto seems to be more is more!
5. Platform shoes
Do you remember Baby Spice's white shoes, or Mel B's huge boots? You'll probably be relieved to hear that those aren't back, but "flatforms" are. It's happening in loafer-like styles, and all kinds of sports shoes that make our life more comfortable. So now you can wear casual shoes without losing those extra centimeters.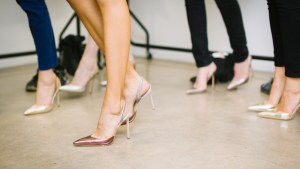 Read more:
The surprising (and often painful) history of high heels
It's great to be able to dig a few oldies out of your closet and have a little fun with your wardrobe again. But here's the important thing to remember: Don't wear all your 80s gear the same way you did 20 or 30 years ago. You're not a girl anymore, so it's not going to look quite the way you may remember. Try to combine these trendy items with your regular look. And then just cross your fingers and hope that fanny packs never come back.
This article was originally published in the Spanish edition of Aleteia.