Two true stories about problem fathers with very different endings ...
Evan Edinger is my age. He lives in London but he's originally from the US. His YouTube channel has more than 370,000 subscribers. In his videos, he often compares American ways of life to his new British reality and the results are always hilarious. He speaks very quickly, but his every word hits the mark. He often laughs at his awkwardness with women. I love his sense of humor, cool and fraternal. He reminds me of my brothers, wandering around the room and laughing at everything around him. And he's not a bad singer, often singing in duets with Dodie Clark, an equally popular British YouTuber.
I also have a YouTube channel (with far fewer subscribers,) and I'm not a bad singer myself, but let's not kid ourselves. I wouldn't compare myself to him. Evan has a completely different life than I do. Although, it turns out that we both have a similar experience regarding one of the most important people in our lives: our fathers.
A toxic father-son story
Some time ago, Evan posted a video with a surprising title, "My Dad Died …" Clicking on it, I didn't quite believe it to be true. Would Evan really make a film about the death of his father? YouTubers sometimes do personal clips, but I often find that kind of a title ends up being clickbait. But I understood quickly that this video segment was genuine. And it struck me, because it's a story that almost happened to me, too.
"My father was always angry about everything. We tried to get the house in order before he came home, but he would always find something to make him angry anyway," the story begins. Evan goes on to say that his father was a selfish man, who hurt him, his brother, and his mother emotionally. His father's main priority was only himself; he ignored the family and locked himself in his own world.
Read more:
A letter to my father on his 90th birthday
"When he took me to a boy scout camp, he just fished the whole time, so I didn't get to do any activities. When he took me to work, I sat beside him and played the GameBoy, or I read Harry Potter. He hardly ever talked to me. Actually, silence is the best memory I have of him. I visited him every other week. I played on the computer; he didn't pay attention to me. Sometimes he wasn't even near me. When we did play a video game together, I would always win, and he, instead of laughing, was furious." Evan reflects on this for a moment, and says that he learned one thing from his father: what kind of person not to be.
When Evan was 18 years old and didn't have to meet with his father, he stopped visiting him. He cut off contact completely. For eight years he declined invitations on Facebook and all other attempts at contact. "I was protecting myself. I didn't want that person in my life. I had new friends and family who loved me the way I was and who didn't make me feel bad," he explains. He didn't see his father for the next eight years of his life.
On October 20, 2016, news reached Evan that his father passed away, and Evan didn't feel anything except … surprise. Two days earlier, he had been eating dinner with his mother's friend, talking about family, and he had said, "If my father were to die tomorrow, I wouldn't feel a thing." And indeed, when it happened that same week, he didn't. And that alone was a confusing feeling. He tried not to think about that. And to cope, he began to make it a joke. When someone wanted something from him, he would say, "Hey, don't talk to me like that, my dad just died!" The joke being that it hadn't upset him.
Forgiveness & letting the toxins out
Evan's story resonated with me deeply.
I have similar memories from my childhood. My father had extreme mood swings. I never knew if he is going to come into the room furious or laughing. The atmosphere was always tense. Back then, I thought it was normal, but now I know it wasn't. Today I can see the lingering affects that kind of childhood had on my psyche: every time I start a new project or relationship, I fear danger lurking around the corner.
I also cut contact with my father a while back, but I was luckier than Evan. In college, I renewed contact with my dad. We keep our distance, but we are nice to each other. Last year when he found out about my troubles, he got in the car and drove half the country only to have coffee with me, and recently he came to get me from the airport in the middle of the summer. I appreciate every gesture because I suspect that it is not easy for him to understand me.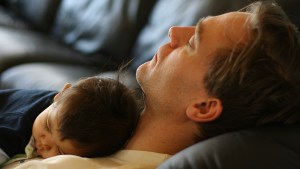 Read more:
An open letter to a tired dad
Evan, on the other hand, only unblocked his dad's Facebook accounts after his father's death. "In some photos, I didn't even recognize him," Evan says. "I didn't recognize my own father. And in some photos, he was even smiling, the way I remember in good memories [of my childhood]."
"I didn't want to remember the good times with my dad," says Evan. "They didn't fit the box I had put him in. And today he is in a different box. And he will never leave that one now," he adds with tears in his eyes. The entire video ends with a startling and meaningful statement: "Do not be me. Please."
Sometimes cutting yourself off from someone who hurts you feels like the only option. Evan didn't do anything wrong. He simply didn't let himself be hurt. He didn't want to waste his life on a relationship which is was hurting him. But blocking someone out for decades is rarely a good permanent solution. Evan's journey taught him (and his viewers) an important lesson: In forgiveness, you can find freedom from running away, and even freedom from hurt. But that applies to forgiving yourself, too. 
This article was originally published in the Polish edition of Aleteia.