When adolescents speak out in response to Netflix's controversial series, we could all stand to listen.
The recent Netflix series 13 Reasons Why courts a lot of controversy in the way it deals with the sensitive issue of teen suicide, and for good reason, too. The story explains how the suicide victim, Hannah, took her life after a series of 13 painful events. But before she died she made sure to leave behind seven tapes explaining to each of the individuals she held responsible for her radical decision their role in making her life a misery. And that's where the problem lies: a whole series of blame, glorifying having your voice heard, but after the event, when it's all too late.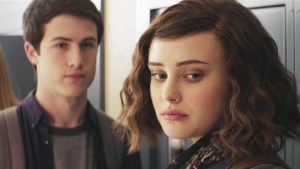 Read more:
Is your teen watching '13 Reasons Why'? Here's why you should be concerned
Surely when approaching such a delicate topic, especially for an audience that is so easily swayed, the emphasis should be on prevention. Luckily a group of seniors at Oxford High School in Michigan took this on, turning the tables on the popular TV show that is due to return with a second season, and showing their classmates the benefits of speaking out when in pain. Instead of focusing on the negatives, the students actually made their own tapes that were broadcast throughout the school each morning, explaining how people helped them with acts of kindness, making them feel that life was worth fighting for.
The first student to have their tape played was Riley Juntti who believed "the show accurately depicted what happens in high school … the problem we had with the show is it made it seem like suicide was the only option and didn't raise mental health awareness, and it didn't give resources. That was very troubling for us; we wanted to fix that with our project."
Kayla Manzella, who'd been told "Why don't you just kill yourself" by a girl in her volleyball team, was helped out by a friendship with Alexa Alban, who talked her out of hurting herself. Manzella wanted to stress in her tape that "words matter, both good and bad." And it seems that these recordings have struck a chord with classmates coming up to her and offering her hugs and sending her messages on Twitter — nice ones!


Read more:
Girl's live-streamed suicide prompts disgust and dismay


Alexa herself felt bullied for her weight, and after her recording she said in an interview: "My biggest thing I want people to take out of it is not to be afraid to have a voice. I was so scared to stand up for myself. … I want the community to understand it's okay to have a voice and it's okay to talk, it's okay to be yourself."
Alarmingly, a CDC report in 2015 showed that suicide is the second cause of death among 10- to 24-year-olds, with 5,240 attempts made each day by 7th to 12th graders. Out of all these attempts, four out of five youngsters had given clear signs. While we might not be able to always read them, we must be able to encourage teens to speak out about their issues. Megan Abbot, a former pupil at the high school, committed suicide in 2013, and her sister who is also a pupil there believes that this sort of initiative might have helped her sister.
When the recordings are being played, the school falls silent, the levels of tardiness have also gone down, and the response to the tapes has only been positive. By sharing their experiences with their classmates in "13 reasons why not," these seniors are reminding their peers of three of life's most important lessons: the true value of being alive, we don't ever need to be alone, and kindness wins the day. As parents, all we can do is listen, encourage kindness in our kids, and remember what might seem trivial to us may mean the world to our often hormonal adolescents — take a look back, what adult ever found the teen years easy?