In a disturbing new trend, some brides are asking their wedding party to lose weight and get Botox.
What can God do in your life with one Bible verse a day?
Subscribe to Aleteia's new service and bring Scripture into your morning:
Just one verse each day.
Click to bring God's word to your inbox
Few brides-to-be would be surprised by the advice to prepare more for their marriage than they do for their wedding day. The reality, however, is that the sacramental preparation often takes second fiddle to making sure the color scheme of the flower arrangements coordinates with the groom's tie. Of course, there's nothing wrong with wanting your wedding celebration to be special, and immersing yourself in plans for the big day. But our culture places way too much emphasis on this.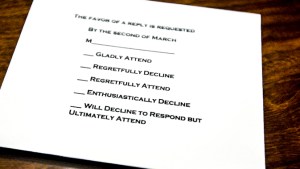 Read more:
When you don't get invited to the wedding, or you just don't want to go
Bridezillas are nothing new. There's a TV show specifically dedicated to them. Sadly, some brides-to-be have become so obsessed with ensuring a flawless day that they've taken the obsession with a Pinterest-perfect wedding day to the next, disturbing level. According to a recent article on wedding trends, some brides are requiring their bridal party to lose weight and receive Botox treatments, occasionally suggesting even more radical cosmetic procedures.
Yes, seriously.
One bride-to-be planning a summer wedding in Manhattan is encouraging one of her bridesmaids to have her damaged earlobe repaired cosmetically so that she'll be able to don the same chandelier earrings as the rest of the girls. "I can't have her in studs," she explained.
Another bride is requiring her bridal party to purchase diet plans that will cost each of them roughly $350.
Read more:
Is A Lavish Wedding a Prelude to Divorce?
"It's the bride's day, and she wants … her bridal party to be perfect because it's a reflection of her," plastic surgeon Dr. Norman Rowe told Fox News, in trying to explain the rationale. Rowe himself said he's seeing more and more "brides come in with their maids of honor, and even entire bridal parties, to get filler or Botox."
Beyond the obvious superficiality, what's also disturbing about this trend is its obstruction of the true beauty of a relationship between a bride and her maid or matron of honor. Their supposed bond of support and companionship is replaced by one focused solely on ensuring flawless physical appearances. Although the church has no official description for the role of maid or matron of honor, it's generally a position given to a trustworthy companion who's ready and willing to perform a plethora of duties in support of the bride as she prepares for marriage. Having a flawless figure or being willing to undergo beauty procedures should not be a prerequisite for the role.
Those who have been married for awhile have the blessing of hindsight in realizing that the perfect wedding or wedding party, much like the perfect marriage, is an impossible goal, and it's not what really matters in the end. Let's hope that brides-to-be seeking absolute perfection realize this sooner rather than later, and start placing more emphasis on the things that will make their marriages thrive.