It's not easy to win hearts or minds on social media. But it's not impossible either.
I don't usually bother arguing online, assuming that it could never make a difference, but a TED Talk changed all that. Apparently, even arguing with people on Twitter can be more valuable than you'd think.
Megan Phelps-Roper was a prominent member of the Westboro Baptist Church, a radical group known for their hate speech. Being especially good with technology, she took on the role of spreading her church's message on social media. Soon enough she had thousands of Twitter followers, and was picking fights right and left, to gain exposure and publicity. One of these arguments changed her life.
In her February TED Talk, titled "I grew up in the Westboro Baptist Church. Here's why I left," Phelps-Roper speaks about how those Twitter fights she used to have became ground for true communication. She lays out a framework to follow, for people who want to change hearts and minds through the internet.
Read more:
Another papal first: Pope Francis gives TED Talk on "The Future You"
It all starts with curiosity, she says. When you want to know "How had the other come to such outrageous conclusions?" you are on the path to seeing your enemy as a human being, not an abstract ideology.  
Phelps-Roper describes how, "After several months of heated but friendly arguments online, [a man named David Abitbol] came out to see me at a picket in New Orleans. He brought me a Middle Eastern dessert from Jerusalem, where he lives, and I brought him kosher chocolate and held a 'God hates Jews' sign. There was no confusion about our positions, but the line between friend and foe was becoming blurred. We'd started to see each other as human beings, and it changed the way we spoke to one another. It took time, but eventually these conversations planted seeds of doubt in me."
Those seeds of doubt, planted by initial curiosity and authentic dialogue, eventually led to her and her younger sister leaving the WBC, and the only world they'd ever known. They didn't know where to go, until David invited them to his own community. She relays how they "slept on couches in the home of a Hasidic rabbi and his wife and their four kids — the same rabbi that I'd protested three years earlier with a sign that said, 'Your rabbi is a whore.'… They treated us like family. They held nothing against us, and again I was astonished."
It really is an astonishing story, a conversation that started with outrage and anger developing into an opportunity for love and forgiveness. Phelps-Roper remembers four things about what David and her other Twitter friends did, which allowed her to really hear their message. If we can all do the same, she says, "we can end the spiral of rage and blame," and effect real change in the world.
First of all, she cautions, "Don't assume bad intent. My friends on Twitter realized that even when my words were aggressive and offensive, I sincerely believed I was doing the right thing." It's a startling amount of grace to extend to somebody who is vehemently insisting that God hates America, and everybody outside of their church is damned. But Phelps-Roper really did believe that she was right, as so many do, and if people hadn't understood that on some level, conversation would have been impossible.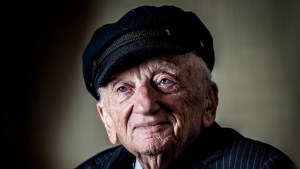 Read more:
How could ordinary men be capable of such evil? The last Nazi prosecutor has the answer
Next, "Ask questions." You don't just do this to make sure you've understood their argument well enough to address it properly, although that's necessary too. You also ask questions because "it signals to someone that they're being heard. [People's] questions gave me room to speak, but they also gave me permission to ask them questions and to truly hear their responses. It fundamentally changed the dynamic of our conversation." Asking questions makes the difference between lecturing each other, and listening to one another.
Third, "Stay calm. This takes practice and patience, but it's powerful. At Westboro … I thought my rightness justified my rudeness — harsh tones, raised voices, insults, interruptions — but that strategy is ultimately counterproductive." Phelps-Roper actually met her future husband through these Twitter conversations, and would never have gotten to know him had they not knew when to "pause, breathe, change the subject or walk away."
Finally, "Make the argument. This might seem obvious, but one side effect of having strong beliefs is that we sometimes assume that the value of our position is or should be obvious and self-evident." Essentially, you can't have a conversation without kindness and civility, but that in itself isn't enough. You have to have the energy and patience to explain yourself clearly and well, too.
Arguments online, in social media, comboxes, and forums, can get nasty fast. I'm usually tempted to stay far away, since it's all too easy to get sucked in. But let's not give up arguing online altogether. If you can do it right, you never know whose heart and life you could change.
Read more:
Listening is pastoral care, and even you can do it