The Godfather's funeral? An Addams Family remake? No, just diplomatic protocol.
We live in a world where few social conventions are firmly upheld. Nobody takes the request to RSVP seriously. Every day is casual Friday. When was the last time you worried about the proper placement of utensils or glassware for a dinner party?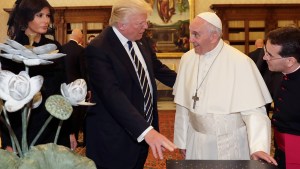 Read more:
Donald Trump says he will remember what Pope Francis told him
We can (and some of us do) bemoan the loss of attention to etiquette, propriety, and dress codes. It's true that in many cases social standards have been linked to class bias and elitism; those we can do without. But we're so unfamiliar with the very notion of conventions that when they do show up in our lives – as with yesterday's social media blitz featuring the Trump family's visit to the Vatican – we are startled and confused.
It's easy, in this atmosphere of viral memes, to poke fun and make up humorous fictions about the fact that Melania and Ivanka Trump wore somber black clothing, complete with black veils, for their meeting and photo op with Pope Francis. "Did they think it was a mafia funeral?" some wags chortled. "They're remaking the Addams Family movie!" suggested others.
Here's the unfunny, unviral truth. The Ladies Trump were simply complying with a detailed and time-honored Vatican protocol for women in formal diplomatic circumstances. That protocol requires:
Formal black clothing, with the knees, upper arms, back, and decollete covered.

Black close-toed shoes with low or moderate heels.

A black head covering, usually interpreted as a black lace mantilla (veil) like the one Melania Trump wore (Ivanka's headpiece was a bit more fashion-forward, but dignified).
Some on social media questioned why the Trump women complied with Vatican protocol for veiling, but did not cover their heads in Saudi Arabia, where Islamic law requires it. We have seen statements that Saudi protocol does not require Western diplomatic visitors to veil, so long as they comply with the standards for modest dress, which Melania and Ivanka did. It will be remembered (because Donald Trump tweeted disparagingly about it at the time) that Michelle Obama did not cover her head when she, as First Lady, accompanied her husband on a diplomatic visit to Saudi Arabia. Any speculations about using head-veiling to signal preference for one religion over another are just that, speculations. Diplomatic protocol was upheld in both cases.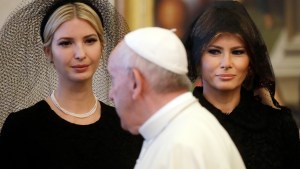 Read more:
The surreal, funny dialogue between Pope Francis and Melania Trump
And speaking of Michelle Obama, some have used photographs of her and her daughters being introduced to Pope Francis while wearing short-sleeved colorful dresses and no head coverings as proof that (a) Mrs. Obama broke protocol and was disrespectful or (b) Pope Francis threw out all that dress code nonsense. The truth? The Obamas were introduced to Pope Francis informally while on a family trip. It was not a diplomatic meeting covered by protocol. In fact, when the Obamas did make a state visit to the Vatican to meet with Pope Benedict XVI, Michelle was dressed in a high-necked, long-sleeved black dress, black close-toed shoes, and a black lace veil. Diplomatic protocol, all the way.
One last quirk, now that we're on the topic of Vatican diplomatic protocols. There is an exception to the black if you are a queen or princess of an official Catholic monarchy or duchy. In such a case, you may wear white formal clothing, white close-toed shoes, and a white veil. This exception, called in French le privilège du blanc ("the privilege of [wearing] white"), was initially granted to Catholic queens of Europe. It is now limited to Catholic queens (and dowager queens) or princesses of specific royal houses.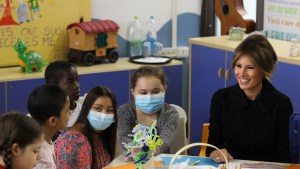 Read more:
Aleteia joins Melania Trump on visit to "the Pope's" pediatric hospital
Today, these include the queens and dowager queens of Spain and Belgium, the princesses of Monaco and Naples, and the grand duchess of Luxembourg. Women granted the privilege may choose to exercise it or not, usually depending on the formality of the occasion, with white being reserved for the most formal and traditional black being worn at other times.
During Pope Francis' 2016 visit to Mexico, First Lady Angelica Rivera Hurtado (wife of Mexican president Enrique Pena Nieto) raised eyebrows when she posed for official photographs with the pope and her husband while wearing a white suit. Some thought she was attempting to appropriate the privilège du blanc, which would have been a breach of diplomatic protocol. In the same way, Cherie Blair, wife of then-UK prime minister Tony Blair, was criticized for wearing white clothing for a meeting with Pope Benedict XVI. The invitation to the meeting, on child welfare, was last-minute and she had no opportunity to change clothes – which, this not being a formal diplomatic encounter, she wouldn't have been required to do in any case.
So before we take sides in a Twitter war or invent colorful fictions, it's always good to look at the conventions we might be missing. And hey, do your hosts a favor and RSVP, okay?