Go behind the scenes as a former Anglican is ordained a Catholic priest.
What can God do in your life with one Bible verse a day?
Subscribe to Aleteia's new service and bring Scripture into your morning:
Just one verse each day.
Click to bring God's word to your inbox
On December 8, 2016, the Solemnity of Mary's Immaculate Conception, I was ordained a Catholic priest. Since I often share stories about my family with the Aleteia community, this might be a little confusing. But what you may not know is that in 1980, Pope St. John Paul II created something called the Pastoral Provision to ordain former Anglican priests, and some of those priests like me were (and still are) married.
"How does it feel to be a priest?" is the most common question I've been asked since the big day. I could just say, "Oh, it feels great," and move on, but I want to admit how it really feels—mostly great, but also kind of terrifying. I feel relieved that the long preparation is finally over, but also apprehensive about taking on the duties of a priest. I feel a bit unsure as I adopt a new identity as a pastor, but I also feel the same as always. There's a sense of the weight of responsibility I now bear, but there's also the knowledge that the weight rests lightly.
I don't know that ordination is all that different than any other significant turning point each of us encounters — such as marriage, the birth of a child, or the death of a parent. The emotions are complex during such life-changing events, but no matter what we feel, the reality is that we are never quite the same. Life is a beautiful journey of huge, daunting moments and also the no-less important small moments in between. All of these are precious and no matter where life's path has taken us, each of our stories is worth telling.
Here are a handful of some of those moments during my ordination, captured by
Cori Nations
and also by my wife, Amber Rennier.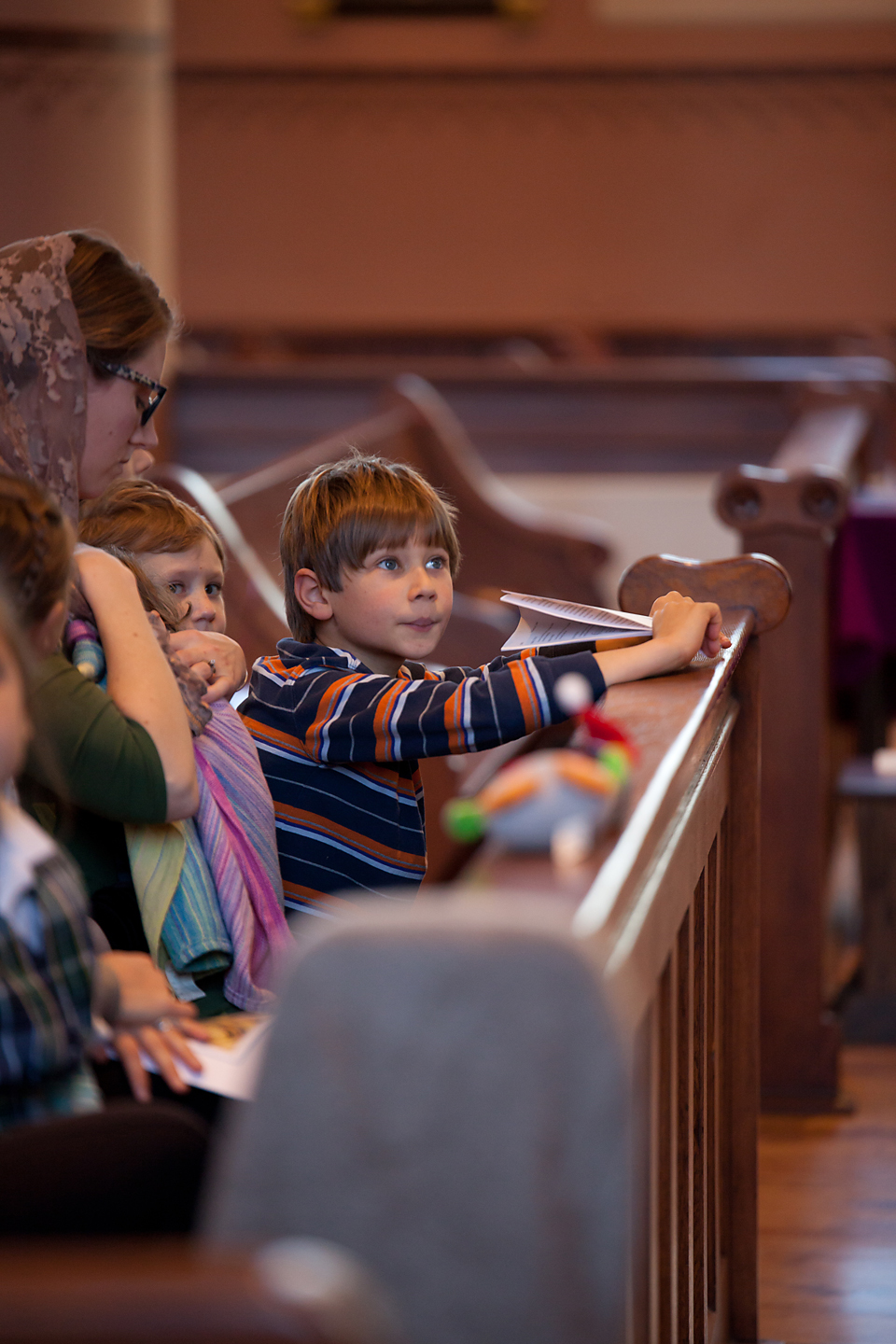 My family before Mass sitting in the front row. They seem excited, which is funny because I think at this exact moment I was in the sacristy anxiously staring into a bathroom mirror and wondering if what I was seeing was real life.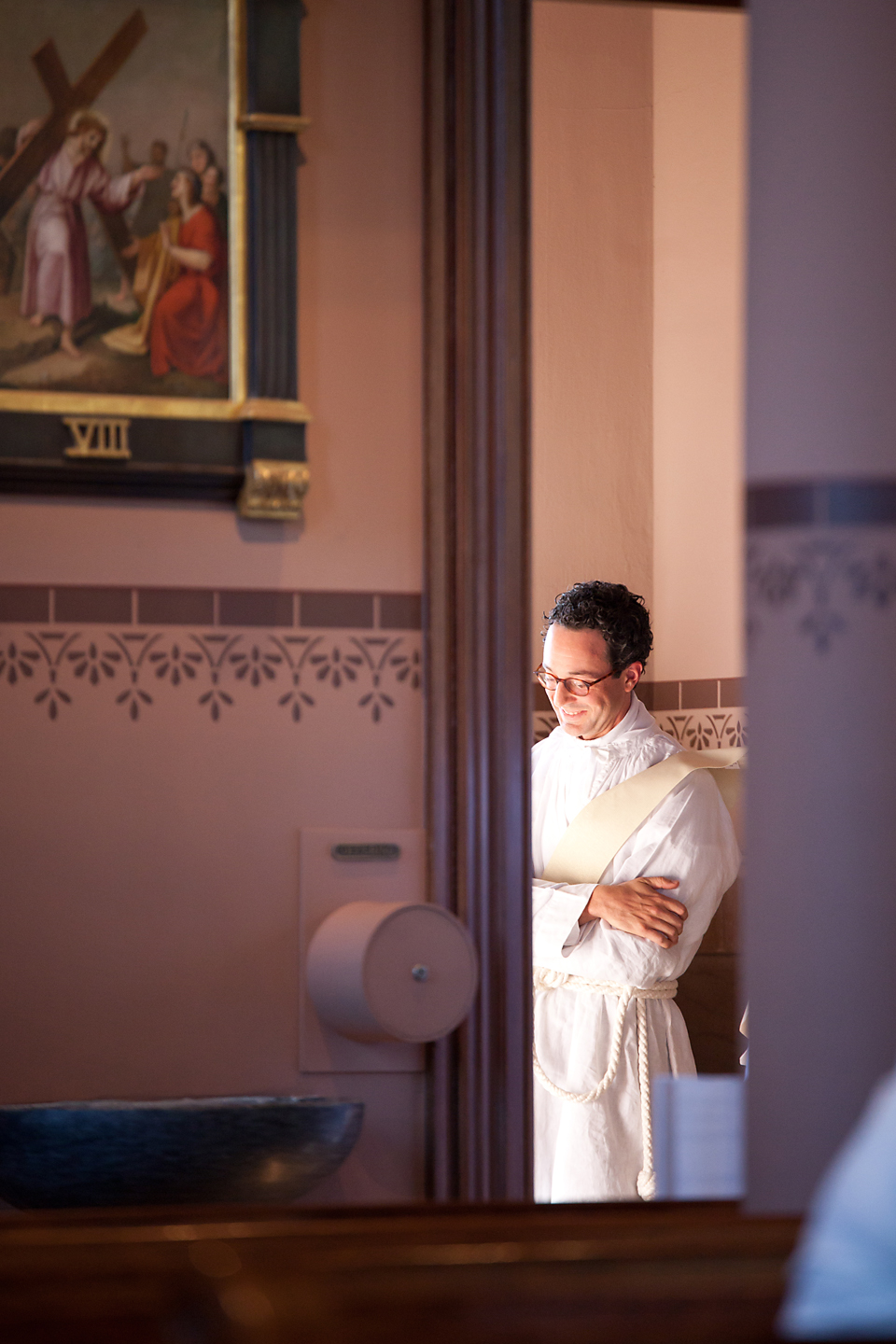 The Church in which I was ordained is the Basilica of King Louis IX. It sits in the shadow of the St. Louis Arch on the banks of the Mississippi River and is one of the oldest Church buildings west of the river. The painting of the crucifixion hangs over the high altar and this picture is a perfect encapsulation of my emotions at the moment as I walk into the sanctuary to my ordination. In a way, it's like being a lamb being led to the slaughter, a march to a spiritual death.
In the end, faith is individual and is about each one of us and God. No one else can have faith on our behalf. It can be a lonely feeling, until we look up and realize that we aren't really alone at all, but God is with us every step of the way. He knows what we're feeling, how we struggle, and all of our doubts. We can rest in the shadow of his wing.
Like a seed that falls to the ground and must die before putting up green shoots, in the moments before he is ordained, a priest lies face down while the Church prays for him. Among other prayers, a long list of saints are asked to join in with the intercessions of the whole Church. Lying face down like this, I had some time to think and am more confident than ever that giving your life to God is daunting, but also incredibly freeing.