Dads will benefit from considering these often overlooked qualities of fatherhood.
There are many stereotypes about fatherhood. A father works all day and returns home at night to mete out any punishments the children have earned over the course of the day. He relishes the moment he can play his role as intimidator of his daughter's first boyfriend, grunts as he drains the oil underneath the car, and enthusiastically reminds the umpire at his son's Little League game that, with the right insurance policy, prescription glasses aren't all that expensive.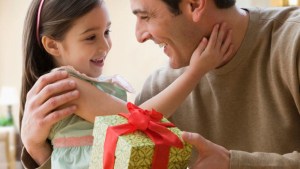 Read more:
7 Father's Day gifts that can make a real difference
Me? I'm a father of five but have no idea how to change oil. I don't hunt or fish or watch much sports. Sure, I'm pretty good at providing car snacks on long trips as I drive the family minivan to our vacation destination, but I don't fit into the traditional role of father in many ways.
If we don't take them seriously, the stereotypes can be amusing, but of course there's so much more to being a father. I know that as I raise my children I've made mistakes, learned a lot, and personally grown by leaps and bounds. Truly, fatherhood is a vocation unlike any other and dads come in all shapes and sizes. It can be tough to know how to be good at it, but luckily we don't have to figure out the whole dad thing all on our own.
Here are a few quotes that illustrate some overlooked qualities of fatherhood that all dads can benefit from thinking about …
The strength to be humble
Day after day I was able to observe the austere way in which he lived. By profession he was a soldier and, after my mother's death, his life became one of constant prayer. Sometimes I would wake up during the night and find my father on his knees, just as I would always see him kneeling in the parish church. We never spoke about a vocation to the priesthood, but his example was in a way my first seminary, a kind of domestic seminary. – Pope St. John Paul II, about his own father
John Paul II, who during his life was a spiritual father to billions, learned an important lesson from spying on his dad in the middle of the night. The unspoken example of humility he saw in his father as he prayed after putting the kids to bed, a man who by day was a career soldier, inspired the future pope with the desire to do the same. Even men who are proud of how tough they are can be the best example of tender humility for their children.
It changes your heart
The heart of a father is the masterpiece of nature. ― Antoine François Prévost d'Exiles, Manon Lescaut
I've heard from any number of men who, upon becoming fathers, noticed that their hearts had changed, even going so far as to say they had new insights into love and life. It's hard to explain, but I feel the same. It wasn't that I didn't love my wife or parents before, but having children somehow changed the way I thought about the world, love, and my place in it. Perhaps it's the knowledge that I now stand in a special relation to my children, and I will gladly work, provide, and suffer on their behalf as long as I live. Somehow, they're part of who I am now. The heart of a father is unlike any other.
Learn a new kind of bravery
To be the father of growing daughters … Nothing can make one so happily exhilarated or so frightened: it's a solid lesson in the limitations of self to realize that your heart is running around inside someone else's body. It also makes me quite astonishingly calm at the thought of death: I know whom I would die to protect... ― Christopher Hitchens, Hitch-22: A Memoir
No stereotype is more persistent than a man terrified of fathering a daughter. What is it about little girls and their pony-obsessed, bedazzled, tea-partying existence that's so frightening? Perhaps it's that girls display innocence in a way that boys, because they're so physically different, don't. Anytime a man becomes responsible for another little human it's frightening … but not really, because children help a father find his place in the world and even give meaning to the possibility of sacrifice and death.
You discover who you really are
Sooner or later, you will discover which kind of father you are … You are the kind of father who fakes it, who yells, who measures his children with greatest accuracy only against one another, who evades the uncomfortable and glosses over the painful and pads the historic records of his sorrows and accomplishments alike. You are the kind who teases and deceives and toys with his children and subjects them to displays of rich and manifold sarcasm when — as is always the case — sarcasm is the last thing they need. You are the kind of father who pretends knowledge he doesn't possess, and imposes information with implacable gratuitousness, and teaches lessons at the moment when none can be absorbed, and is right, and has always been right, and always will be right until the end of time, and never more than immediately after he has been wrong. And when your daughter's body begins to betray her, and her sky flickers in the distance with the heat lightning of sex, you clear your throat and stroke your chin whiskers and tell her to go ask her mother. You can't help it — you're a walking cliché. ― Michael Chabon, Manhood for Amateurs
Fiction writer Michael Chabon jokingly outlines how fatherhood reveals character flaws we wish would remain hidden. You can't fake it with children, and a father quickly finds out what kind of person he really is. On the flip side, fatherhood also reveals virtues we never knew we possessed and even helps create those virtues. The stereotype of a sitcom-ish cliché dad can be funny, but it doesn't define the real thing. In fact, if a man is willing to grow and mature along with his children, fatherhood helps him become the sort of person he always wanted to be.
It isn't only about the kids
The best thing a father can do for his children is to love their mother. — John Wooden, Wooden: A Lifetime of Observations and Reflections On and Off the Court
Fatherhood isn't only about the kids. I could be the nicest, greatest dad in the world who pushes them on the swings all day, coaches all their sports teams, and lets them eat ice cream for dinner, but if I treat their mother poorly, refuse to attend church with the family, make fun of my boss at dinner, and generally set a poor example, I'm not as great a father as I think. Children watch everything, and often moments we don't even remember take on great importance in their minds.
For instance, I recently received a hand-made card from one of our parish school children. On it she drew a picture of me walking her into school while sharing an umbrella to keep her dry from the rain. I didn't remember that moment, but clearly it meant a lot to her. Fathers are forming their children in every tiny, small moment, meaning that the way a father loves their mother, treats the waiter at the restaurant, and generally handles himself really matters. This is good news, because a father doesn't always know what to say, or how to play the role he's expected to fit into, but those expectations are far less important than if a father is simply who he is – a good man. Fathers, be good, love those around you, lead by example, and enjoy the great blessing that is fatherhood.