Here's how to set clear boundaries when your college kid comes home for the summer.
I love seeing all the Facebook updates from college kids, driving home for the summer with a backseat full of laundry baskets. It cracks me up every time, because I remember those days.
Less adorable are the updates from fellow parents, whose kids have come home for the summer and fallen right back into "kid" mode. Least adorable of all was the summer when we were visiting my parents and my little brother came home from college, hauled his laundry to the laundry room, and stood near it looking perplexed and pathetic until I took pity on him. (Okay, it was actually pretty adorable, but I'm making a point here.)
Read more:
What millennials can teach us about raising kids
Scary Mommy had a great post recently on how to survive summer with your college student, particularly their one-sided boundary-setting:
That's right — our children have attempted to set boundaries for us, and when we inevitably trespass, we risk the accusation that we've somehow assaulted their fragile and budding adultness. Meanwhile, they traipse around our house dancing all over our rights like hippies at Woodstock in a rainstorm. It's a bloody free-for-all around here for the millennials.
I will never forget my mom calling me right before Thanksgiving break after my first year of college, telling me that I absolutely had to come home and clean out my old bedroom over the break.
"But why?" I asked, baffled. "I'm still gonna come home for the summer and stuff, so why can't you just leave my stuff there?"
It literally never occurred to me that since I had technically moved out, she might want to use that space for something — or someone — else. Or that she might just want it clean instead of letting it ferment. Even though I proudly proclaimed that I "didn't live at home anymore," I still thought of it as home. My dorm room felt more like an extended summer camp made especially for me, with glorious books and no hideous outdoor activities. I couldn't conceive of not having a place in my home anymore.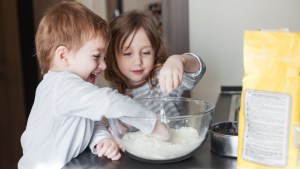 Read more:
5 Kitchen tasks that will set your kids up for a healthy life
But my place was gone. My little brother took over my room, and when I came home for Thanksgiving I had to sleep in his old room. (My mom was kind enough to change the Power Rangers sheets, but still.) It was all for the best, though, since I never did move back home. I didn't quite stop thinking of it as "home" until I got married, but moving back never seemed like an option after that. I had to make my own place, and I did.
There were other boundaries my parents set, like making me pay for groceries and (unlike my baby brother) do my own dang laundry, but none of them stuck with me like that first one. Giving me a new space as a transient "guest" rather than a permanent occupant was the most powerful boundary they could have set, because it was a clear demarcation of my transition from childhood to adulthood.
So if your college kid comes home bearing laundry and wants to be treated like both an adult and a child, that's one way to set a boundary for them without nagging or arguing.
Just don't make them sleep on Power Rangers sheets, though.