Let's be honest: The best TV dads can be a little boring.
Oh, they're great, sure, these handsome sages of the domicile. They didn't call that 1950s comedy Father Knows Best for nothing. Fathers — the best TV fathers — always did know best. In Leave It to Beaver, Ward Cleaver would always calm a house in total chaos with a gentle smile and a sage word of advice. Andy Taylor (The Andy Griffith Show) needed to just flash a stern look and crack a little joke to make everything just fine.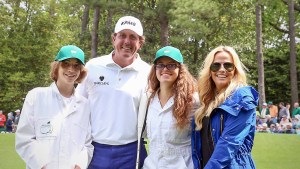 Read more:
Phil Mickelson to skip U.S. Open for his daughter
But Ward wasn't that wise all the time.
Those of us lucky enough to grow up with a dad know full well that fathers don't always know best. Oh, they have their moments to be sure. And they might know the best way to catch a fish, or change the oil, or make your little brother laugh until milk spurts out his nose. But real fathers, even the best fathers, aren't at their best all the time.
Those are the sorts of fathers that many of us will honor and celebrate this upcoming Father's Day — the dads who'd embarrass us, who exasperated us, who might shout a little too loud at the TV during the football game or whose favorite phrase during long trips was, "If you kids don't pipe down back there, I'm turning this car around!" Because for all their sometimes flaws and foibles, you always knew they had your back, no matter what.
And so in honor of those dads, we give you five of television's best fallible fathers (and a few flawed lessons they teach along the way).