Blessed Francis Xavier Seelos provides us with a simple guide to becoming holy.
Need an idea for Lenten almsgiving?
Help us spread faith on the internet. Would you consider donating just $10, so we can continue creating free, uplifting content?
Make a Lenten donation here
From an early age Francis Seelos desired to enter religious life and become a priest. One day when his mother was reading the life of Saint Francis Xavier, little Francis boldly declared, "Someday, I will become a second Francis Xavier."
Seelos was a studious young man who excelled at school and was eventually accepted at the Royal Ludwig Maximilian University at Munich, where he studied philosophy. In his third year there he began studies in theology, but then felt again the call to the priesthood. He became aware of the dire need of priest-missionaries in America who could minister to the needs of the countless German immigrants. It is at this point that he decided to join the Congregation of the Most Holy Redeemer (Redemptorists) and venture off to America.
He was accepted by the Redemptorists on November 22, 1842, and soon after boarded a ship on April 20, 1843, that was headed for New York. With already much of his theological education completed, Seelos was ordained a priest a little over a year later in 1844.
In 1845 Father Seelos was transferred to St. Philomena's parish in Pittsburgh, led by none other than Saint John Neumann. For the next six years Seelos would work side-by-side with the humble priest and minister to the hard working German immigrants. He wrote about the experience of working with a living saint, writing, "I was his subject, but more like a son who needed help … above all, the example of his virtues is vivid in my memory, his tender modesty, his great humility and his insuperable patience."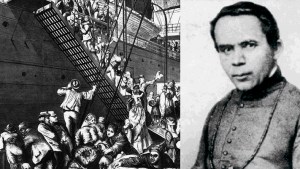 Read more:
St. John Neumann: American saint who arrived with $1 in his pocket and one suit of clothes
Saint John Neumann was then appointed bishop of Philadelphia and Father Seelos took over Saint Philomena as pastor and novice master.
After working in Pittsburgh, Seelos was transferred to Maryland where he was appointed pastor of St. Alphonsus in Baltimore. By this time Father Seelos became well known for his sanctity. The website for his cause of canonization explains how, "His availability and innate kindness in understanding and responding to the needs of the faithful, quickly made him well known as an expert confessor and spiritual director." Penitents sought his advice so much that they were willing to wait up to three hours to receive the sacrament of Confession from him.
One of his favorite activities was instructing little children, which he believed was vital to the future of any parish community.
After Baltimore, Seelos served parish communities in Cumberland and Annapolis. He was also the Prefect of Students for the Redemptorists and helped form future priests who would serve in America. According to Franciscan Media, "During the Civil War, he went to Washington, D.C., and appealed to President Lincoln that those students not be drafted for military service, although, eventually, some were."
Father Seelos ended up becoming an itinerant preacher after turning down an appointment to become the next bishop of Pittsburgh. He ministered to German communities in Connecticut, Illinois, Michigan, Missouri, New Jersey, New York, Ohio, Pennsylvania, Rhode Island and Wisconsin. He had a brief post in Detroit, Michigan, but was then assigned to a parish in New Orleans.
He served St. Mary of the Assumption parish with great zeal, but it ended up being his last assignment. Father Seelos contracted yellow fever after ministering to those who had the disease. He died on October 4, 1867, at the age of 48.
Father Seelos was well known for his humility, simplicity and generosity. He also wrote a "Top 10 Practical Guide to Holiness" that is featured on his website for canonization:
1. Go to Mass with deepest devotion.2. Spend a half hour to reflect upon your main failing & make resolutions to avoid it.3. Do daily spiritual reading for at least 15 minutes, if a half hour is not possible.4. Say the Rosary every day.5. Also daily, if at all possible, visit the Blessed Sacrament; and toward evening, meditate on the Passion of Christ for a half hour.6. Conclude the day with evening prayer & an examination of conscience over all the faults & sins of the day.7. Every month make a review of the month in confession.8. Choose a special patron every month & imitate that patron in some special virtue.9. Precede every great feast with a novena, that is, nine days of devotion.10. Try to begin & end every activity with a "Hail Mary."
Father Seelos was beatified in 2000 by Pope John Paul II and his feast day is October 5.