The number of couples in which the woman is older, as in the case of French president Emmanuel Macron, is growing.
Newly elected French president Emmanuel Macron and his wife Brigitte caught the world's attention because of the 24-year age gap in their marriage: he is 39 and she is 64, and they have been married for 10 years. We are used to husbands who are older than their wives – in fact, Donald and Melania Trump also have a 24-year age gap, but he is the older one. But the trend of older wives and young husbands is a growing one: from 1964 to 2015, the number of such marriages grew by 64 percent, jumping from 9 percent to 15 percent of all marriages.
What accounts for the change? Shifting gender roles, women's increased earning power, and more equitable marriages may have something to do with it. And as society is less tradition bound, many women are less concerned about the opinions of family and friends.
Agatha, who is 11 years older than her husband, said, "Well, my aunts were certainly not thrilled. But that is their problem, not ours. They see we are happy together, and they just have to get used to it. Thankfully, I don't look older than Greg. Our friends accept us without reservations, although in the beginning Greg did get a lot of snide comments. But he fought for me — it's great to have such a knight on your side. My friends? I think they are a little jealous …"
As a society, we are still willing to judge wives who are older than their husbands rather harshly, calling such women "cougars." Remember the relationship between Demi Moore and Ashton Kutcher, her junior by 16 years? The tabloids didn't leave a dry bone on them. They parted after seven years of marriage (although most likely not because of acerbic comments in the media). So it seems that when it comes to a relationship of an older woman with a younger man, we are inclined to see not only the violations of eternal principles but we try to find motives that are not emotional. Was it for money? Social status? Because, after all, what does he see in her and how could they?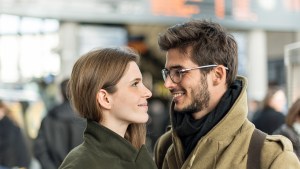 Read more:
Why international relationships are so challenging
The typical view is that a man's attractiveness is in his power and finances, and a woman's is in her beauty and youth as indicators of fertility. A French demographer put it more simply: "Men have always been interested in female bodies, and women in men's wallets."
Time for a mentality facelift
The weight of such suppositions is felt in the gazes and in seemingly witty remarks like "You don't get bored with him? What do you even talk about?" or in less tactful speculations about ways of spending free time. People don't talk about love. They don't talk about what unites two people, but about what separates them — due to the age difference. He is young, so he definitely doesn't know much, she, even worse, is older but naive. That's the easiest way of thinking — the situation is foreign, there is a cognitive dissonance, so we prefer to organize it in our minds the way we like it.
There is no reason to argue with the statistics — a trend is already underway, albeit slowly. Does that mean that the situation will completely reverse? Certainly not, but there are, and there will be more, older wives of younger men. Maybe it's time for a small mentality facelift? Instead of judging, let's remember what Bulgakov wrote in The Master and Margarita: "Who told you this, that there is no longer in the world a true, faithful, eternal love? May the liar's vile tongue be cut out!"
This article was originally published in the Polish Edition of Aleteia.