Brides on a budget need not sacrifice style and elegance with these ready-to-wear gowns.
Need an idea for Lenten almsgiving?
Help us spread faith on the internet. Would you consider donating just $10, so we can continue creating free, uplifting content?
Make a Lenten donation here
For years you've been dreaming of your wedding: walking down the aisle to your Prince Charming who's waiting to place that wedding band on your finger. You've already planned the whole day: the princess dress (perhaps favoring Duchess Kate over Disney), the vintage car, the bride party, and even the wedding meal served in the ideal romantic spot. There's only one thing that you might not have paid much attention to, and that's the budget. So, when the time comes to get serious and prepare the real wedding at church, reality hits. Everything is SO expensive! Although you don't want to make any concessions on your dream day, something's got to give.
Read more:
13 beautiful ideas for your rustic wedding reception
How about the wedding dress? It can be a significant part of the budget, so lowering its cost will save you precious dollars. (We know you've had your eye on that gown that would set you back a couple of monthly paychecks, but maybe it's time for a rethink). Just ask yourself these questions: is wearing a dress fit for a princess with a four-figure price tag the best proof of your love? Will your marriage be more solid if you're dressed in a designer gown? Nothing could be further from the truth! Luckily for you, we can be just as elegantly dressed without breaking the bank. Rather than heading straight to the showrooms of specialized designers, you can look to the many ready-to-wear ranges out there that have been offering some seriously impressive alternatives for many years compared to the more expensive department stores, or the small studios offering tailor-made designs. And nowadays, wise future brides are opting more and more for this less financially burdensome solution.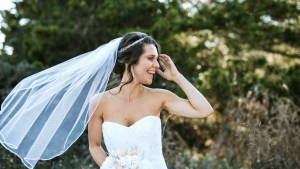 Read more:
Bride plans her wedding in 5 days—why you should, too
Here are 6 on-trend wedding dresses at an affordable price. We love the simplicity of some, the bohemian touch of others, or the slightly vintage feel…  These dresses are proof that on your big day, for less than $500, you can be an exquisite bride, ready to make your vows in front of God and marry the man you will spend the rest of your life with, for better or for worse.
Launch the slideshow
This article was originally published in the French Edition of Aleteia.