Free babysitting swaps and "care trains" are just some of the many benefits to this new workspace trend.
Many of us know that working from home with little kids running around can be crazy, but a new trend started by Selena Beal in New York is making it easier to juggle kids and a job.
Selena is the founder of The Workaround Collective, which is a co-working desk-share for parents. Currently, families who are benefiting from The Workaround Collective are in the New York cities of Williamsburg, Greenpoint, Bushwick, Ridgewood and Long Island City.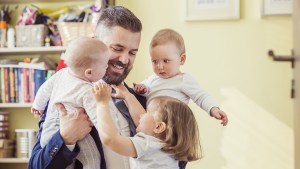 Read more:
5 Ways to avoid working parent FOMO (fear of missing out)
Co-working is a new work trend that involves shared work environments, but independent work projects. Coworkers aren't hired by the same employer and they work individually. The trend appeals to people who would normally work from home but could feel isolated and miss human interaction. Renting a part-time office space increases interaction with others and lets people escape distractions from home for a while.
When kids entered the picture for Selena, who used to work in film, she needed a different solution than going back to work full-time. She remembers: "I was looking for some sort of work that I could transition into after having kids." But after exploring options and running into obstacles, Selena took matters into her own hands and figured out how she could pick work back up without putting her kids on hold. "I decided I just wanted to change the co-working model to something simple and fluid."
Some parents know exactly how long they'll be gone from their full-time position, thanks to maternity and paternity leave. After they go back to the office, full time daycare and nanny services are options for childcare. But for moms and dads who are trying to go back to work part-time and still want to have time with their kids, there aren't a lot of options. "They need to get out of the house and need to be doing something with their mind but they aren't ready to commit to daycare or nannying," said Selena. "That's the population that I look to serve and that I feel really doesn't have a lot of options and would be best served by a model like The Workaround."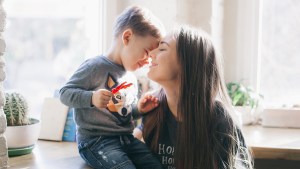 Read more:
Why I quit my stay-at-home "parenting" job and started being a parent
Instead of creating a co-working office that provides desk spaces and hired nannies, Selena created a model of a desk share with a built in babysitting swap. "We call the swap The Village and it truly has become a village," Selena said when talking about the babysitting part of the model. "Some people just join the village because they want a built in community of parents and babies that are the same age, at the same place in their life, and in the same area."
When local parents pay for the membership at The Workaround, they have access to desk space for 15 hours a week at Rough Draft, a co-working space in New York.  Rough Draft is a boutique co-working spot designed by husband and wife team, Glenn Pajarito and Alison Zullo. Selena approached Rough Draft and talked about renting space. "It was early on and we thought it would be something we'd want to support, especially as a woman owned businesses," said Alison. "At the time we signed with them, we didn't have any children. But now that I'm a mom and sort of in the process of figuring out childcare and how I'll go back to work, maybe I'll be part of The Workaround!"
https://www.instagram.com/p/2_19OflGiy/?taken-by=workaroundnyc
Members also are added to a group text of the community and can swap babysitting duties with other members of The Workaround. "You can just have a membership to the work space if you want," said Selena, "But it costs you nothing extra for the babysitting swap and you can plug into it as much or as little as you want. Everyone uses it to varying degrees but they all use it as some point."
The community is formed through get-togethers that were initially just planned so coworkers could get to know each other and build relationships before babysitting one another's kids. But something more than just swapping kid watching duties happened, says Selena. "The get-togethers ended up building really strong relationships. They have a happy hour every week, and one of the women said it was the 'highlight of her week.'"
Parents don't have to pause their careers when kids come around, or only have the option of working from home if kids are in the picture. "[Society] places a lot of value on how much money we make and how much you're working," Selena said. "You're value as a person isn't about that. You should be able to do what you want to do without parenthood being a mark against you." She founded The Workaround to help parents not feel isolated.
Alison knows what it's like to juggle going back to work with a new three month old baby. "Everybody wants to do everything," she said, "but sometimes you have to step back. To have a space where you can do both is so valuable."
The Workaround community has extended beyond the office walls, too.  One of the women who rents an office space is expecting her second child, and The Workaround is helping her through her pregnancy. "We check in on her and set up a care train," said Selena, explaining, "people will come and pick up her child when her husband works late, they'll bring her meals, and watch her child during  her midwife appointments."
One of the benefits neither Selena nor the families who have a membership at The Workaround expected has been community not only for themselves as adults, but for their kids, too.
"A lot of the kids are at the age where they are making their first friend. These are kids who are nine to 30 months and they're just starting to socialize with other kids. Their parents are looking for opportunity for that socialization.  When they're young, it's a lot of parallel play still but they're looking for first play dates and friends, and that's been really rewarding for myself and clients."
The Workaround is currently found only in New York. But if you're wondering where to find family-friendly co-working spots in your area, check out these additional co-working spaces that combine child care and office spaces. Locations include Berkeley, Chicago, and San Antonio. Here's to hoping that this new trend really catches on so that  more will pop up in other areas of the country.