Taking a hot soak can burn as many calories as exercise ... and that's not all.
What can God do in your life with one Bible verse a day?
Subscribe to Aleteia's new service and bring Scripture into your morning:
Just one verse each day.
Click to bring God's word to your inbox
Researchers at Loughborough University recently delivered some thrilling news — especially for those of us who like to relax our way to good health. Turns out, taking a hot bath burns as many calories as walking for a half hour. Granted, you need to spend an hour in 104-degree water, but that hour in a hot bath offers additional benefits. Studies have also found that "passive heating" can reduce inflammation (thus, help heal injuries) and even prevent cardiovascular disease.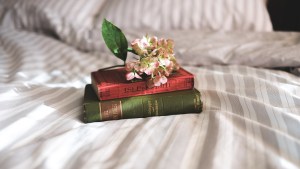 Read more:
Too anxious to fall asleep? 7 bedtime strategies to try
Still, a whole hour soaking in a tub while the world around us keeps spinning and while our never-ending to-do lists go unchecked is a luxury many of us have a hard time rationalizing. Perhaps it helps to realize that these hot baths aren't just good for us physically, they're good for us emotionally and spiritually as well.
Keri Wyatt Kent, author of the forth-coming GodSpace: Embracing the Inconvenient Adventure of Intimacy with God, says taking the time for a hot bath is a great example of "soul care."
"A hot bath is an especially great place to be still and alone," Kent says. "We're not tempted to jump up and 'just do this one thing' like we might be if we were sitting on the couch or even outside in a lawn chair. We can't bring our phone in the tub (please don't try). Our weary souls need time to be still, time to just rest. When we make that time, for quiet — whether in the tub or elsewhere — we can hear the voice that tells us that we are beloved, that grace can't be earned — it's just a gift."


Read more:
Simple ways to find time for prayer when you're 'too busy'


This "gift" isn't always easily received, Kent notes, especially in our busy-busy culture that connects doing something with having worth.
"So many of us feel we're running on empty, and we long for replenishment," Kent says. "Think about energy as water in a cup. We pour out for everyone else, and we're always running. Our souls are jumpy. The water is sloshed out, given away, depleted. In order to refill a cup, you've got to hold it still. We pray 'God fill me up,' but we don't hold still long enough (physically, or emotionally) to let God pour that peace, joy, and energy into our soul."
A hot bath can give us that space, but only, Kent says, if we follow a few guidelines:
Book it
"To make time alone, whether in a hot bath or anywhere else, a habit, you'll need to start by scheduling it," Kent says. "If you wait for the time for this kind of self-care, other things will intrude too much. Put it on the calendar like a meeting with your boss or best friend. Even if you only get one hot bath a week — that's a good start."
(Don't) mind the children
"If you have young kids," Kent says, "put them in someone else's care, so that you're not worried about them. A sitter, your spouse, your mom, someone else. Better yet, send them out with that caregiver to an offsite location so that they cannot interrupt you. You might even want to trade childcare with a trusted friend — she watches your kids for an hour (at her house) while you take a hot bath (at your house), then you do the same for her."
Create a beautiful space
Bathroom not quite Pinterest-worthy?
"Don't fret," says Kent. "But straighten it up a little bit — because you deserve a nice space. Get the kids' bath toys out of sight — even if you have to just throw them in the hallway and shut the door. Use the good towels. Pour a generous amount of bath salts or bubbles into the tub, and fill it completely. If you don't have fancy bath products, Epsom salts are great, cheap, and healthy — they actually replenish the minerals in your body. Open a fresh bar of soap instead of using the last sliver that's languishing in the soap dish. Light a candle. Have a water bottle or cup of herbal tea within reach, and sip while you soak."
Let this article on creating a calming, spa-like bathroom inspire your own ideas!
Think beautiful thoughts
To help clear our minds from the frantic nature of our lives, Kent advises we turn off our phones and leave them in another room (the world won't stop spinning on us). And then, she suggests we choose "a simple prayer or thought to meditate on."
Kent likes something as simple as a verse from Psalm 46: "Be still and know that I am God." Or, phrases like, "I am a deeply loved child of God" or "It is well with my soul."
"When distracting thoughts come in our minds," Kent says, "gently turn your thoughts to your verse or prayer."