Fr. Alois Andritzki was only 28 when he stared down death for love of Christ.
What can God do in your life with one Bible verse a day?
Subscribe to Aleteia's new service and bring Scripture into your morning:
Just one verse each day.
Click to bring God's word to your inbox
Despite the growing affronts to religious liberty in the West, we Americans must count ourselves blessed. I am a Catholic and I went to Mass this morning without a care in the world. For many Catholics during the 2,000 years of our Church, this has not been the case, nor is it the case today.
Many years ago, one Christmastime, a young man was stretching a huge banner with the nativity scene across his garage.
Recalling him reminded me of another young man, also 28 years old, who also put up a nativity scene — and who died for it.
The difference was, one was in New Jersey and the year was 1974. He was decorating the outside of his house for Christmas.
The other was Alois Andritzki. He was in the Dachau Concentration Camp in Nazi Germany and the year was not 1974, but 1941.
The same message — one delivered by a free man with a happy heart as he told his young children all about Santa Claus. That man was me. The other delivered by a man who would be executed for doing exactly what I had done so freely.
Alois Andritzki was born on July 2, 1914. His parents, Johann and Magdalena, were devout Catholics and once a month Johann would take all six kids to visit shrines, showing them the beauty and the mysteries of their faith.
Alois, the fourth child, felt the calling to the priesthood early on. His older brothers also entered the priesthood. The youngest brother was killed while serving in the military in World War II.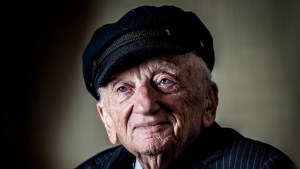 Read more:
How could ordinary men be capable of such evil? The last Nazi prosecutor has the answer
When he had just turned 25, on July 30, 1939, Alois was ordained a priest. He offered his first public Mass on August 6, 1939, unaware that within 18 months he would be an enemy of the state. He gained this title because during the Christmas season of 1940 he produced a small Nativity play in the town of Dresden. (He also apparently was heard making "hostile statements" against the Nazi Party). On January 21, 1941, Father Alois was arrested by the Gestapo.
Father Alois was put in the prison in Dresden and a few months later transferred to Dachau. Dachau was the very first Nazi concentration camp and became known as the Priests' Barracks. More than 2,700 clergy were incarcerated in Dachau and more than 2,500 of them were Catholic clergy.
Father Alois was a talented musician and artist. He was also an acrobat. He entertained his fellow inmates by walking around on his hands. During Christmas season of 1942, Father Alois sketched a depiction of the Nativity on the wall of the barracks to create a simple Christmas chapel. The Nazis were furious.
Father Alois, ill with typhoid, asked if he could receive Holy Communion. The Nazi warden mocked him, saying, "He wants Christ. We'll give him an injection instead." Father Alois Andritzki was only 28 years old when he was given a lethal dose of carbolic acid by his captors.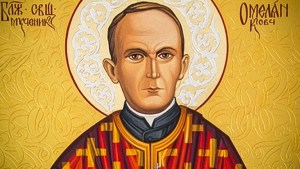 Read more:
Husband, father, and priest, Blessed Emilian saved Jews, scorned Nazis, died a martyr
Father Alois was declared a Servant of God by Pope St. John Paul II, on August 27, 1998. At his beatification ceremony on December 10, 2010, Pope Benedict XVI declared that Blessed Alois Andritzki had died "in odium fidei" (in hatred of the faith). 
Alois Andritzki, a young man of 28 years, a priest, stood tall in the face of death and stared it down for love of Christ.
Blessed Alois Andritzki, please pray for us.