The structure was able to hold 6,500 liters of wine.
Need an idea for Lenten almsgiving?
Help us spread faith on the internet. Would you consider donating just $10, so we can continue creating free, uplifting content?
Make a Lenten donation here
Even if the Israeli Negev desert seems to be a particularly arid area, irrigation systems used since ancient times have historically made agricultural activity thrive and prosper. That was the case, in particular, for Negevi grapes, the wines from which were exported to almost every corner of the Byzantine empire.
Archaeological discoveries confirm it. Recently, an inscription on the back of a 2,600-year-old pottery shard requesting wine in exchange for assistance shed light on how the area's inhabitants indeed devoted themselves to the production of wine in ancient times. But a new finding confirms that this winemaking tradition continued for centuries: a massive Byzantine wine press, able to hold 6,500 liters of liquid, was recently found by the Israel Antiquities Authority.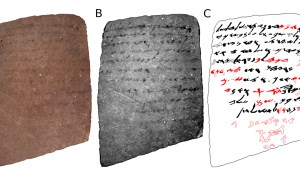 Read more:
Archaeologists discover previously invisible inscription on 2,600-year-old artifact
According to the Smithsonian, the director of the excavation, Tali Gini, believes the structure was used by a Roman army unit, as Israel – then Judea — had been incorporated into the Roman empire. Winegrowing came to a halt around the 6th century, when a plague struck the region.