A new study finds that mindfulness can physically affect the way we feel pain.
What can God do in your life with one Bible verse a day?
Subscribe to Aleteia's new service and bring Scripture into your morning:
Just one verse each day.
Click to bring God's word to your inbox
Pain is only one word, but neurologically speaking, it's three separate events that are happening in the brain. And although two are basically out of our control, one isn't. Since I'm currently writing this through a migraine, I've found this information to be legitimately life-changing — or, to be less dramatic, it's getting me through a tough morning, and that's not nothing. Here's the breakdown.
Read more:
How to practice Catholic mindfulness
According to a 2016 study published in the National Center for Biotechnology Information, pain is made up of three elements:
1. Sensory: A sensation of pain, which is the result of something physical in your body being injured, or not working right.
2. Cognitive: The fact that you've noticed you're in pain, and you're thinking about it.
3. Affective-Motivational: Seeing the pain as unpleasant, and wanting it to stop.
Under MRI scans, each element of what we feel as pain is shown to be a different activity in the brain. This is such good news! See, there's nothing, mentally speaking, that you can do if a bit of your body isn't working right, and it hurts. And short of falling asleep, you're not going to have much success eliminating the cognitive aspect of pain. You can't just not notice that something hurts. But as for that third element? Well, that's a different story.
Read more:
Living with chronic illness changed this father of five's spiritual life…for the better
The practice of mindfulness, the study showed, is able to physically "alter the corresponding neural activity" related to the way that your brain feels that third element of pain, such that it "can alter pain intensity." Now, even without all the heavy science, proponents of mindfulness have noticed this phenomenon and have their own language for it. They group pain into two categories: Primary pain, which is the sensation of pain itself, and secondary pain, which is our own natural resistance to pain, the part where we're thinking: "I hate this, I wish I could make this stop, this is horrible." Secondary pain, then, can be controlled to some extent.
So what is mindfulness, then, and how does it alleviate secondary pain? Let me start by saying that when somebody suggested I work on mindfulness myself, I got really offended, and every time the term came up for a month, I sniffed angrily and changed the subject. It seems like such a dismissive suggestion. What, like if I just try harder to breathe slowly and think happy thoughts, my headache will go away, or something?
Apparently, that's not what mindfulness it. When I got desperate enough to try it, I found out that it's not a passing fad, it's not gimicky, and it's not particularly easy. But it's simple, and it's worth it. (Incidentally, the good effects of mindfulness can't be accounted for by the placebo effect.)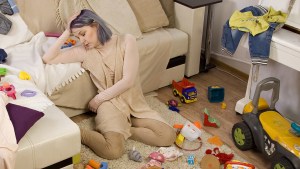 Read more:
How to break the cycle of negative thinking and be more positive
Mindfulness is just the awareness of the present moment, and everything that comes with it, your thoughts, emotions, and sensations. But it's nothing more than awareness. True mindfulness means feeling your feelings, feeling your pain, and hearing your thoughts, without passing judgment on them, either to praise them or to condemn them. Mindfulness is just focusing on existing, without doing anything more. Like I said, it's simple, but it's not easy.
For me, this morning, mindfulness means feeling the pain behind my eyes without intentionally replaying the thoughts that come naturally to me: "If I felt okay, I'd get so much more done," or "I can't wait for this to be over," or "Ugh, I hate this, when will it end?" It's not that I don't hate the pain, but I'm trying to choose not to consciously dwell on my affective-motivaitonal response. It hasn't made the pain go away, but it's made the morning, somehow, better, in a real sense. I'm comforted to know that (no pun intended) it's not just all in my head. An MRI scan would show that there's a reason my morning has been better than last time — it's that that region that's in charge of my secondary pain response isn't so brightly lit up.