Move over cats and dogs, goats are hot on the internet and in real life, but why?
Cats are so last decade — goats have taken over as the new internet hotness.

If you've spent any time online in the past few years, you've undoubtedly seen evidence of our swiftly-growing collective obsession with goats. It started way back in 2006 with

Fainting Goats

, but goats didn't go viral until 2007's Yelling Goat inspired an ongoing collection of yelling goat remixes.



Read more:
4 signs motherhood is making a comeback



But like all good things, the wonderfully weird goat videos came to an end, giving way to an era of adorable baby goats doing adorably goaty things, like

backflipping off the backs of other baby goats,

headbutting themselves in a mirror, and doing yoga … yes, yoga. Here, I'll show you:

See, unlike cats, goats play well with others — so well, in fact, that goats managed to transition from internet hotness to real life hotness. Goat yoga is now a thing. An insanely popular thing, even, with waiting lists as long as 1,200 (people, not goats … goats can't sign up because they lack opposable thumbs). The New York Times even highlighted the phenomenon in their recent article "The Year of the Goat."
"Goats are hot these days," said Ms. Raskin, a former child actress. "Adults mostly want to get down on all fours and let the goats jump on them."
Ahem.
For the more practically-minded, there's goatscaping … which is exactly what it sounds like. You trade in your lawnmower for a pair of goats and let them eat away your weeds and worries. It's touted as an environmentally-friendly alternative to gas-guzzling lawnmowers, and the commitment-phobic can rent a herd for a day to spruce up their yard.
The rise of the goat dovetails suspiciously with the rise of national tension, collective angst, and civil unrest … and although correlation is not causation, I suspect that goat popularity is a manifestation of everyone's need to see a bit of pure joy in the world. Cats definitely weren't gonna cut it, but baby goats were perfect. What's more joyful than a leaping, head-butting, yoga-doing kid?
However, I suspect that with the rise of city-dwelling hipsters, who put bandanas and leashes on their pet goats and take them along on train and subway rides, we have reached Peak Goat. Now that they're in our actual lives, we're starting to see the dark side of goats. It's time for a new animal to capture the heart of the internet and, with luck, ride that gravy train all the way to our yoga studios and living rooms.
So what kind of spirit animal would fit the bill now, to calm our frenzied national discourse?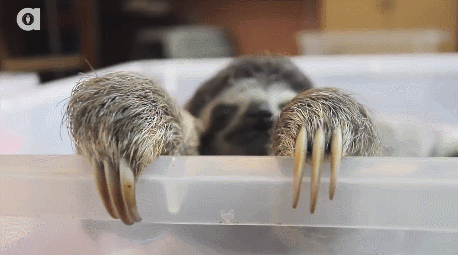 Perfect.