These transformative forms of communicating with God are based on what is revealed in Scripture.
Prayer doesn't come naturally and is a constant struggle. Perhaps for many of us, we've learned little about prayer beyond the Rosary and rote prayers picked up in primary school.
If you feel that your prayer life isn't going anywhere, the best place to look is the Bible.
The Psalms are one of the greatest treasures when it comes to personal prayer. Just think, even Jesus used the Psalms to pray, as we see him doing on the cross.
The Catechism of the Catholic Church further explores this topic and highlights five different types of prayer found in Sacred Scripture. These forms of prayer are based on divine revelation and the experience of those found in the pages of the Bible.
Blessing and Adoration
The Catechism describes blessing as a prayer that "expresses the basic movement of Christian prayer: it is an encounter between God and man. In blessing, God's gift and man's acceptance of it are united in dialogue with each other. The prayer of blessing is man's response to God's gifts: because God blesses, the human heart can in return bless the One who is the source of every blessing" (CCC 2627).
The Our Father contains such a blessing when we say, "Hallowed be thy name." Another example of this prayer can be found in Daniel 3.
Adoration is closely connected to blessing and the Catechism describes it as "the first attitude of man acknowledging that he is a creature before his Creator. It exalts the greatness of the Lord who made us and the almighty power of the Savior who sets us free from evil" (2628).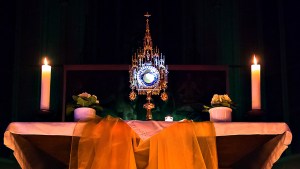 Read more:
Perpetual Adoration, the closest thing to walking with Jesus