This mother's creative hobby could have awesome benefits for your family and the earth.
The DIY videos of the internet have practically become their own sub-culture. More and more, people are learning to love making things themselves, whether as a creative outlet, to de-stress, or even to save some money. Samantha Miller is one creative mom who is using her Instagram account, "mothermakesx4," to showcase the clothes she makes for her kids, often re-using her husband's old shirts.
These DIY clothes have become a great craft for her family. "I believe that it's important for kids to see their parents be passionate and follow their dreams," she told the Huffington Post UK.
In addition to the parenting benefits, the habit of re-using old clothes and fabrics is a hot issue for the fashion industry as a whole. With the advent of fast fashion, the amount of waste being produced is at critical mass, not to mention the problem of unethical work conditions. In many countries around the world, it's become the norm to buy cheap clothes, use them briefly, and discard them in favor of the newest trend. The average American contributes 82 pounds of textile waste every year, for a total of 11 million tons from the U.S. as a whole.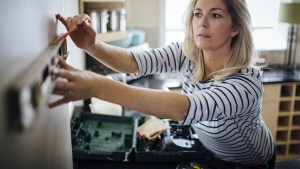 Read more:
I love DIY projects, but can never finish what I start. Help!
In response to this epidemic, more and more people are encouraging ways of re-using fabric to make it last longer and buying quality pieces that won't wear out quickly. Places like Worn Wear will even buy back clothes and sell them second hand to make it easier for you to help diminish the amount of waste we produce. Their resources report, "By keeping our clothing in use just nine additional months, we can reduce the related carbon, waste, and water footprint an estimated 20 to 30 percent."
Re-using your husband's old shirt may seem like just a fun hobby, but even these small steps can provide ways to bond with your children and to help solve these global problems. Why not spend your next rainy Saturday giving it a try?