Depression had taken its toll on the teen, but stylist Kayley Olsson was determined to make her feel beautiful.
Need an idea for Lenten almsgiving?
Help us spread faith on the internet. Would you consider donating just $10, so we can continue creating free, uplifting content?
Make a Lenten donation here
You might know that one sign of depression is a lack of self-care, but witnessing this struggle in person can be a different experience. When Kayley Olsson, a 20-year-old hairstylist from Iowa, met a 16-year-old girl struggling with severe depression, she was heartbroken to see that her hair was matted, tangled, and dirty. The young woman explained that she no longer felt it was worth the effort to brush her own hair.
Though the girl requested that Kayla shave her hair off due to an upcoming school photograph, Kayla and her fellow hairstylist Mariah Wenger were both determined to salvage as much hair as possible. "Cutting her hair was absolutely not an option for me," Kayla told BBC. "I knew right then and there that we had to keep as much hair as possible."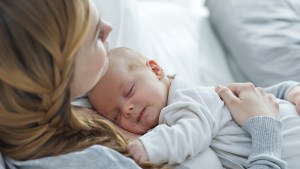 Read more:
Postpartum depression: Why it matters and how to cope
Kayley and Mariah spent 10 hours with the young woman over the course of two days and had to keep the conversation going in order to distract her from the pain of combing through all those knots, but they both said they could relate to her struggle with depression due to their own experiences with mental illness and low self-esteem, so they knew they had to help.
After untangling her waist-length hair, they re-styled it for her, hoping that her new cut would help her know that she is beautiful and worthy.
Kayley reports that the teen's last words to her before she left were, "I will actually smile for my school pictures today. You made me feel like me again."
In her post on Facebook, Kayley says that she hopes this story will be a lesson to everyone and especially to parents that mental illness is a real struggle that no one can conquer alone. We are all in a position to do something to help those around us who are struggling, and no act of kindness is too small.