Understanding the answer and living this truth is how we combat the evil acts of men carrying Nazi flags.
What can God do in your life with one Bible verse a day?
Subscribe to Aleteia's new service and bring Scripture into your morning:
Just one verse each day.
Click to bring God's word to your inbox
I am a Hispanic mother with three children who are half Hispanic and half white with some Jewish heritage. Race and ethnicity are common topics in our home. Over the last week I have been trying to collect all of my thoughts on the events that occurred last weekend in Charlottesville, Virginia.
Like most people, I was watching and reacting as more and more pictures from the protests and counter protests flooded my newsfeeds. Social media became so noisy it became difficult even to think.
Then I read this article by Leah Libresco Sargent in which she thoughtfully approached the idea of doxxing white supremacists. She came at the subject from a Christian point of view which is always centered on redemption, conversion and human dignity.  Her writing said something to me that God has been quietly whispering to me all week long – unsuccessfully, because not only was it hard to hear in the noise of the internet, but because a part of me didn't want to hear it.
The hard truth of Catholicism is that even when humans are doing hateful things, they have an innate dignity, because they are created – even the people we cannot stomach — in the Image of God. That inherent dignity must always be respected, and assisted toward its greatest potentiality, even when those humans are neo-Nazis. To fail to do that is to become exactly what the enemy wants.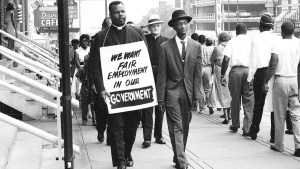 Read more:
The blueblood Catholic priest who cried heresy: "Racism is a God-damned thing!"
The evil one does not care if you are a Mass-going Catholic who denies that white supremacist human beings have dignity and are offered the gift of repentance and salvation just like everyone else, or if you are a neo-Nazi who denies the humanity of people you think are subhuman because of their race. He doesn't care if brown people are racist against black people or if you are a black person who thinks that white people should be wiped off the face of the earth. All he cares about is destroying the dignity of the human person, and he doesn't care which humans he can get to take up that destruction, or which human beings are destroyed,  just as long as it gets done. He will use any means available to him to make it happen.
Mostly he does it by appealing to our emotions.
Leah's article forced me to ask myself: "What is it that my Catholicism requires of me in this moment?"
I didn't like the answer, because it was – as usual – the hard answer that didn't fit my mood.
"It is a fearsome thing to fall into the hands of a living God." (Hebrews 10:31)
My Catholic faith, which is rooted in a relationship with the living God, requires me to respect the dignity of all human beings. In simplest terms, it mean that, while I get to call out evil behavior for what it is, I do not get to relish the thought of punching these people in the face. I don't get to call them names, or gleefully enjoy it when others do. The only option for me is to recognize the evil acts as evil, fight for justice, and pray for the conversion and redemption of those people carrying nazi flags, because Christ hung on a cross for them just as much as he did for me.
Yes, my only option is the difficult option, because Catholicism is not for the faint of heart. Holiness is not something comfortable or easy; it is other-wordly. "The world offers you comfort. But you were not made for comfort. You were made for greatness," said Pope Benedict XVI to a group of German pilgrims. At this moment, my Catholicism is calling me to strive for greatness, and that means choosing the more difficult path, just as my Lord Jesus did.
It's much easier to give vent to both rage and righteous, right now – I know that, because I've done it. My emotions had me fuming, ranting in fear about the kind of country my granddaughters will grow up in.
My faith, however, teaches me not to live according to my emotions but according to what is true. And what is true is that God's way is what will make us holy because it is the true way of Peace.
Not the snarky tweets.
Not the raised fists.
Not the cheers encouraging another punch.
The difficult way is the way of love – true love, not just a slogan – love that is rooted in knowing that each person was loved into existence by the same God that loved me into existence. Each one of these men spewing hate from their mouths is wanted by God, who wants them to turn away from their sins, just as he wants me to turn away from my own.
Understanding this truth, and living this truth, is how we combat the evil acts of men carrying Nazi flags.
See the evil, work against it, fast and pray for those in its grip.
This is how we become saints. Sainthood is what my Catholicism requires of me.