Doxxing not only serves the throw-away culture, it may box-in the very people who want out of their associations
Need an idea for Lenten almsgiving?
Help us spread faith on the internet. Would you consider donating just $10, so we can continue creating free, uplifting content?
Make a Lenten donation here
The neo-Nazi and white supremacist marchers who gathered in Charlottesville were revolting and frightening. They deserved condemnation and rebuke before the implicit violence of their views became explicit when one of them used a car as a weapon against counterprotestors.
But one of the first forms of resistance that followed—identifying marchers from photos (a process known as "doxxing") and trying to get them fired—is a terrible idea, particularly for Christians.
It's not just that activists have already misidentified photos and brought death threats and infamy to innocents. If the goal is to urge Nazi-sympathizers to not march again, telling them we want them thrown out of society might be the worst way to do it.
For many of the rally attendees, Charlottesville may be the first time they gathered with the people they'd spoken to online, their first chance to see the movement they'd joined in the flesh. For some of them, that first encounter, and the violence that they were a part of, may have left them with a queasy feeling, and looking for a way out.
I want this week, and the weeks that follow, to be a time when the men and women who attended have a chance to listen to that small, still voice. A time when it is as easy as possible to take a step back and decide that their first march will be their last march.
Doxxing and social vilification complicates that. It's harder to walk away from the group you've attached yourself to when you know (because everyone is telling you) that you've blown it – that you shouldn't have a job; that you can't be forgiven; that everyone needs to know who you are right now, so they can shun and disemploy you for the rest of your life.
This is where doxxing can create a desperation that ultimately solidifies, rather than breaks, alt-right associations: If a first-timer who wants "out" finds himself doxxed, he may come to believe that only the alt-right will still have him; he may remain there, boxed in, simply to prevent complete social isolation.
Doxxing is one more avenue our society has discovered for throwing people away.
How do you give people the opposite message? How do you help them to keep wondering whether they might be wrong,  and give them a lifeline outside their nefarious group and the confidence that they can leave? In Germany, groups that work to deradicalize young people who may have recently joined neo-Nazi organizations focus on giving them a way to imagine themselves outside their new community. One anti-neo-nazi group distributed t-shirts at an extremist concert which, when washed, revealed a secret message, saying "If your T-shirt can do it, so can you. We'll help free you from right-wing extremism," and providing contact information.
The group wanted to help nascent extremists have a secret way of reaching out, so they didn't need to be scared about losing their current community before desiring or finding a place in a new one.
In America, people who have walked away from hateful organizations often took a long time leaving.
Meghan Phelps-Roper, a spokeswoman for the Westboro Baptist Church, spent years keeping up a conversation with a Jewish activist (to whom she first reached out in an anti-Semitic tweet). He kept speaking to her, and as she developed doubts, he became a sounding-board and a confidant. Derek Black, the son of the creator of Stormfront (a vicious white nationalist site), had been on track to be his father's heir, with his own radio show. He was outed on campus, and most of his classmates attacked or shunned him—except for Matthew Stevenson, an Orthodox Jew who invited him to Shabbat. The friends Black made there kept engaging with him, asking him to explain his beliefs, and by his senior year of college, he publicly renounced white nationalism and made a painful break with his father.
Daryl Davis, a black blues musician, has made it his work for years to create more Meghan Phelps-Ropers and Derek Blacks. He reached out personally to members of the KKK—inviting them to have dinner with him, to talk to him honestly about their goals and their fears, and to get to know him. Many members of the Ku Klux Klan whom he befriended have left the group; he has a closet full of hoods and robes that some members gave him, in gratitude for persuading them to renounce their hateful ideology.
After Charlottesville, the question for me is, How can I make this week the first chapter in a story like that of Phelps-Roper, Black, or Davis's friends? I have more than one friend I think of as a fellow-traveler with the alt-right, and others who are tempted to accept them as allies. I try to give these friends a reason to keep talking to me, to think of me as offering breathing space to air their doubts or concerns.
In the political sphere, they know I'm working hard to frustrate their agenda. They know I'm fighting voter suppression laws; funding groups that work with refugees; bailing out poor people who are arrested, so that they aren't pressured to plead guilty, just to get home.
But on a personal level, I'm hoping that my persistent, friendly contact; my private questions (which they won't have to answer in front of their friends); my interest in parts of their life outside their politics can give them the courage to bolt from the prison of hate and fear they've gotten themselves into. I want them to be able to trust me as the prodigal son trusts his father.
If doxxing is calling them by the name of their sin, telling them that it will be their name forever, I want to remind them that I know their name, and I know the one Who knows them fully, and Who longs for them to know His Son's love.
I want to keep a hearthfire burning like a beacon, like the chancel lamp before the tabernacle, calling them home from the storm.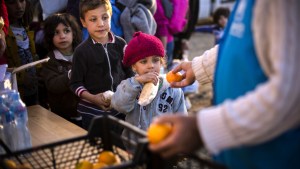 Read more:
Do you know any migrants? Pope Francis wants to introduce you to some