It starts by recognizing that even kids need a little grace.
What can God do in your life with one Bible verse a day?
Subscribe to Aleteia's new service and bring Scripture into your morning:
Just one verse each day.
Click to bring God's word to your inbox
Lately I've been working on following through with my kids when I ask them to do something. I'm pretty high-strung and easily distracted, so I tend to fire off chores and walk away, which doesn't work out well. I keep forgetting that kids need to learn accountability by being held accountable.
Because I know what it's like to immediately forget what you were just doing, I don't like to be draconian about it. I've been allowing them one "fair warning" reminder before consequences set in — but I've been pretty strict about limiting it to one, so I don't fall into the habit of nagging or begging.
Read more:
How a fashionista is fighting human trafficking one headband at a time
Yesterday, I asked my daughter Charlotte to put her clothes away before reading her book. She said she would, and I left the room to put my own clothes away. When I returned, the clothes were still on the table and Charlotte was nowhere to be seen.
She was in her room reading. She had forgotten to put them away, but she apologized and said she'd do it right then. Satisfied that she would follow through, I went to the kitchen to start dinner. While I was peeling potatoes, I read through an article at Creative Child called "Punishing Children for Being Human" that describes the disparity between the standards parents tend to hold their children to and the standards we hold ourselves to.
Don't project your bad moods. Learn how to handle your frustration, anger, fear, sadness, or disappointment. Don't be rude to them. We all need high standards, and do you know what else we all need? A little grace. You know better, but sometimes you have a bad day and say something that isn't nice, or you slam a door, or you yell at your kids. We aren't robots. Sometimes life is just plain hard, and we need a break, not a lecture. We need a hug, not a scornful look. We know we did wrong, but we're having a hard time. We just need grace. The same goes for our children.
I am intimately familiar with this. My kids lack follow-through because I lack follow-through, and they snap at each other because I snap at them. I try to change while also being aware of my failings, pointing them out, and apologizing. But it's often hard for me to hold them to the same standard I fail to meet — which isn't good for them, either.
In fact, all 12 of my years as a parent have been a revelation in just how woefully ill-prepared I am to teach children how to behave virtuously, as I'm keenly aware of my own failings.
I was feeling pretty glum when I walked past the table where the clothes still sat, untouched. I sighed and called for Charlotte, but got no response.
Bracing myself for the inevitability of enforcing consequences, I headed down the hallway to her room and threw the door open. She was on her bed, curled up toward the wall. Something about the way her shoulders were curved inward made me pause and take a deep breath.
"Chars?" I said quietly, in a softer tone. "You okay?"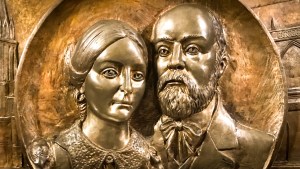 Read more:
5 practical parenting tips from Sts. Louis & Zelie Martin, saints who raised saints
She turned a tear-streaked face toward me and sobbed, "nooooooooo!"
She was not okay. One of her best friends moved away last week, and her other best friend is out of the state. Next week she starts a brand new school, and the turmoil is getting to her.
She didn't say any of this, of course. She just said, "I'm having a hard summer and it hurts me." But I knew what she  meant. And I knew what she needed, right then, was a little bit of grace — but not free reign.
"I know, sweet girl," I began. "Why don't we sit and you can tell me about it and we can read a story?" She looked up and smiled. "But first, let's put those clothes away together," I finished.
She nodded and jumped up to help me put the clothes away… but first she turned to me and said, "Mommy, I'm sorry I didn't put them away the first time. Thanks for helping me to do it and not getting mad."
I looked at her earnest, sweet face and realized that she had learned this good thing from me. I've always thought that it was a little pathetic that I'm always screwing up and apologizing to my kids — after all, I'm the adult! I should act like one!
But it's not, really. It's just human. And by admitting when I fail and apologizing, I'm not just teaching my kids that it's okay to be human and make mistakes, as long as you own those mistakes and try to correct them — I'm also teaching them that part of being human is forgiving others, and helping them do better next time.