We can put the surrender into play by practicing five specific acts.
What can God do in your life with one Bible verse a day?
Subscribe to Aleteia's new service and bring Scripture into your morning:
Just one verse each day.
Click to bring God's word to your inbox
Shannon Popkin, author of Control Girl, confesses that just because she wrote a book about the all-too-common control issues that plague we-can-do-it-all women these days, she hasn't totally learned to let go.
While visiting their daughter at college, Popkin noticed the sweatshirt her husband donned for their on-campus lunch with their daughter. The same sweatshirt he'd worn hiking the day before.
"You're not going to wear that sweatshirt, are you?" she asked. She couldn't hide the disgust in her voice. She worried the sweatshirt "might not smell fresh. Plus," she admitted, "I wanted us to look nice for our daughter's sake, and a sweatshirt wasn't what I had in mind."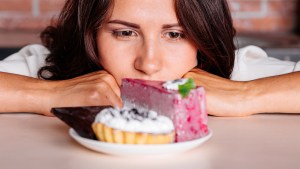 Read more:
How to master the science of self-control
When her husband told her the sweatshirt was the only thing he brought with him, Popkin faced a choice: hold her tongue or cap her "inner red pen."
"Would I make the best of a situation out of my control, and respectfully request that next time he pack something a little nicer? Would I apologize for the twinge of disrespect in my tone? Or," Popkin says, "would I nag him to go buy a shirt right then, complain that he never dresses like I want him to, and berate his sense of style?
Popkin chose the latter option, which, she says, created tension "that lasted far past lunch."
Been there. Done that. And lived, like Popkin, to regret it every time. Certainly, we aren't the only ones. Especially since psychologist Elliot D. Cohen calls losing control "one of the most prevalent fears" people have. This fear, Cohen says, is "that if you don't manage to control the outcome of future events, something terrible will happen."
And in fact, for chronic control freaks, something terrible does happen. "People who are chronic sufferers from such losing-control anxiety keep themselves continuously in a heightened state of stress," writes Dr. Cohen, "with only brief unsatisfying intermissions between fears."
Perhaps this is why Popkin calls these control issues (which include but are not limited to trying to dictate how grown men should dress) can be "a trap." We convince ourselves, she says, that our happiness depends on something "as insignificant as a shirt, and it's all up to me to make everything turn out 'right.'"
"However," Popkin says, concurring with Dr. Cohen, "taking control never leads to the peace and joy I imagine; it only makes us all miserable."
And she's right. Fortunately, even the biggest control freaks among us can do better. We can, in fact, learn to — gasp — surrender. But Popkin says surrender (to God, at least) is the only thing that offers the peace we're looking for in the first place.
"Surrender to God," Popkin says, "produces in me settled peace, knowing that God is in control so I don't have to be."
"Surrender to God causes me to be secure," Popkin says, "knowing that not even a shirt selection has slipped from God's attention or his hand. Surrender to God gives me hope for the future, knowing that I don't have to manage all of the contingencies."
Read more:
How to make sure you're doing forgiveness right
And Popkin reminds us that we aren't even supposed to manage all the "contingencies." When we do, she says, we fool ourselves thinking we actually have control and "we play God."
"When I try to step in for God and take the control I wasn't designed to have, I only become frustrated, angry, frantic, obsessive, anxious, fretful and more controlling," Popkin says. "The more controlling I get, the more miserable my family becomes. They pull away from me in defensiveness, frustration or exasperation. By playing God and grabbing at control, I cause tension, friction and conflict — not the peace and security I imagined I could create."
So how do we do it? How do we do this "surrendering" that Popkin speaks so highly of?
First, Popkin says, it's important to remember that surrender isn't a "one-time event, but rather a new posture that we adopt. This takes practice. It's cultivated over time."
But second, Popkin says we can put the surrender into play by practicing five specific acts:
Hold your tongue
"As women, we often use our tongues to take control, so surrender often begins with our words," Popkin says. "Stop nagging, raising your voice, sharing inflammatory information or asking manipulative questions. Don't use words as weapons to demoralize, intimidate or undermine."
Cap the red pen
"Women often try to gain control by pointing out what needs to change in other people," Popkin says. "Either in a fretting frenzy or with an angry blast, we use excessive criticism to get things back on track. But when we grip our red pens, we're trusting only in ourselves. We can practice surrender by capping the red pen and retraining our hearts to hope in God to confront and convict."
Be transparent
Noting that controlling women are often subtle and manipulative, that we keep hidden agendas or hide information, and that we conceal our motives and use stealth tactics, Popkin says that surrendering requires transparency. "Be open with people about your motives. Ask plainly for what you want and be willing to accept a no. That's part of giving up control. If there's something you'd like to know, ask. Honor others by being forthright and open about your objectives."
Apologize
"To admit fault and ask forgiveness is to give up control," Popkin says. "If you want to cultivate a heart of surrender, practice apologizing when you're wrong. Ask others to forgive you."
Live within limits
"God designed our physical bodies to require limits," Popkin says. "In each twenty-four hour day, we need to stop and sleep. We need to put the fork down. We need to work within a budget. Controlling women don't like any of these limits. To live within limits is to give up control, which is exactly what God wants. These daily limits provide ongoing, rigorous heart training. As we yield to God day by day, we posture ourselves to say, 'Yes!' to whatever he may ask — big or small."