Feeling anxious at times is a normal part of life, even for kids -- here's how to help them manage it well.
Summer camps are wrapping up, beach towels being hung out to dry, pencils are being sharpened, and kids across the US are heading back to school. For lots of children, the return to school is bittersweet, but mostly full of excitement and anticipation. Yet for plenty of kids, back-to-school is clouded with worry, stress, and anxiety. Anxiety is a normal and even healthy component of being a kid — of being human — and yet it can be harmful and disruptive if it's not managed well. All children deal with anxiety on some level, but there's plenty that parents can do to help kids learn from and manage it — especially when it comes to school.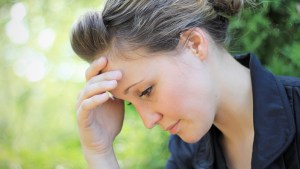 Read more:
Why adults and kids are more anxious than ever before
Got a kid who struggles with worry and anxiety? You're not alone, as anxiety disorders are the most common mental health issue among children and adolescents. We interviewed psychologist and author of Hey Warrior, a book for kids about anxiety by Karen Young, as well as leading child psychologist and anxiety and mood disorder expert Dr. Clark Goldstein of Growth Psychology, and asked them how parents can help their children who struggle with anxiety, especially when it comes to heading back to school.
1. Name it
Anxiety is normal, yet someone going through an intense bout of it feels anything but. But naming it can diminish anxiety's seeming power. "Identifying the emotion and giving it a name actually soothes the nervous system," says Young, who likens naming anxiety to sort of "catching the emotion," as if you're using a catcher's mitt. Rather than letting anxiety overwhelm, it helps kids to name what you're seeing in them; "I see you're feeling anxious, worried, fearful, etc" and then reminding them that anxiety is just one emotion they may be feeling, and that it won't last forever. When kids realize that anxiety is just one version of emotions they feel, it will help them "feel more understood, less alone, and more okay with where they're at," asserts Young.
2. Explain it
The physical aspects of anxiety can feel scary to children — anxiety activates the fight or flight response, which includes a racing heart, an upset stomach, tightness in the chest, sweaty palms and shallow breathing. But the response isn't all bad, says Young: "Anxiety has kept us alive — it's a protective function and a sign of a strong, healthy brain. It's a warning, not a stop sign, but sometimes brains get it wrong." Once they understand that their body is simply responding, they can realize that they do have an aspect of control over it, and anxiety will diminish. Young says it's important to have these conversations about the body's response to anxiety before anxiety sets in, so kids can fully grasp the concept, before they're in the throes of the emotion. 


Read more:
If you suffer from anxiety, you need to know the most repeated advice in the Bible


3. Breathe through it
When in the middle of an anxiety attack, the body begins to conserve oxygen and we experience shallow breathing. For centuries, we've known that strong, deep breathing can help calm anxiousness, but it's extremely hard to remember to do it when you're in the midst of major anxiety. When the body is in panic mode, the automatic response is fight or flight, but strong, deep breathing can actually begin to slow and shut off this response. Practicing this when waters are calm can help it become second nature during a panic attack, or when kids are faced with a stressful situation like taking a big test or navigating the halls of a new school. It may seem simple, but focus.
4. Ride the wave
Once kids know that the emotion they're feeling is simply an emotion, often bolstered by a physical response, they can learn to sort of "ride the wave" of anxiety, as Dr. Goldstein explains. Parents can help kids understand this metaphor as if you've gone surfing. If you try to fight a large ocean wave, it will inevitably knock you down. If you try to run away from the wave, it will likely pull you under. But, if you choose to get on top of it and ride it, it will bring you safely to shore. The same goes for anxiety: trying to run away from it or simply fight against it doesn't usually yield healthy or productive results, but if kids can understand that they can still function even when they feel anxious — and if they can accept the anxiety as something they're feeling and not necessarily the truth about the situation, they will soon realize it as a passing emotion, and ride the wave back to serenity.
5. Relate to it
We've all experienced anxiety, but sometimes kids need reassurance that their parents have gone through something similar. Maybe you were afraid to try out for the softball team, take that college placement test, or navigate the lunch room on your own. Karen Young explains that when parents can relate and show kids that they've felt the same fearful or scared feelings but survived, and — most importantly —done the scary thing anyway, kids can face their fears with a little camaraderie and confidence. They trust that you love them, so they know if you've gone through it and are still asking them to do it, they can see that the source of their fear must not be life-threatening.  Showing them you've gotten through it and that you see them as brave, competent and able can go a long way. Young reminds us not to dismiss their fears — the emotion is real — but to validate it, relate to it, and encourage them to go forward anyway.
6. Model it
Dr. Goldstein says that kids pick up on a lot more than we think they do. If they hear you worrying about finances or appointments, your health or home repairs, they will inevitably begin modeling the behavior. Want to help your kids have less anxiety? Work on managing your own anxiety. There may be a genetic component anxiety and fear, but nonetheless kids will benefit hugely when parents learn to deal with their own anxious and fearful behaviors. If you are worried about something, you can use the situation as a teaching point by letting your kids see you work through your own anxiety (perhaps by using some of these expert tips!).
Read more:
5 Things I wish I'd been told about alcohol
7. Consider the probability
According to the DSM-5, anxiety is caused by "the anticipation of a future threat." A great example from Dr. Goldstein included a child who may be afraid of going to school because she's afraid her teacher will yell at her, or other kids won't like her. In this case, helping your child determine the probability of such events happening can diminish the perception of this threat. Asking them questions about the fear and working through the actual probability of this happening can help show them that the chance of this "bad thing" happening is actually pretty low. Has the teacher screamed at her? Have the other kids had mean looks on their faces? Sometimes the anxiety is caused by real events that have transpired, but other times, anxiety is simply a fear of something that isn't likely to happen. Figuring out which one your child is struggling with is helpful in determining the next plan of action.
8. Get outside help
All of us struggle with anxiety from time to time. But sometimes kids (and families) require some outside help in managing it. Dr. Goldstein says that he's "never had someone say they came in too early. In fact, usually people wish they would've sought help earlier than later, to minimize suffering." If anxiety or fear is causing major distress or suffering for the child, or interference in the child or family's life and normal activities, it might be time to seek help from a professional. Dr. Goldstein recommends seeking out a licensed psychologist or licensed clinical social worker with extensive cognitive behavioral therapy experience.
For more resources on anxiety and childhood mental health, check out these sites: