Gabi Shull is not what she appears. Watch her take the stage in this incredible video and prepare to be amazed.
When Gabi Shull and her family were told that she had developed a type of bone cancer at the age of nine, they were devastated, but met the challenge with an incredible amount of inner strength and faith. Gabi bravely opted for radical life-saving — and life-changing — treatment, showing the Big C that it would not get the better of her.
Read more:
What disabled children bring to the world of fashion and sports
In a recent video, Gabi explains how the cancer was discovered when, after a simple fall while ice skating, a bump to the knee just didn't want to heal. A doctor's exam went on to reveal that she had osteosarcoma, a bone cancer common in children and young adults. In order to save Gabi's life and give her a maximum chance of movement, talented doctors performed a rotationplasty, a procedure whereby the leg is amputated from the knee down and the ankle is reattached in a backward position to the thigh, forming a new knee joint, this allowing a prosthetic lower limb to be attached to her foot.
With such a daunting and frightening procedure looming, Gabi asked her parents a question so many of us would be inclined to ask: "Why does this happen to me?" Her parents response: "You know sometimes bad things happen to good people. We don't know why, but we just have to do our best to get through it."
 Wise words. But Gabi set her sights even higher. She didn't just get through this ordeal, Gabi used it to do extraordinary things. With determination and physical therapy, she was able to walk on her new prosthetic in just one year after surgery, and a year after that, she was on stage dancing … and she hasn't stopped.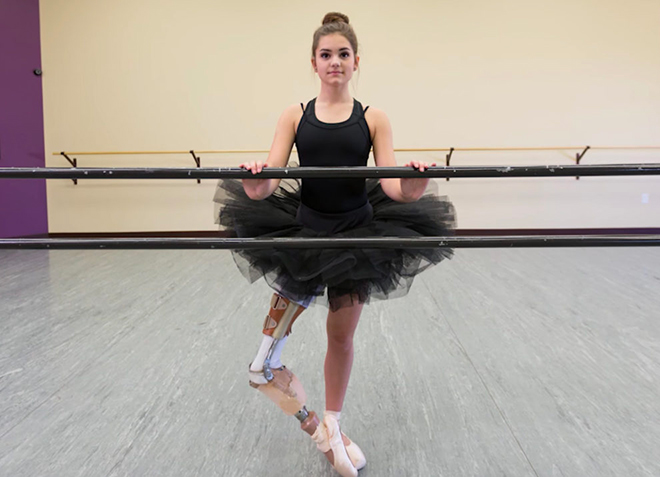 Her drive and motivation is captured on the video, showing a beautiful young lady who has become a truly accomplished dancer. Full of energy and grace she takes to the stage and shows the world what it is to not be held back by cancer or a prosthetic limb. It shows her at her physical, impressive best.
Read more:
The moment a little girl shows off her new prosthetic leg to her classmates will warm your heart
And she's not stopping there, either. Gabi, who has gained the respect and admiration from all those who know her, is also working selflessly as a volunteer for the charity The Truth 365, set up to raise awareness for children's cancer. Gabi is their national spokesperson, and what an inspiration she is!
The very thought of our children developing cancer is every parent's worst nightmare. But, despite decades of research and medical expertise, it's the illness we can't seem to escape. The American Cancer Society estimates that, "in 2016, there will be an estimated 1,685,210 new cancer cases diagnosed and 595,690 cancer deaths in the US." And out of this number "10,380 new cases are expected to occur among children 0 to 14 years … [with] an estimated 1,250 cancer deaths."
Gabi is now setting her sights on becoming a pediatric oncologist or nurse to help others. It's a selfless, beautiful goal. And we hope she achieves it, as there couldn't be anyone more motivating than this talented young lady to help inspire others battling cancer.